Nurses and Health Care Workers Experience Record Job Losses Amid Pandemic, Despite New Unemployment Figure Dropping to 13.3 Percent
The U.S. has not only experienced an astonishing number of confirmed cases and deaths related to the COVID-19 pandemic, but also a record number of nurses have also lost their jobs when hospital revenue from elective surgeries and routine procedures suddenly stopped.
Nurses and practitioners who worked in operating rooms, specialty clinics, or labor and delivery were among the millions who found themselves standing in the unemployment line.
According to the U.S. Bureau of Labor Statistics, 1.4 million health care workers — many of them nurses — were laid off or furloughed in April. More than 134,000 of those losses happened in hospitals, adding to a record jobless rate of 14.7 percent in April and unemployment numbers not seen since the end of the Great Depression.
The Labor Department announced Friday that the jobless rate had decreased slightly to 13.3 percent in May. The jobless rate decrease reflects the limited resumption of economic activity in some states that were closed in March and April to curb the spread of the new coronavirus.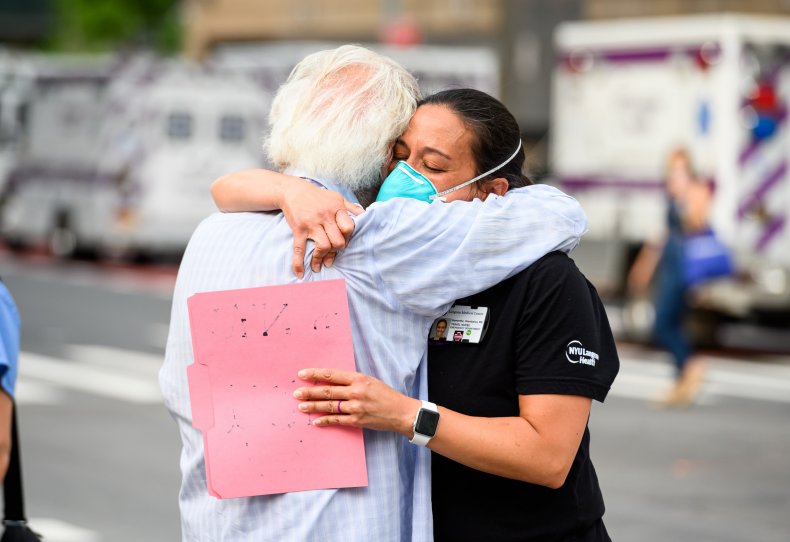 In March, President Donald Trump signed the $2 trillion Coronavirus Aid, Relief and Economic Security (CARES) Act, which not only provided financial relief to Americans who'd been laid off but financial relief to hospitals and other health care institutions.
According to the Department of Health and Human Services, $30 billion was immediately distributed in April to eligible providers throughout the American healthcare system as part of the Provider Relief Funds, which didn't need to be repaid under the CARES Act.
The Provider Relief Funds, which distributed funding through June 3, was designed to support American families, workers, and health care providers in the battle against the COVID-19 outbreak.
Still, hospitals noted sharp declines in revenue due to the spread of COVID-19, which ultimately led to layoffs and furloughs.
According to the American Hospital Association, revenues decreased sharply between March 1 and June 30 at an average of $50.7 billion per month, due to the cancellation of elective surgeries and non-emergency procedures.
"Treatment for COVID-19 has created an incredible demand for certain medical equipment and supplies as the virus has disrupted supply chains, increasing the costs that hospitals face to treat COVID-19 patients," the American Hospital Association said in a statement. "At the same time, COVID-19 has led to unprecedented job losses, giving way to a rise in the number of uninsured. And while doctors, nurses, and other health care workers have met the COVID-19 challenge with heroic efforts, many hospitals and health systems, especially those located in hot spot areas of the pandemic, are supporting them by providing essentials like child care, transportation, and in some cases, housing."
Massachusetts was one of the hardest hit by the novel coronavirus outbreak, and also one of the areas of the U.S. where hundreds of nurses and health care professionals were either furloughed or permanently laid off at the height of the pandemic.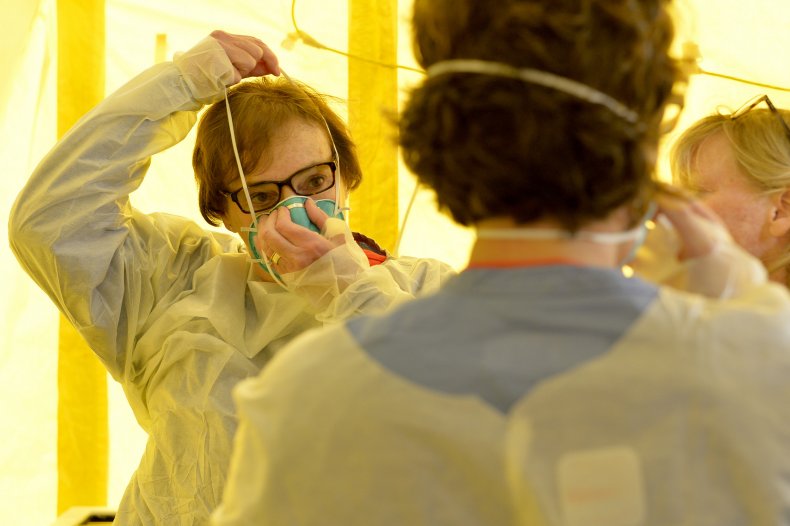 "The fact that we have seen any reduction in staff...the fact that they were furloughing people at the height of the pandemic in one of the hardest-hit states is astounding," David Schildmeier, public relations director for the Massachusetts Nurses Association told Newsweek. "These patients could go south in a heartbeat. We have been pleading with the hospitals to do the opposite. They should be beefing up staff."
Marie Ritacco, a registered nurse at St. Vincent Hospital in Worcester, Massachusetts, told Newsweek that at least 60 nurses, who were willing to relocate to other areas of the hospital to help out during the height of the pandemic, were instead furloughed.
Ritacco, who works in the recovery room for elective procedures, is also a critical care nurse and saw her recovery room become an overflow ICU for COVID-19 patients
"Many of those nurses wanted to be deployed to other areas of the hospital, to at least be helping hands if not capable of taking on a full assignment," she said. "There was a significant number of nurses who should have been able to stay in the building and assist through the peak of the pandemic."
Maureen Zeman, a labor and delivery nurse in San Jose, California for nearly 30 years, worked at HCA-owned Regional Medical Center until it was closed during the pandemic. She was among the 28 labor and delivery nurses who were given little notice before being laid off from Regional Medical in May.
Zeman and three others were able to come back to work at Good Samaritan Hospital, 15 miles from the hospital that closed.
"I didn't think it was going to get as bad as it got," Zeman told Newsweek. "We didn't think about all the hospitals in the area doing freezes. This had never happened before, so we didn't think the hospitals would empty out...that units would be sold or units would be closing down."
Zeman said many of those nurses were told they'd have to come back after the pandemic was over.
Since the start of the COVID-19 pandemic, more than 40 million Americans have filed for unemployment, with 1.87 million claims filed the last week of April—a decrease of 249,000 from the previous week's revised level, the Department of Labor reported Thursday.
The unemployment numbers marked the ninth straight week of decline. But according to a Fox Business report from Thursday, experts believe that the worst could be over as states continue reopening their economies and people who laid off begin to return to the workforce.
For instance, New York was among the states with the largest drop in unemployment numbers by 106,106 from the previous week; followed by Michigan, which declined by 23,539; and Texas, which announced phase three of the states reopening on Wednesday, fell by 20,896.