Nurses Laugh As WWII Veteran Cries For Help Before Dying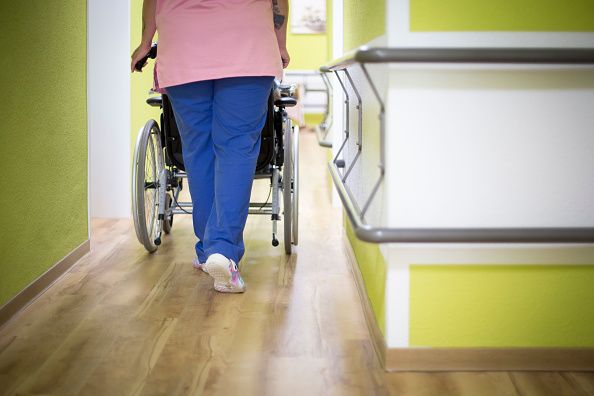 Hidden camera footage recently made public shows a nursing staff laughing after a World War II veteran yelled for help and died under their care.
James Dempsey repeatedly called out to staff members at Northeast Atlanta and Rehabilitation in Georgia on February 27, 2014, that he could not breathe. Dempsey was left gasping for air and eventually fell unconscious.
The nursing staff found the 89-year-old veteran unresponsive at 5:30 a.m. and took nearly an hour to call 911, according to WXIA news.
Wanda Nuckles, the former nursing supervisor at the rehab facility, testified during the trial that she rushed to Dempsey's aid when she learned he had stopped breathing and performed heart compressions until medics arrived.
The video clip shows otherwise and records the nurses repeatedly start and stop Dempsey's chest compressions. When the responding nurses had trouble getting Dempsey's oxygen machine to start, Nuckles can be heard laughing with them in the background.
Mike Prieto, the attorney for Dempsey's family, asked Nuckles if there was anything funny going on in the video.
"I can't even remember all that, as you can see," Nuckles said.
Dempsey's family sued the facility in 2014 but declined to comment on the video.
At the time, Nuckles and the rest of the nursing staff did not know she was being recorded. She claims it was "just an honest mistake." Both Nuckles and another nurse were fired a year later after the incident but were not forced to surrender their licenses until September of 2017, three years after the veteran's death.
A spokesperson for the nursing home, owned by Sava Senior Care, wrote in a statement they were "saddened by the events which occurred three years ago." They also mentioned that there is "new leadership and the leadership team and the staff have worked very diligently to improve quality care and the quality of life for our residents."
This is not the most recent incident of abuse in a rehabilitation facility for elderly patients. Another rehabilitation facility in Georgia recently fired several employees after a video surfaced of two employees yelling, swearing, and pulling the arms of an elderly patient with severe Alzheimer's.