Nursing Home Association Says Biden's Vaccine Mandate Could Be 'Disastrous Workforce' Issue
Georgia's largest association of long-term care providers is warning that President Joe Biden's vaccine mandate for nursing homes could have "disastrous workforce challenges" for an industry that is already facing staffing shortages.
In a statement released Thursday, the Georgia Health Care Association said that while they believe vaccinations are critical to nursing home residents and appreciate Biden's efforts to protect those individuals, the trade association is "greatly concerned that this action could exacerbate the significant workforce crisis centers are already experiencing."
"If the premise for this mandate is to protect vulnerable persons from unvaccinated staff, vaccination mandates for health care personnel should be applied to all health care settings as there are vulnerable populations being served in each," the statement read.
On Wednesday, Biden announced that his administration will require nursing home staff to be vaccinated in order for those facilities to receive federal Medicare and Medicaid funding.
"If you visit, live or work in a nursing home, you should not be at a high risk for contracting COVID from unvaccinated employees," Biden said.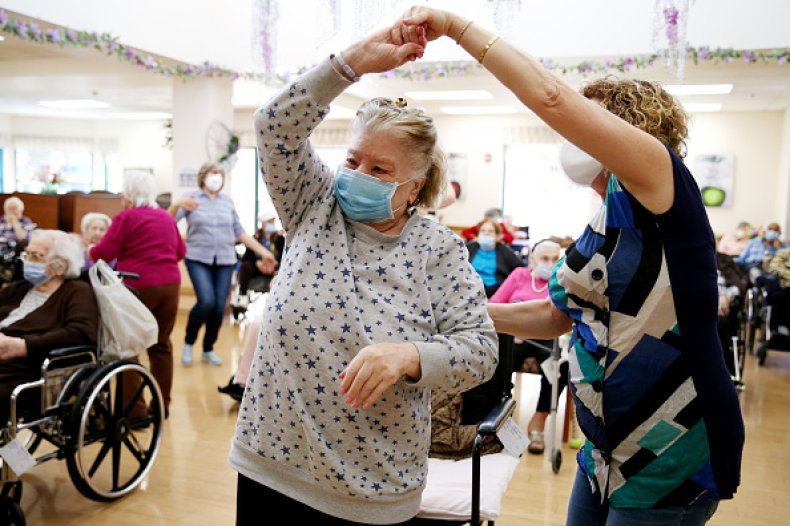 According to federal data, hundreds of thousands of nursing home workers remain unvaccinated despite being one of the first groups eligible for vaccinations.
But the Georgia Health Care Association called it "ill-advised" that the administration was singling nursing homes out by mandating vaccines while letting other frontline workers remain unvaccinated if they so choose.
"Focusing only on nursing centers will cause vaccine-hesitant workers to flee to other health care settings," which the association said would "leave many centers without adequate staff."
The association said the mandate's implications on nursing homes workers would in effect then diminish the quality of care that residents in long-term care facilities receive.
"In turn, this will certainly limit seniors' access to long-term care and will negatively impact centers' ability to provide quality care to residents," the statement said.
Other top officials in the nursing home industry have made similar arguments that the mandate will have detrimental impacts on its workforce.
Mark Parkinson, the president and CEO of the American Health Care Association and National Center for Assisted Living (AHCA/NCAL), is calling on the Biden administration to also mandate vaccines for other health care workers, in order to avoid nursing home staff from moving to other settings.
"Vaccination mandates for health care personnel should be applied to all health care settings," Parkinson said. "Without this, nursing homes face a disastrous workforce challenge."
Of the over 600 nursing homes surveyed by AHCA/NCAL in June, 91 percent said they are experiencing a staffing shortage and nearly 75 percent said the workforce situation had worsened compared to last year due to the pandemic.
Correction 08/20/21 9:49 a.m. ET A previous version of this story and its headline said the Georgia Health Care Association was a union. The group is a trade association.