Nutella Opens 'Pop-Up Swap Shop' for Mardi Gras 2020: How to Get Free Pancakes and Nutella
In celebration of Mardi Gras—also known as Pancake Day—Nutella is putting on a real spread for pancake and chocolate lovers in America.
On February 29, 2020, the brand is opening the Nutella Syrup Swap Shop Pop-up in New York City. The shop will be situated at Grand Central's Vanderbilt Hall, and will be open from 9:00 a.m. until 4:00 p.m. ET or while supplies last.
Chocolate lovers will be in heaven at the Swap Shop—the pop-up will only sell one product—Nutella—and will only accept one form of payment—syrup. Families and fans who bring in a bottle of syrup (opened or unopened) will receive pancakes topped with the hazelnut spread as well as a 13 ounce jar of Nutella.
For those who own devices that feature Amazon's Alexa, a new feature will allow them access to a variety of Nutella recipes. To activate, customers can say, "Alexa, enable the Nutella Creations skill" which will open up recipes for pancakes and waffles as well as four interactive family friendly games.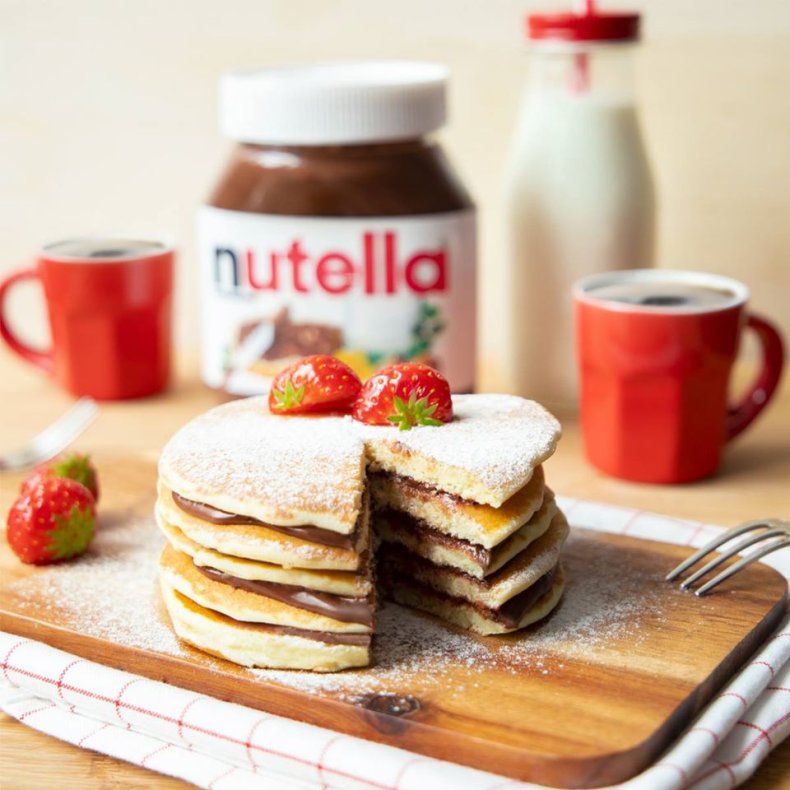 The brand is also launching six new socially shareable Nutella Dinosaur pancake designs. According to a media representative for Nutella, the recipes join last yar's Nutella Pancake Zoo and can be found on Nutella.com.
"From silver dollar to blueberry, pancakes are an iconic breakfast staple, and we believe topping them with Nutella brings them to an unparalleled level of deliciousness," said Todd Midura, vice president of marketing at parent company, Ferrero North America.
"This Pancake Tuesday, we're encouraging families to participate in these activations that bring to life the joy of special breakfasts and we hope Nutella plays even a small role in helping them create memories that will last for a lifetime."
What is Mardi Gras and why do we eat pancakes to celebrate?
The celebration of Mardi Gras, or Pancake Day to some, has religious ties.
"Mardi Gras comes at the end of carnival season and is a celebration of life, preceding the period of restraint and reflection during Lent," explains John Riggio, director of restaurants and special events at the Culinary Institute of America at Copia.
"During Mardi Gras, decadent carnival-style feasts with big, bold flavors and fatty (Gras) foods are traditionally served to celebrate before the 40 day period begins."
This is where pancakes come in to play. Many people symbolize their fasting period, which finishes at Easter, by using up their milk and eggs to make pancakes. Mardi Gras occurs between February 2 and March 9, depending on when Easter falls—this year, Easter Sunday is April 12, 2020.
Because of its ties to pancakes—though not in a biblical sense—Nutella says that its hazelnut spread is a perfect way to prepare before Lent. Founded in 1964, Nutella is loved by millions around the world. According to the company, the spread is made with a "meticulous selection of high quality ingredients and an exacting, artisan inspired production." It is available in around 160 countries worldwide.
For more information on how to celebrate Pancake Tuesday with Nutella and recipes, foodies can visit Nutella.com. Fans interested in attending the Nutella Syrup Swap Shop can find details here.