Former NY Attorney General Used $340,000 in Campaign Donations to Pay Legal Bills After Abuse Allegations
Former New York Attorney General Eric Schneiderman spent almost $340,000 in campaign funds to pay legal fees after being accused of physically abusing women, the Associated Press reported.
Schneiderman resigned in May after a New Yorker article detailed assault accusations from four women.
The payments to Clayman & Rosenberg LLP, which represented him during an investigation into the misconduct, were legal under campaign finance restrictions.
"By and large, if you are an elected official, you can use your campaign contributions as a Get Out of Jail Free card," Blair Horner, executive director of the New York Public Interest Research Group, told the Associated Press.
A spokeswoman for Schneiderman referenced a previous statement from the former attorney general. The statement said the campaign was "honoring its commitments and paying bills in accordance with applicable law and precedent."
"Once the committee has honored all its commitments, the remaining funds will be donated to worthy and appropriate causes, consistent with the law," the campaign representative told the Associated Press.
Schneiderman's re-election campaign made its last payment to the law firm on December 7.
The New Yorker article contained detailed descriptions of the allegations.
"All of a sudden, he just slapped me, open-handed and with great force, across the face, landing the blow directly onto my ear," one accuser, Manning Barish, said. "It was horrendous. It just came out of nowhere. My ear was ringing. I lost my balance and fell backward onto the bed. I sprang up, but at this point there was very little room between the bed and him. I got up to try to shove him back, or take a swing, and he pushed me back down. He then used his body weight to hold me down, and he began to choke me. The choking was very hard. It was really bad. I kicked. In every fibre, I felt I was being beaten by a man."
Schneiderman had positioned himself as a prominent critic of President Donald Trump and, as #MeToo allegations mounted, a vocal defender of women.
Before the accusations were levied against him, he had filed a lawsuit against The Weinstein Companies, Harvey Weinstein and his brother, Robert Weinstein alleging that the company failed "to protect its employees from pervasive sexual harassment, intimidation, and discrimination."
Schneiderman resigned the same day the accusations surfaced in the New Yorker, issuing a statement that read "In the last several hours, serious allegations, which I strongly contest, have been made against me. While these allegations are unrelated to my professional conduct or the operations of the office, they will effectively prevent me from leading the office's work at this critical time."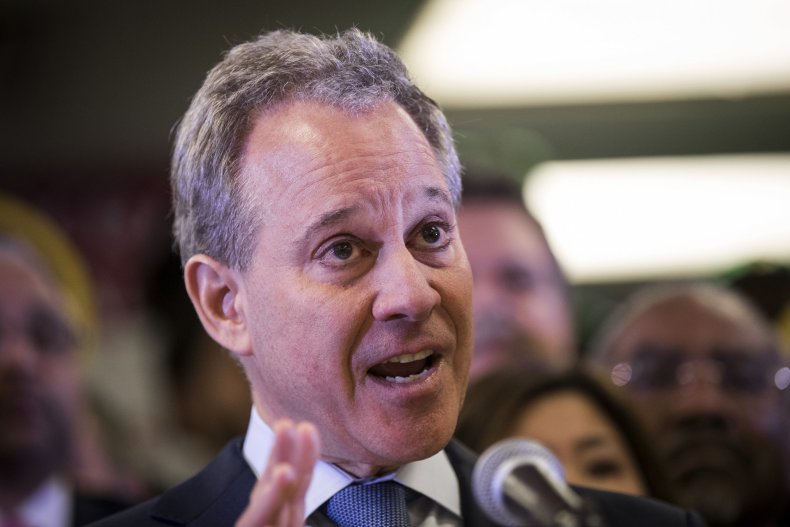 He filed for retirement in June, the Democrat & Chronicle reported, citing the state Comptroller. He was expected to receive a pension of almost $64,000 each year.
Since April 2017, 263 individuals have been accused of sexual misconduct, according to Vox. Al Franken, Junot Diaz, Morgan Freeman and Matt Lauer are among those who have been accused.