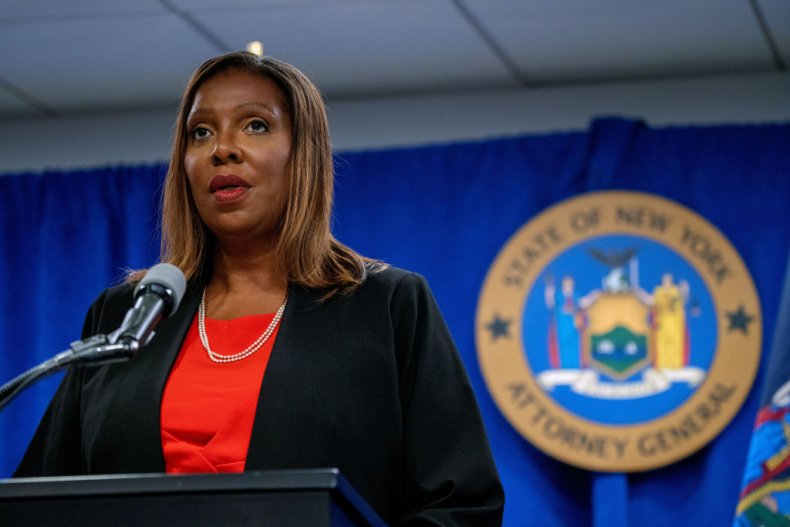 New York Attorney General Letitia James has warned that "delay tactics" from former President Donald Trump and his children will not stop the state's legal probe of the Trump Organization.
A Monday court filing from James sought documents and testimony from Trump, Donald Trump Jr. and Ivanka Trump in relation to New York's civil investigation of the former president and the Trump Organization. James' office later said that "a motion to quash upcoming interviews" of the Trumps had been filed by Trump family lawyers but would ultimately be unsuccessful.
"Donald Trump, Donald Trump Jr., and Ivanka Trump are trying to stop my office from interviewing them under oath as part of our investigation into the Trump Organization and Mr. Trump," James tweeted on Monday. "Over two years of delay tactics won't stop our investigation because no one is above the law."
In a separate statement, James, who is a Democrat, lamented that the Trumps had "continually sought to delay and impede our investigation." James said she would be pursuing legal action to make sure that they "play by the same rules as everyone else."
"These delay tactics will not stop us from following the facts or the law, which is why we will be asking the court to compel Donald Trump, Donald Trump Jr., and Ivanka Trump to testify with our office under oath," said James. "Our investigation will continue undeterred."
The investigation is focused on the way that the Trump Organization reported its assets. In particular, the probe seeks to determine whether Trump's company illegally undervalued its assets to avoid paying taxes while illegally overvaluing the assets to secure large bank loans.
The ex-president's son Eric Trump, who leads the Trump Organization alongside Donald Trump Jr., has already been interviewed as part of the probe. Eric Trump's testimony came in October 2020 after his lawyers at first attempted to defy James' subpoenas, stalling the probe for months.
The attorney general took the matter to court, with a judge eventually ordering Eric Trump to sit for the interview. Although James has promised to use the same tactics if Trump and his other subpoenaed children refuse to comply, it is unclear when they would testify should her efforts be successful.
James is also involved in a separate criminal probe of Trump and the Trump Organization. The investigation is being led by new Manhattan District Attorney Alvin Bragg, after being started by the previous district attorney Cyrus Vance, Jr., who retired at the end of 2021.
In July of last year, the state's criminal investigation resulted in multiple felony tax fraud charges against the Trump Organization and its longtime CFO Allen Weisselberg. Both the company and Weisselberg have pleaded not guilty.
Trump is not expected to appear for a civil deposition scheduled Jan. 7. James requested the interview last month, weeks before the former president filed a lawsuit seeking to end the investigation in federal court. The lawsuit argues that James' probe is a "thinly-veiled effort to publicly malign Trump and his associates."
Newsweek reached out to the office of Trump and attorneys for the Trump family for comment.