NY AG Letitia James Says Trump Investigation Will Proceed Whether President Wins Reelection or Not
With three days until the U.S. presidential election, New York Attorney General Letitia James on Saturday confirmed that the state's investigation into Donald Trump's family and business will proceed whether he's president or not.
Speaking on MSNBC, James reminded host Ali Velshi that New York has been conducting an investigation into the Trump Organization "related to financial impropriety."
"We will continue that investigation, and at this point in time there's nothing more that I can say other than the fact that they have used every legal attempt to block and to deny us information and to witnesses," the attorney general said. "We filed requests to compel and we were successful."
When asked about whether Trump has any avenues of "immunity" to shield him from the probe, James noted that the president's legal team "raised a number of defenses" in response to the state's motion to compel.
"But they were all denied by the federal court judge and our motion to compel was successful," she explained.
James added that her office has "the opportunity to interview and ask questions to Eric Trump and we were able to secure certain documents that we are reviewing."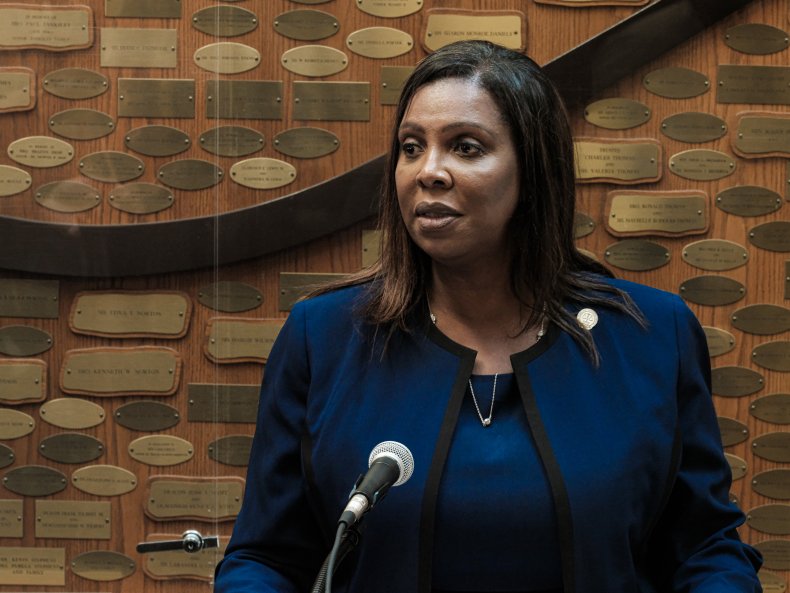 Newsweek reached out to the White House for comment.
Since she became New York's top law enforcement official in January 2019, James has challenged a number of the Republican president's policies, including his administration's environmental and immigration rules. She has also led legal action against Trump's family business.
Eric Trump, the president's son and executive of Trump Organization, recently sat for a pre-election deposition pertaining to James' probe into whether the president's business inflated asset value to gain tax breaks and loans.
The young Trump, who has repeatedly accused James of political bias, called the legal action "a continued political vendetta." He initially refused to testify before Election Day, but agreed after a judge ruled against his effort to skip questions on whether his family's company engaged in fraud.
"The reality is that, as the attorney general, I am guided by the law and the facts and political affiliation and political views are left at the door,' James told MSNBC on Saturday.
She noted that the Trump Organization probe originated from allegations made by Michael Cohen, Trump's former attorney, when he testified before Congress early last year.
In a Thursday interview with NBC News, James revealed that her office was preparing a "long" list of actions taken by the Trump administration that she would like Democratic nominee Joe Biden to reverse if he wins the election on November 3.
"We will work with the Biden administration to ask them to file stays in a number of cases that are pending in the courts all across this country," she said.