New York Attorney General Letitia James announced on Thursday that her office filed a lawsuit against the National Rifle Association (NRA) to "dissolve the organization in its entirety."
"The NRA's influence has been so powerful that the organization went unchecked for decades while top executives funneled millions of dollars into their own pockets," James said during the major national announcement.
James said they are suing the nation's largest pro-gun organization for illegal conduct that diverted more than $64 million away from the charitable mission of the group in the span of only three years.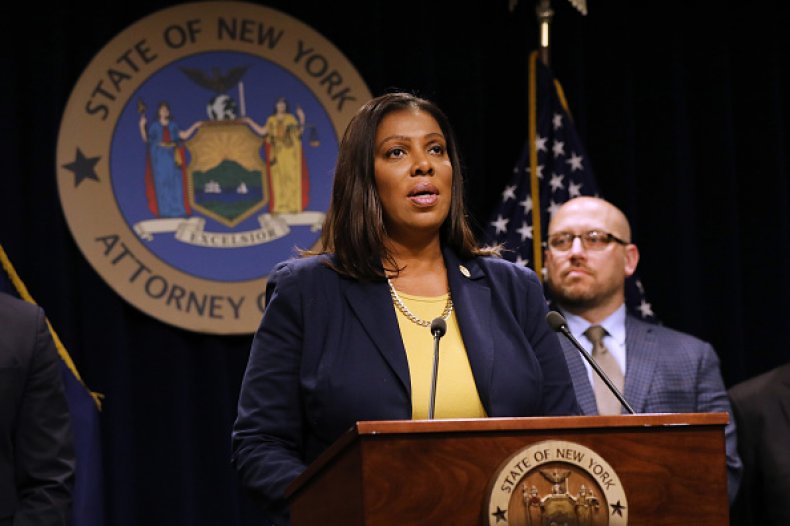 The lawsuit is charging the NRA as a whole, as well as four individuals: CEO and Executive Vice President Wayne LaPierre, former Treasurer and Chief Financial Officer Wilson Phillips, former Chief of Staff and the Executive Director of General Operations Joshua Powell, and Corporate Secretary and General Counsel John Frazer.
In a press release, the complaint alleged the NRA of fostering a "culture of noncompliance and disregard for internal controls" and alleged their board audit committee of being negligent.
"Specifically, the committee failed to assure standard fiscal controls, failed to respond adequately to whistleblowers, affirmatively took steps to conceal the nature and scope of whistleblower concerns from external auditors, and failed to review potential conflicts of interest for employees," the release read.
James listed personal expenses made by LaPierre over his nearly three decades as the NRA's executive vice president, including a private air charter plane his family flew to the Bahamas at least eight times that cost the organization more than $500,000.
James is seeking to dissolve the organization in its entirety and that the four individuals make full restitutions for the funds that they profited illegally. She is asking for the removal of the two men who are still in NRA's leadership, LaPierre and Frazer, and that all four be prohibited from serving on the board of a charity in New York.
NRA President Carolyn Meadows called the suit "a baseless, premeditated attack on our organization and the Second Amendment freedoms it fights to defend."
"You could have set your watch by it: the investigation was going to reach its crescendo as we move into the 2020 election cycle. It's a transparent attempt to score political points and attack the leading voice in opposition to the leftist agenda. This has been a power grab by a political opportunist – a desperate move that is part of a rank political vendetta. Our members won't be intimidated or bullied in their defense of political and constitutional freedom," Meadows said in an emailed statement to Newsweek.
D.C. Attorney General Karl Racine followed James' lead, announcing on Wednesday that his office was also suing the NRA for misusing charitable funds.
"It's been clear that the NRA has been failing to carry out its dated mission for many, many years and instead, has operated as a breeding ground for greed, abuse and brazen illegality," James said on Wednesday.
"Today we send a strong and loud message that no one is above the law — not even the NRA, one of the most powerful organizations in this country," she added.
Newsweek contacted James but did not hear back in time for publication.