NY AG Suing Target, Walmart: Toys Reportedly Have Lead 10x Higher Than Federal Limits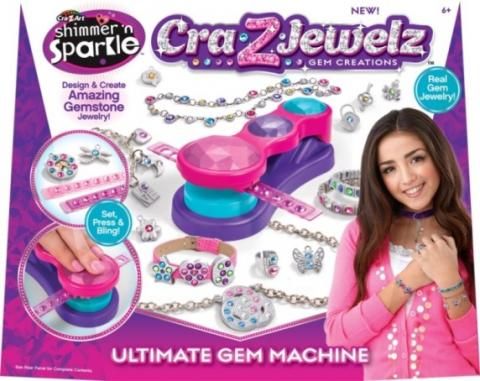 New York Attorney General Barbara Underwood filed a lawsuit against multiple companies after children's toys they sold were discovered to be contaminated with large amounts of lead.
Underwood announced the lawsuit on Twitter, saying that she was suing Target, Walmart and importer LaRose Industries for "committing thousands of violations of New York law" by selling the contaminated toys. Underwood added that they ran tests and found lead levels up to 10 times higher than the federal limit.
She explained that the findings led to a nationwide recall of the toys, which she identified as the jewelry making kits, "Cra-Z-Jewelz." Underwood said that the state was going to hold the companies accountable for failing to protect kids in New York.
"No one should have to worry that their child's toy may be toxic. It's a parent's worst nightmare," Underwood wrote on Twitter. "We're asking the court to assess civil penalties, and seeking a court order to ensure that dangerous toys stay off store shelves for good."
Underwood argued in the lawsuit that Walmart, Target and LaRose violated state laws regarding the selling of hazardous toys, deceptive acts and false advertising, according to the New York Daily News.
The lawsuit was filed in Albany state Supreme Court and the New York Daily News reported that it acknowledged LaRose Industries's 2016 recall of the products. However, it said that Target and Walmart never implemented sufficient measures to ensure that they don't import, distribute or sell other toys that could put children's health at risk.
LaRose's recall was issued on June 2, 2016, and included about 175,000 units. The Consumer Product Safety Commission explained that the "slider bracelet" in the kit contained high levels of lead, prompting the recall.
Underwood's lawsuit seeks monetary penalties ranging between $70 and $6,000 for each jewelry kit that was sold in New York. It also is seeking a court order that would require LaRose's new preventative measures remain in place and force Walmart and Target to adopt certain measures to ensure it doesn't happen again.
"We take our customers' safety seriously and require our suppliers to meet all safety standards. As soon as LaRose Industries made us aware of the product recall nearly three years ago, we removed the items from our shelves and online and haven't sold them since," Walmart told Newsweek. "We've discussed this matter with the New York Attorney General's office and will address the allegations and demands with the court."
Target told Newsweek that the company pulled the bracelet kits from stores in 2016 once the attorney general informed them of the allegations.
"We're committed to providing high quality and safe products to our guests and we require all of our vendors to follow safety laws and CPSC guidelines for the products they sell at Target," the company said.
Lead is particularly harmful to young children and they can suffer permanent health complications with the development of their brain and nervous system if exposed, according to the World Health Organization (WHO). Some health complications include hypertension, anemia and reduced intelligence quotient (IQ).
"At high levels of exposure, lead attacks the brain and central nervous system to cause coma, convulsions and even death," WHO reported. "Children who survive severe lead poisoning may be left with mental retardation and behavioral disorders."
This article has been updated to include the response from Walmart and Target.