NY-Based Smoked Fish Company Recalls 42 Products in 17 States For Possible Fatal Infections
More than three dozen smoked fish products distributed from a New York-based company are being recalled for a potential of fatal infections among children, the elderly, frail and those with weakened immune systems.
Banner Smoked Fish has voluntarily recalled 42 products from New York to California and Oregon to Florida in the 17 states it is distributed.
"The recall is because the products have the potential to be contaminated with Listeria monocytogenes, an organism which can cause serious and sometimes fatal infections in young children, frail or elderly people, and others with weakened immune systems," the company wrote in a statement.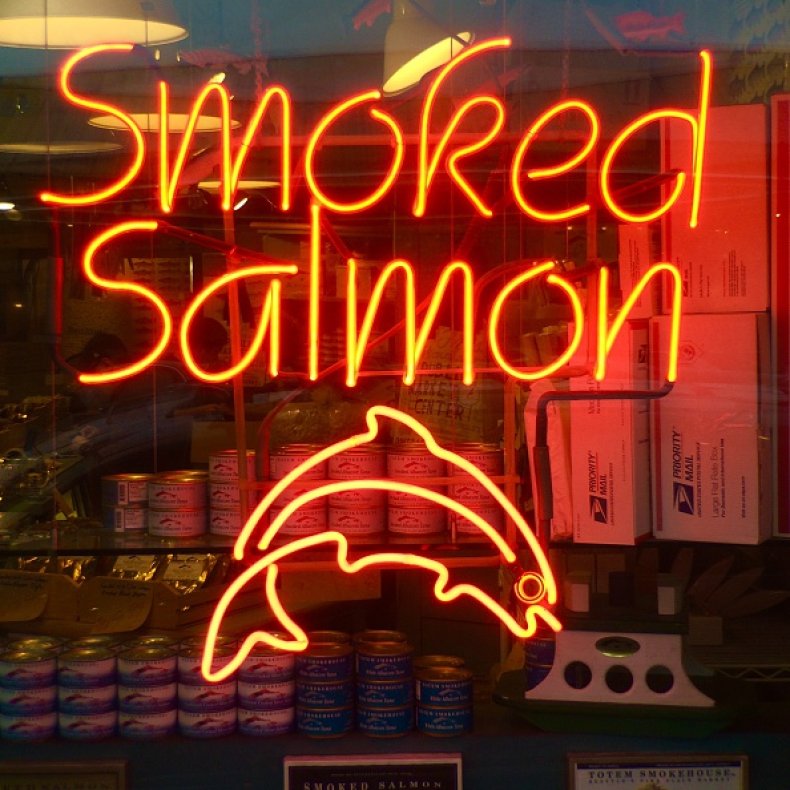 People who are healthy may see some milder, short-term symptoms like fever, severe headache, stiffness, nausea, stomach pain and diarrhea. Pregnant women are also warned to stay away from products that can potentially cause Listeria infections as they can cause miscarriages and stillbirths.
The U.S. Food and Drug Administration (FDA) discovered the problem during a routine inspection. The FDA stated "products were found to be processed under unsanitary condition."
The products were distributed for retail and other distribution, and also online in: New York, New Jersey, Illinois, Pennsylvania, California, Florida, Nebraska, Arizona, Massachusetts, Maryland, Virginia, Nevada, Oregon, Wisconsin, North Carolina, South Carolina and Georgia.
Consumers with questions may contact the company at (718) 449–1400 from 8 a.m. – 4 p.m. ET.
The company says anyone who has purchased any of the below items "are urged to return them to the place of purchase for a full refund." Here are the recalled products:
Product name

1.

Barbeque Spiced Smoked Nova Salmon

2.

Brook Trout

3.

Center Sliced Smoked Norwegian Style Salmon

4.

Everything Spiced Smoked Nova Salmon

5.

Finest Sliced Salty Lox

6.

Finest Sliced Smoked Nova Salmon

7.

Irish Cured Smoked Salmon

8.

Lox Trimmings

9.

Mackerel

10.

Naturally Smoked Nova Salmon

11.

Noon Hour Smoked Salmon

12.

Norwegian Style Smoked Salmon

13.

Nova Atlantic Salmon

14.

Nova Bits

15.

Nova Homarus

16.

Nova Lox

17.

Nova Salmon

18.

Nova Salmon Bagel Cuts

19.

Pastrami Nova Atlantic Salmon

20.

Pastrami Style Smoked Nova Salmon

21.

Pepper Crusted Smoked Nova Salmon

22.

Presliced Gravad Lox

23.

Presliced Pastrami Style Salmon

24.

Presliced Pastrami Style Salmon

25.

Presliced Scotch Style Salmon

26.

Presliced Scotch Style Salmon

27.

Presliced Scotch Style Smoked Salmon

28.

Presliced Smoked Atlantic Salmon

29.

Sable

30.

Sliced Gravlax

31.

Sliced Pastrami Style Nova

32.

Sliced Smoked Norwegian Style Salmon

33.

Sliced Smoked Salmon

34.

Sliced Smoked Scotch Style Salmon

35.

Smoked Nova Bagel Cuts

36.

Smoked Nova Lox

37.

Smoked Nova Salmon

38.

Smoked Sliced Nova Salmon

39.

Smoked Trout

40.

Somga

41.

Trimmed Nova

42.

Whitefish
Products of each item vary in packing, in both air pack and vacuum packages. The lot numbers and expiration dates of these products should be listed on the back of the packages.