NY Bill Calls for 'Detention' of Individuals Deemed Public Health Threat
A proposed bill in New York would give the government the power for the "removal and dentition" of certain individuals considered a threat to public health amid the continued increase in COVID-19 cases in the state.
The bill, titled A416, was introduced by Democratic Assemblyman Nick Perry and, according to his website, "relates to the removal of cases, contacts and carriers of communicable diseases who are potentially dangerous to the public health."
The bill is set to be discussed in the New York State Assembly's Health Committee on Wednesday.
The bill states that the governor or health commissioner, "upon determining by clear and convincing evidence that the health of others is or may be endangered by a case, contact or carrier...may order the removal and/or detention of such a person or of a group of such persons by issuing a single order."
"The provisions of this section shall be utilized in the event that the governor declares a state of health emergency due to an epidemic of any communicable disease," the bill states.
Additionally, the bill also states that the governor or relevant health authorities could have the power to require certain individuals to undergo a "prescribed course of treatment, preventative medication or vaccination, including directly observed therapy to treat the disease and following infection control provisions for the disease."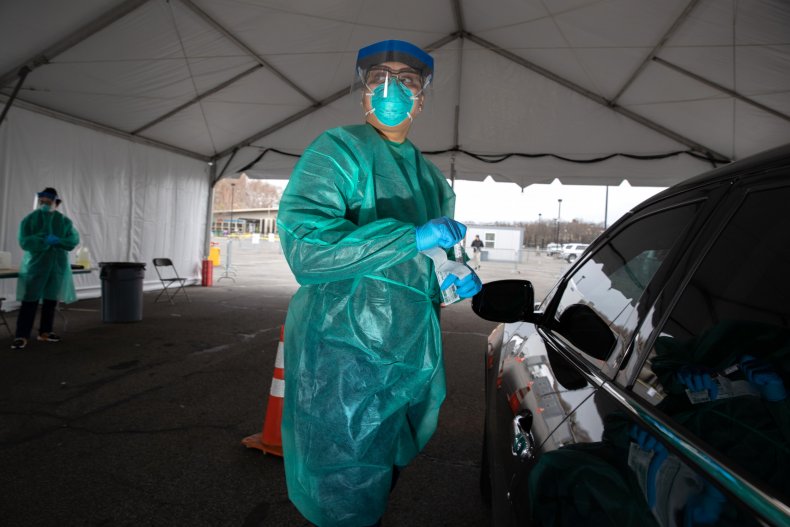 While the bill comes amid surging cases, deaths and hospitalizations related to the novel coronavirus in New York, earlier versions of it were proposed in the 2015-2016 legislative session.
In a statement sent to Fox News, Perry wrote that the bill "was initially introduced to address public health concerns related to the containment of the Ebola virus after it was discovered that Ebola-infected persons had entered the United States...There is no intent, no plan, or provisions in my bill to take away, or violate any rights, or liberties that all Americans are entitled to under our Constitution, either state or federal."
Newsweek reached out to Perry for comment but did not receive a response in time for publication.
According to data from Johns Hopkins University, there are currently more than 1 million confirmed COVID cases in the state, as well as at least 38,415 deaths.
While the bill has not yet reached New York Governor Andrew Cuomo's office, Richard Azzopardi, a senior adviser to Cuomo, told Newsweek via email, "We didn't even know about this bill, which has no sponsor in the senate, until this weekend."
"It apparently has been around six years, never left the first step of the committee process and everyone's crazy uncle needs to knock it off," Azzopardi told Newsweek. "We have real things to do."