NY Bishop Doesn't See Conflict Between Pope's Criticism of Those Protesting COVID Restrictions and Supreme Court Ruling
Following the Supreme Court's ruling against New York Governor Andrew Cuomo's restrictions on religious services, Roman Catholic Diocese of Brooklyn Bishop Nicholas DiMarzio said that he didn't feel that the diocese's lawsuit is in conflict with Pope Francis' recent op-ed in which criticized people who protested COVID lockdowns.
The Supreme Court's Wednesday ruling sided with the Brooklyn diocese and other religious organizations that felt that the restrictions violated the First Amendment and were too harsh.
In his op-ed published in The New York Times on Thursday, Pope Francis said that most governments had responded to the pandemic well in making public health a priority. He then turned his attention to anti-lockdown protests, saying that protesters took the idea of personal freedom and turned it "into an ideology, creating a prism through which they judge everything."
"Yet some groups protested, refusing to keep their distance, marching against travel restrictions—as if measures that governments must impose for the good of their people constitute some kind of political assault on autonomy or personal freedom! Looking to the common good is much more than the sum of what is good for individuals. It means having a regard for all citizens and seeking to respond effectively to the needs of the least fortunate," he wrote.
In his interview with The Associated Press, DiMarzio spoke highly of the pope's op-ed. He saidthat he didn't think the diocese was protesting, and that the churches were taking necessary steps to be safe.
"I think the pope's words are wonderful. I don't think we protested. I don't think we've ever negated the rules that were imposed upon us, except we had a difference of opinion on the number of people that could go into a building. That's a big difference from flaunting the rules, as some congregations have done in Brooklyn and Queens," DiMarzio said. "They refused to take precautions. That was not our case. We complied with everything we were asked to do and more."
He continued explaining what he felt the differences were in what the pope wrote about protests and the lawsuit. "I don't think those words of the pope really apply to us—this is not an ideological issue. It's not anti-government, but it is looking at the First Amendment that people have a right to worship when it's possible," he said.
DiMarzio also said that the precautions Brooklyn and Queens churches took are "overly cautious." A video from June featuring DiMarzio explained a number of guidelines about church re-openings, such as social distancing and wearing a face mask.
The video also said hymnals and missals wouldn't be available and music would be limited. Hand-touching moments like the sign of peace or holding hands during the "Our Father" would not happen. There were also special rules to receive communion.
According to the clip, churches would be sanitized and disinfected regularly and encouraged people to get tested before returning. It also said that people who are at a higher risk for the virus could continue to celebrate Mass at home.
In a Thursday press release, DiMarzio praised the Supreme Court's decision, explaining that churches have been safe and should be considered an essential service.
"I have said from the beginning the restrictions imposed by Governor Cuomo were an overreach that did not take into account the size of our churches or the safety protocols that have kept parishioners safe. Catholics in Brooklyn and Queens have adhered to all COVID-19 safety protocols to attend Mass and receive the Eucharist. Our churches have not been the cause of any outbreaks. We have taken our legal battle this far because we should be considered essential, for what could be more essential than safely gathering in prayer in a time of pandemic. Now, with the benefit of the Supreme Court's ruling, we look forward to continuing the fight in the lower courts to ensure that these unconstitutional restrictions are permanently enjoined once and for all," he said.
In an emailed statement to Newsweek Saturday, the diocese explained that 10- and 25-person limits did not account for safety protocols or what size churches are:
"The Diocese of Brooklyn, with this lawsuit, is not challenging restrictions except for one aspect, the 10 or 25 person limit in the red or orange zones, because those numbers did not take into account the size of our churches, some of which can fit 500 to 1,000 people, or the protocols we put in place, including the mandatory wearing of masks and social distancing requirements."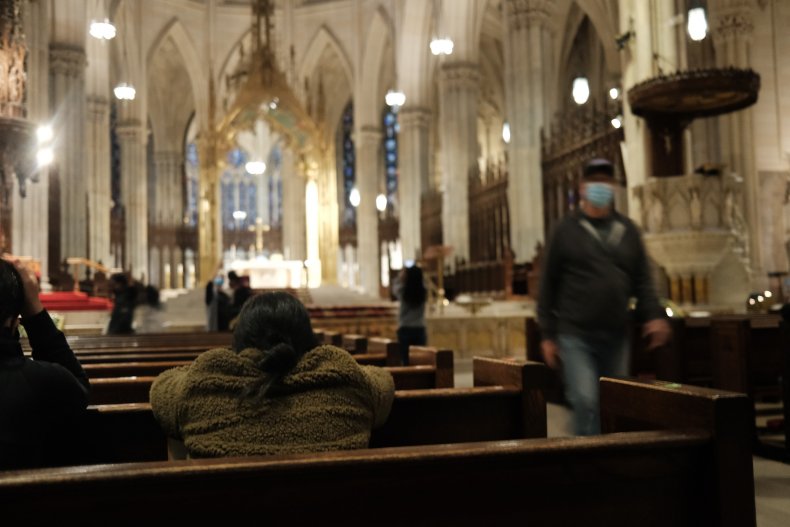 Updated 1:13 PM ET, with a statement from the diocese.