New York will once again allow alcoholic beverages to go as the state struggles with a surge in COVID-19 cases driven by the Omicron variant.
"Cheers, New York! We're going to once again allow the sale of to-go drinks – a critical revenue stream during the lean times last year,' Governor Kathy Hochul wrote in a Twitter post on Wednesday.
The New York Restaurant Association said it was "thrilled" about Hochul's announcement.
"These are difficult times that are not letting up," Melissa Fleischut, president and CEO of the New York State Restaurant Association, said in a statement. "The restaurant industry is being battered once again by another wave of COVID-19, colder weather restricting dining options and widespread staffing challenges. New York State must find ways to support the industry and 78 percent of New Yorkers want alcohol-to-go to become permanent. Governor Hochul has listened to New Yorkers, and we will fight with her to allow alcoholic beverages with takeout and delivery."
Coronavirus cases have risen more than 240 percent in the Empire State over the course of the past two weeks, and hospitalizations are up more than 100 percent as the highly transmissible Omicron virus strain continues to spread.
The to-go drink policy was started in March 2020 as a way to aid restaurants and bars struggling financially amid shutdowns. At the time, bars and restaurants in New York were forced to suspend indoor dining and transition to takeout and delivery only.
The alcohol program, which proved to be widely popular, continued for 15 months before officials suddenly put an end to the popular program in June of last year.
Then-Governor Andrew Cuomo said at the time that the emergency declaration allowing for to-go containers of alcoholic beverages was no longer necessary given that COVID-19 infection rates had dropped significantly.
"New York went from one of the worst infection rates to the lowest infection rate in the country, and it was all because of the efforts of New Yorkers who were smart, united and did what they needed to do throughout this entire pandemic," Cuomo said in a statement at the time. "Now we're starting to write a new chapter for a post-COVID New York—the state disaster emergency is ending and we can focus on reimagining, rebuilding and renewing our state."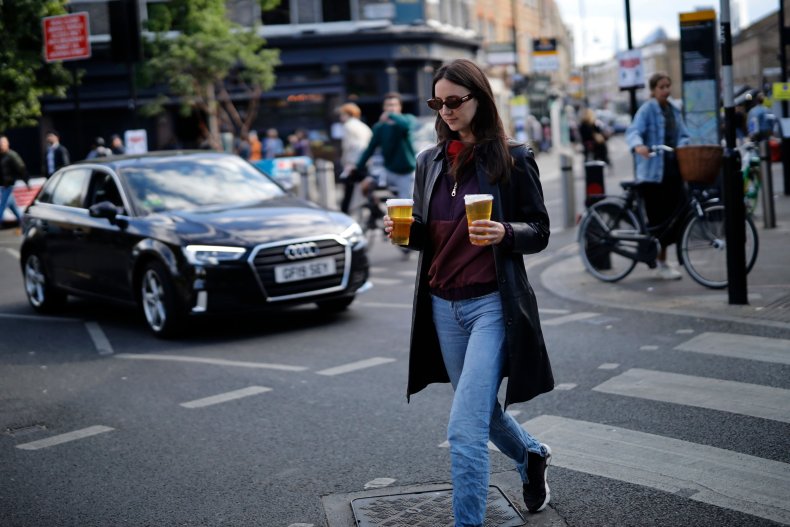 Hochul said during her first State of the State address Wednesday that bars and restaurants—which she referred to as the "soul of our neighborhoods"—had been asking for officials to allow the sale of to-go drinks.
The governor also announced a tax credit on COVID-releated purchases, such as outdoor heaters and seating, to provide relief for small business owners to get through the latest case surge.
"My fellow New Yorkers, this agenda is for you," Hochul said during her speech. "Every single initiative is filtered through the lens of how it will help you and your families, because I know you're exhausted. I know you want this pandemic to be over."
Fleischut told Newsweek that the tax credit Hochul discussed will also be "helpful" for the industry, and that the governor's "Jails to Jobs" initiative could help restaurant and bar owners with staffing shortages.
"We're certainly an industry that can train and hire the prison population and they tend to do well when re-entering society coming into the restaurant industry because their skills that are easily learned and we can help with that transition," Fleischut said.
Another priority for the New York State Restaurant Association that is out of Hochul's hands is replenishing the federal Restaurant Revitalization Fund. The fund provides eligible restaurants with funding equal to their pandemic-related revenue loss up to $10 million.
"Only about 35 percent of the restaurants that applied in New York State are actually funded," Fleischut said. "So we would really want to see Congress fully fund all the applicants that apply for that so that there weren't only certain restaurants that got the available funding, that everybody got the money that they deserve for that."
Update 01/05/22, 5:30 p.m. ET: This story was updated with comments from Melissa Fleischut and more information.