N.Y. Congressman Calls Out McConnell for Opposing COVID Aid to States
Representative Tom Suozzi, a New York Democrat, criticized Senate Majority Leader Mitch McConnell and Republicans who have expressed opposition to providing COVID-19 relief to state and local governments.
As negotiations over another round of stimulus to address the economic fallout of the pandemic have remained at an impasse since summer, McConnell and other GOP lawmakers have balked at Democrats' proposal to provide tens of billions of dollars in federal aid to state and local governments. McConnell and his allies have described the effort as "blue-state bailouts." Suozzi pushed back against this description, arguing that New York has been subsidizing McConnell's home state of Kentucky for many years.
The Quote
"Right now, New York subsidizes the rest of the country. We are the biggest net donor state in the United States of America," Suozzi told CNBC's Squawk Box on Tuesday. "And who do we subsidize? Well the taker states are states like South Carolina, North Carolina, Florida, Arizona."
The congressman from New York explained that "we set up this system under the New Deal and the Great Society to subsidize these other states to help them to catch up. Now we're subsidizing them to kick our ass."
"One of the things that really gets me, is when Mitch McConnell says, 'I don't want to do a blue-state bailout.' Well, the past five years New York State has sent $120 billion more in income taxes to the federal government than we've gotten back, while Kentucky, where Mitch McConnell's from, has received $150 billion more than they've put in," he said.
"We've been bailing them out, so to speak, for years—for decades," Suozzi said.
Why It Matters
Lawmakers in Washington continue to debate how much aid should be included in an additional COVID relief package, as well as how those funds should be allocated. Although there has been significant bipartisan support for a $908 billion proposal—which would funnel about a quarter trillion dollars to state and local governments—McConnell and some other leading Republicans have expressed opposition to the compromise. Meanwhile, Democrats oppose increasing liability protections for businesses—something McConnell and Republicans have said must be included in any deal.
"State and local money is tied to liability protection," Senator John Cornyn, a Texas Republican, said Monday. "So there's either going to be none for both of those or both of those that are going to be provided for. My hope is that we'll do both."
But Senator Bill Cassidy, a Louisiana Republican, suggested that McConnell would come around and accept the $908 billion bipartisan package. Cassidy said Sunday that he was "optimistic" that McConnell and President Donald Trump would back the proposal.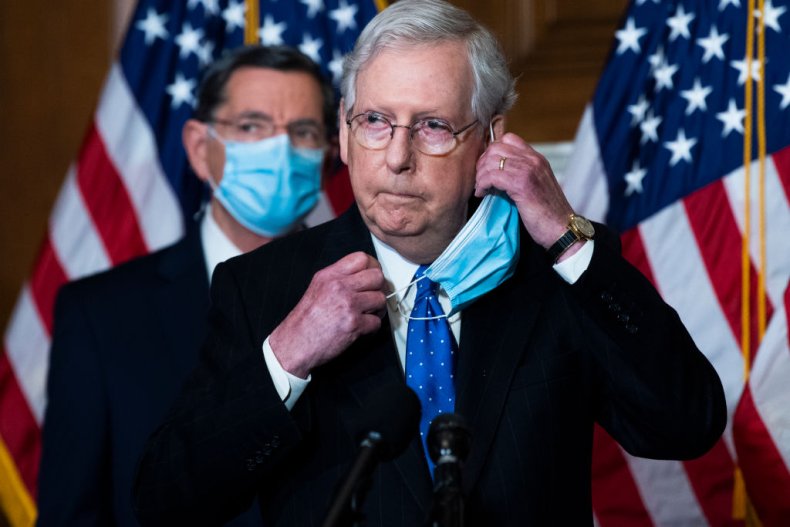 Opposing View
McConnell has put forward a smaller more targeted relief package, totaling around $500 billion. The Senate majority leader's proposal would include boosted unemployment aid, more support for small-businesses and funding for vaccine distribution, in addition to liability protections for businesses.
"Republicans have been saying for months that [House] Speaker [Nancy] Pelosi and the Democratic leader should let Congress get outcomes in all of the places where we already agree, rather than holding everything hostage over their most controversial partisan demands," McConnell said Monday.
"A targeted compromise on the most urgent items would pass by a massive bipartisan margin," the Republican leader said.
Newsweek reached out to a press representative for McConnell for further comment but did not immediately receive a response.