NY to Crackdown on Subway Behavior by Prohibiting Drug Use, Sleeping
Sprawling across seats for a nap, lighting up for a smoke, and shouting between passengers will no longer be a feature of New York City's subway system if all goes according to Mayor Eric Adams' new plan.
On Friday, the mayor announced during a speech at Manhattan's Fulton Street Subway Station his intent to drive "fear" out of the city's iconic transportation option through a plan centered around bettering the enforcement of existing rules and improving services to support the homeless who sometimes rely on the service for shelter.
"People tell me about their fear of using the system, and we are going to ensure that fear is not New York's reality," he said. "No more smoking, no more doing drugs, no more sleeping, no more doing barbeques on the subway system—no more just doing whatever you want."
The subway's chaotic atmosphere has become a running joke of the internet with riders posting photos of trains being turned into makeshift bedrooms, restaurants, and animal shelters. However, more recently, it has faced scrutiny for not just being an uncomfortable space, but occasionally serving as a violent one.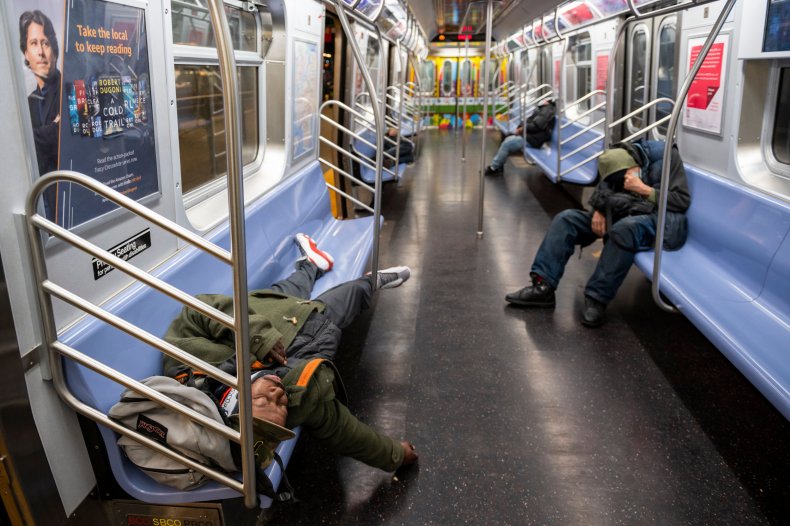 Prior to Adams taking office this year, the subway system faced more felony assaults last year than it had in any other year dating back to 1997. In mid-January, concerns over safety drew even greater attention after a woman died upon being pushed in front of an oncoming train by a man police said had a history of mental illness.
This tragedy followed with Adams announcing that even he, a former police captain, "felt unsafe" riding the subway, being confronted with yelling passengers, a "feeling of disorder," and homeless people "everywhere."
The new plan aims to address the issue of homeless people using the system as a place of refuge. Along with stationing a greater number of officers to enforce subway rules, the mayor will work with Governor Kathy Hochul to support additional housing and mental health resources.
"It is cruel and inhumane to allow unhoused people to live on the subway, and unfair to paying passengers and transit workers who deserve a clean, orderly, and safe environment," Adams said regarding the plan. "The days of turning a blind eye to this growing problem are over, and I look forward to collaborating with the state, the federal government, TWU, advocates, and law enforcement to solve this challenge. It will take time, but our work starts now."