N.Y. GOP Rep Says Trump Administration Withholding Funds From FDNY 9/11 Health Program Is 'Disgraceful'
New York Republican Congressman Peter King on Thursday called the recent report of President Donald Trump's administration withholding funds from the FDNY's 9/11 health program "disgraceful."
While speaking to the New York Daily News, which published the report exclusively, King added: "I don't even care what the details of this thing is. That fund has to be fully compensated, fully reimbursed. I mean, this is absurd."
"If anyone were true American heroes, it was the cops and firemen on 9/11, especially the firemen, and for even $1 to be being held back is absolutely indefensible," King said.
According to documents obtained by the Daily News, Trump's administration and the U.S. Department of Treasury have been withholding nearly $4 million from the FDNY World Trade Center Health Program (WTCHP), a program that is used to track and treat FDNY firefighters and medics suffering from 9/11-related illnesses.
Newsweek reached out to King for comment, but did not receive a response in time for publication.
The Daily News reported that the payments were supposed to be authorized and made by the National Institute for Occupational Safety and Health, which oversees the program, but the Treasury Department began keeping some of the money.
While speaking to the newspaper, Dr. David Prezant, director of the FDNY WTCHP and FDNY's chief medical officer, said that the payments were "just disappearing."
"This is the most amazing thing. This was disappearing—without any notification," Prezant said.
According to Prezant, about half a million dollars was deducted in 2016 and 2017, but this increased to about $630,000 in the following two years. Prezant told the News that the Treasury Department nearly tripled it withdrawals in 2020, diverting $1.447 million through late August.
"Here we have sick World Trade Center–exposed firefighters and EMS workers, at a time when the city is having difficult financial circumstances due to COVID-19, and we're not getting the money we need to be able to treat these heroes," Prezant said. "And for years, they wouldn't even tell us—we never ever received a letter telling us this."
Prezant did not immediately respond to a comment request from Newsweek.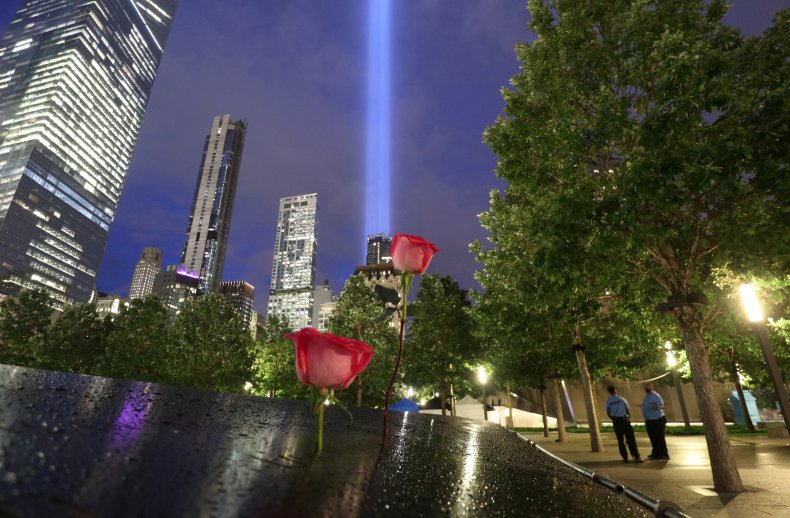 In an email sent to Newsweek, Jessica Weakley, an administrative director for FDNY's WTCHP, stated: "I can confirm that the Daily News article is accurate and the amount is roughly $3.7 million."
King also told the Daily News that he wrote a letter to Treasury Secretary Steven Mnuchin asking about this problem and for a solution, but after not receiving a response, he penned a second.
He also told the publication that he plans to speak with Vice President Mike Pence about this issue, as both appeared at the Tunnel to Towers event honoring the 19th anniversary of the tragic day.
Several other lawmakers across New York also responded to the report, including Senate Minority Leader Chuck Schumer and Congresswoman Carolyn Maloney.
"The Trump Treasury Department siphoning funds meant to pay for 9/11 workers' healthcare is outrageous," Schumer wrote in a tweet on Thursday. "These first responders risked their lives for us on 9/11. The 9/11 workers' health program must be made whole. NOW."
Schumer made similar comments in an email sent to Newsweek, stating that "the Trump Treasury Department siphoning congressionally appropriated funds meant to pay for 9/11 workers' healthcare is an outrageous finger in the eye to the firefighters, cops and other first responders who risked their lives for us."
"This needs to stop forthwith and payments to the workers' health program must be made whole—and now," Schumer added in his email sent to Newsweek.
In a tweet published on Thursday, Maloney called out Mnuchin and wrote: "This is unacceptable. Our 9/11 heroes need and deserve this care."
"Congress made this program permanent to show that the country meant it when we said #NeverForget. You need to make the WTC Health Program whole, now," her tweet added.
A White House official told Newsweek that the Treasury Department complied with its obligations to take the money and use it to pay what New York owes the federal government—but noted that the White House is actively working with King and others to find potential ways to provide aid to support the country's 9/11 heroes.
In an email sent to Newsweek, an administration official from the Treasury Department said that the goal of the department and King is to get the FDNY its funding. The official added that the Treasury Department has done everything in its power solve this issue and are actively working with New York City to find alternative ways of making it happen.
The Treasury Department also directed Newsweek to a letter sent to King on August 20, which stated the department's Bureau of the Fiscal Service is "required to offset federal payments for the collection of delinquent debts owed to the United states."
"In this case, between August 2016 and May 2020, TOP [Treasury Offset Program] took 292 offsets of payments to FDNY in the amount of $1,983,452.98. Each of these offsets was applied to delinquent Medicare Secondary Payer debt owed to the Department of Health and Human Services' Centers for Medicare and Medicaid Services," the letter said. "These debts were owed by various entities within New York City that share the same TIN [taxpayer identification number]."
Updated 5:39 p.m. ET, to include a statement from an administration official from the Treasury Department.