N.Y. Gov. Andrew Cuomo Plans to Attend Buffalo Bills Playoff Game After COVID-19 Test
New York Governor Andrew Cuomo announced Wednesday that fans will be allowed at the Buffalo Bills home playoff game next month, and stated that he plans to get tested for the novel virus before attending the game.
Cuomo's announcement came during a press conference, which featured Bills' owners, Terry and Kim Pegula.
"I look forward to seeing you out there, we'll keep our fingers crossed," Cuomo said while speaking to the Pegulas. "As I said, I'm gonna take my test, I'm gonna be out there to watch the game with you and we look forward to it."
According to Cuomo, 6,700 fans will be allowed at the game, which is scheduled to be played on either January 9 or January 10.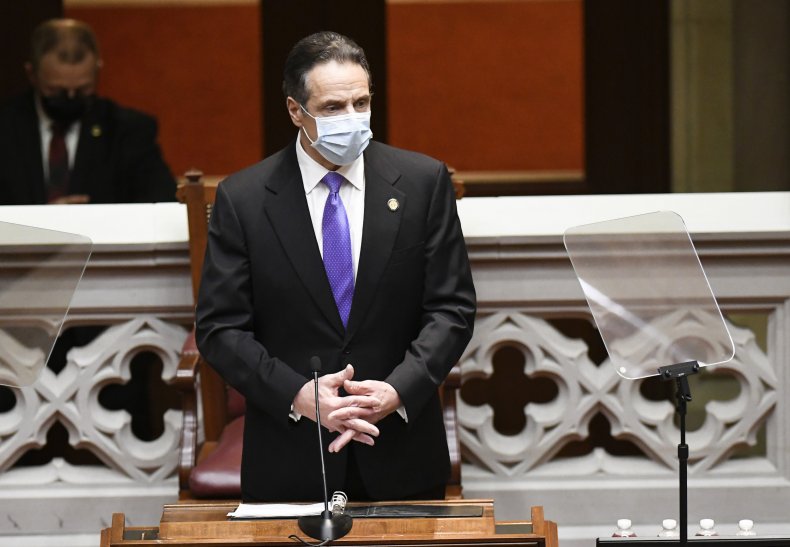 "The agreement is for 6,700 fans," Cuomo said Wednesday. "They will be socially distant, masks required, but every fan will be tested before the game."
Cuomo added that the decision to allow fans at the game "is a pilot to find ways where we can smartly and safely reopen businesses."
Until now, the Bills have closed games to fans throughout the 2020 NFL season, as part of New York's COVID-19 guidance for professional sports competitions.
In areas outside of New York City, parks, restaurants and entertainment venues are permitted to reopen at 33 percent capacity. Bills Stadium has a seating capacity of 71,608 so allowing 6,700 fans would place the venue at roughly 9 percent capacity.
While the Bills will be allowed to hold fans for the first time all season, New York's other two NFL teams, the Jets and the Giants, will continue playing games without fans in attendance, as their games are held at MetLife Stadium in New Jersey, where outdoor gatherings are limited to 500 people.
Newsweek reached out to Cuomo's office for comment but did not receive a response in time for publication.
In response to Cuomo's announcement, Bills' quarterback Josh Allen shared a message on Twitter, saying, "Bills Mafia! I am excited to let you guys know we are going to be allowed some fans for our first playoff game. We are super excited for it. I want to thank all the parties involved – the Pegulas, Governor Cuomo and everybody else involved. Thank you so much."
Allen added, "Please follow guidelines and wear your masks in the stands so we can have you guys there for the rest of the way. Go Bills!"
This will be the Bills' first home playoff game since 1996, when they suffered a 30-27 loss to the Jacksonville Jaguars.
According to the Bills' team website, COVID-19 testing will be administered at the team's stadium "two to three days prior to the playoff game."
"Only ticket holders who test negative and can provide proof of a negative result will be given entry to the game," the team wrote in an announcement. "If a ticket holder tests positive they can contact the Bills ticket office to obtain a refund for the cost of the ticket and the parking fee only. The testing fee is non-refundable."
The announcement by Cuomo comes as cases, deaths and hospitalizations related to the novel coronavirus continue to surge in New York.
According to data from the COVID Tracking Project, there were more than 10,000 new COVID-19 cases on Tuesday and Monday. The seven-day average number of new cases in New York is at least 11,032 as of Tuesday, according to the COVID Tracking Project.
Additionally, the state is currently averaging at least 7,169 hospitalizations and 131.4 deaths, over the past seven days.