N.Y. Gov. Cuomo Says Trump 'Making Up Facts' and Refusing to Wear Mask Enabled Pandemic Explosion
New York Governor Andrew Cuomo on Monday accused President Donald Trump of "facilitating" and "enabling" the coronavirus outbreak by not encouraging Americans to wear masks or practice social distancing.
Cuomo made his remarks during a briefing in which he discussed the state's progress in addressing the pandemic and continuing restrictions aimed at reducing the spread of the virus. While New York has reported a steady decline in new cases since reaching its peak in April, other states across the U.S. have reported record highs in new cases since they began to reopen their economies in May and June.
According to Cuomo, setting a good example for the American public and explaining the value of precautions, like wearing face coverings and observing social distancing, are responsibilities that rest largely on the president's shoulders—responsibilities Cuomo said Trump has repeatedly dodged.
"The president says a lot of things. He makes up facts. He makes up science. He wants to deny the COVID virus; he has since day one," Cuomo said. "Now we have a problem in 38 states because some people believed him."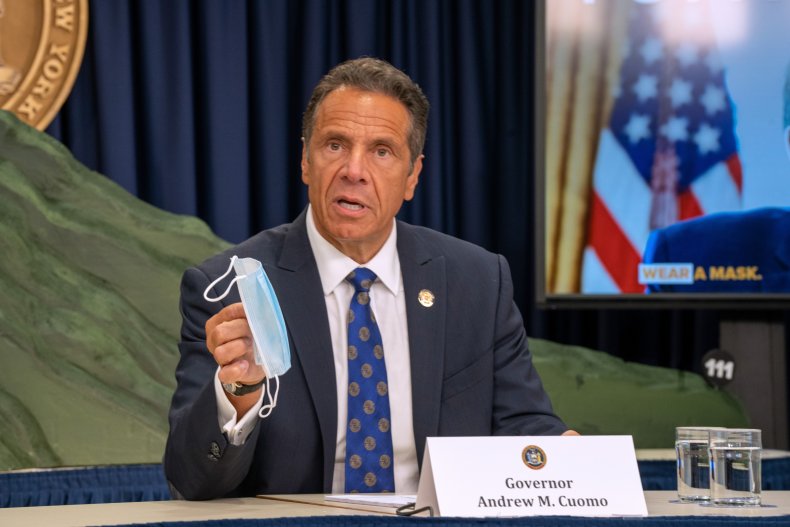 During a July 4 speech Trump delivered at the White House, the president said the U.S. has "learned to put out the flame" since the virus arrived in the country earlier this year and has "made a lot of progress" in battling the pandemic. He also attributed the rising numbers of new cases with expanded testing efforts and said 99 percent of the cases reported were "totally harmless," a statistic Food and Drug Administration Commissioner Stephen Hahn declined to address during interviews after Trump's speech.
"He is facilitating the virus. He is enabling the virus by statements like that," Cuomo said of the president.
By Monday, more than 2.9 million virus cases had been reported in the U.S., according to researchers at Johns Hopkins University. More than 130,000 of those—over 4 percent—have died, and thousands more are still battling the virus in hospitals around the country, with new infections reported in record numbers over the past couple of weeks.
In addition to his public remarks about the virus, Trump has routinely appeared in public without wearing a mask or other face covering, despite reminders federal health officials have given Americans since April to don masks when social distancing is not possible.
"How did this become a political statement?" Cuomo asked, holding up his mask. "This is common sense." The governor said he's been asking Trump "for weeks" to set an example for the American public by wearing a mask of his own.
"Mr. President, don't be a co-conspirator of COVID," Cuomo said. "Do one simple thing: Acknowledge to the American people that COVID exists. It is a major problem. It's going to continue until we admit it and each of us stands up to do our part.
"If he does not acknowledge that, then he is facilitating the virus," the governor said.
Newsweek reached out to the White House for comment but did not receive a response in time for publication.