NY Governor Cuomo Says a Federal Quarantine by Trump Would be a 'Declaration of War,' Trump Renegotiates
President Donald Trump on Saturday talked about the possibility of a federal quarantine in the tri-state area of New York, New Jersey and Connecticut because of the massive spread of coronavirus.
New York City is currently the world's largest hotspot, and the state of New York holds about 40 percent of the nation's COVID-19 cases, with that population spreading the virus.
"A lot of the states that are infected, but don't have a big problem, they've asked me if I'll look at it so we're going to look at it," Trump said Saturday while getting ready to send the United States Navy Hospital Ship Comfort from Norfolk Navy Base to New York City. Meanwhile, he talked about putting New York City and surroundings areas under a federal quarantine in efforts to curb the outbreak. Or in this day and age—flatten the curve.
"We're thinking about certain things. Some people would like to see New York quarantined because it's a hotspot. We might not have to do it, but there's a possibility that sometime today we'll do a quarantine, short-term, two weeks on New York. Probably New Jersey, certain parts of Connecticut. I'd rather not do it, but maybe we need it."
Then Trump retracted Saturday with this tweet.
"On the recommendation of the White House CoronaVirus Task Force, and upon consultation with the Governor's of New York, New Jersey and Connecticut, I have asked the@CDCgov to issue a strong Travel Advisory, to be administered by the Governors, in consultation with the Federal Government. A quarantine will not be necessary. Full details will be released by CDC tonight. Thank you!"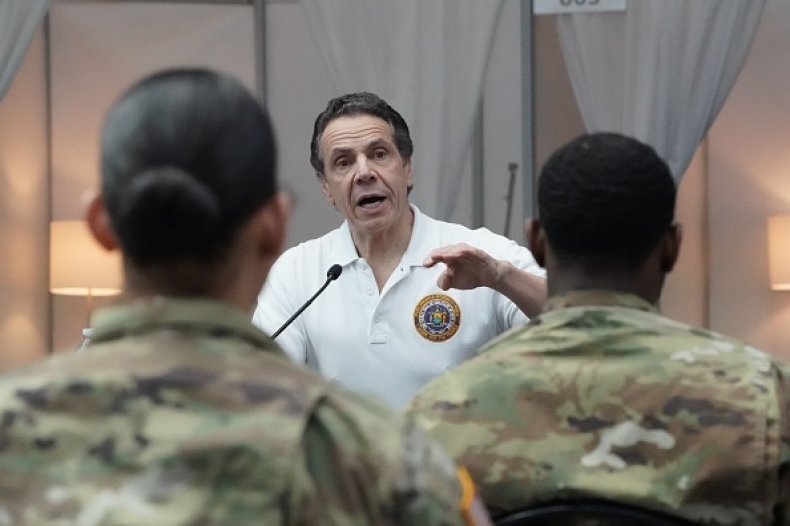 Gov. Cuomo, speaking later during an interview on CNN, said the president likely didnn't want to get into a "war" with each individual state.
"I don't think the President is looking to start a lot of wars with a lot of states," Cuomo said.
And when asked if he would hold back on suing the federal government from trying to implement a federal quarantine, Cuomo said he's done it before.
"I've sued the federal government many times, by the way, over the past few years," Cuomo said. "We've had quite a number of policy decisions. I do not believe it's going to come to that on this.
"Again, I've been speaking to the president. This would be a declaration of war on states. A federal declaration of war. And it won't be just New York, New Jersey, Connecticut. Next week it would be Louisiana with New Orleans, and the next week after that it would be Detroit, Michigan and it could run all across the nation. And I don't think the president is looking to start a lot of wars with a lot of states just about now for a lot of reasons."
Trump reiterated his statement through a tweet on Saturday, saying a quarantine of hot spots was still a consideration.
"I am giving consideration to a QUARANTINE of developing "hot spots", New York, New Jersey, and Connecticut. A decision will be made, one way or another, shortly," Trump tweeted.