N.Y. Governor Cuomo Says His Personal Opinion Is That the Cop Who Drove Vehicle Into Protesters 'Should Be Fired'
New York Governor Andrew Cuomo said Monday his personal opinion was that a New York Police Department officer who was seen on video driving into a crowd of protesters "should be fired."
The video was captured Saturday as protests erupted across the country in response to the death of George Floyd, a black man who died while in police custody in Minneapolis on May 25. In the video, a NYPD vehicle can be seen driving into a crowd in Brooklyn as people scream and scramble to get out of its path.
During his daily COVID-19 news briefing Monday, Cuomo called the video "disturbing" and said he believed some of the NYPD's responses to the protesters had "exacerbated the anger."
"There are videos of NYPD cars driving into a crowd that are very disturbing, pulling a mask down off a person to pepper spray them, throwing a woman to the ground. It's on video," the governor said.
"If I was just Andrew Cuomo from Queens, it would be simple. I would say, 'That guy should be fired. Drive the car into a crowd? You should be fired.' That's what Andrew Cuomo in Queens says," the governor said. "As governor, there's law, there's processes, there's going to be lawsuits. I get it."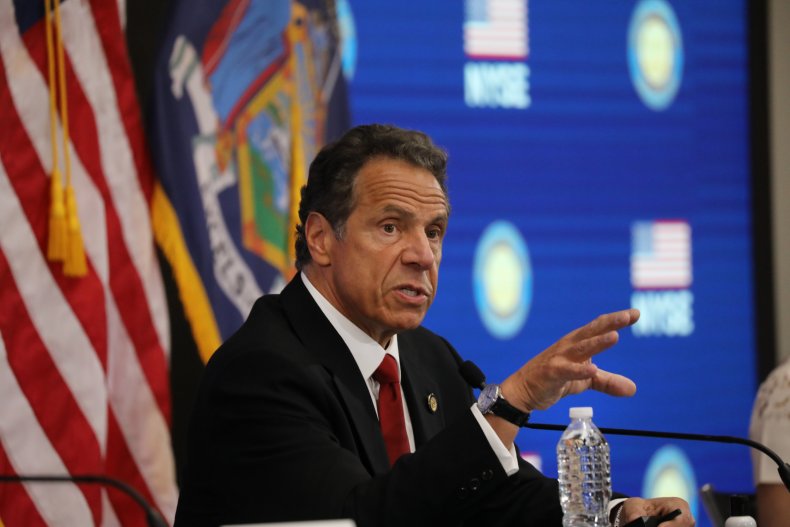 Cuomo said he had called upon New York Attorney General Letitia James over the weekend to investigate the incident. Though James' office told Newsweek it does not comment on pending investigations, James said in a statement that her office was looking into recent incidents between the NYPD and protesters and called on anyone with information to contact her office.
"Peaceful protest is a basic civil right. That right should be protected and guarded," James said. "We take the designation to investigate [actions on May 29] very seriously. We will act independently to seek answers, ensure that the truth is laid bare, and that there is accountability for any wrongdoing. We will be transparent in our findings as we seek accountability for those who did wrong."
Cuomo also said he would be speaking with New York City Mayor Bill de Blasio later Monday to discuss the city's options for imposing curfews as protests were anticipated to continue in the days ahead.
According to a tally by the Associated Press, at least 4,100 people had been arrested across the U.S. in connection with the protests held to demand justice for George Floyd. More than 40 cities in 24 states imposed curfews over the weekend as reports of looting and violence popped up around the country.
In addition to voicing concern for the outbreaks of violence seen among both protesters and police officers, Cuomo said he was concerned that large gatherings of demonstrators could trigger a second COVID-19 wave in the state, where he said hospitalizations were trending downward.
Even so, Cuomo said he supported the protesters' message.
"I share the outrage, and I stand with the protesters," he said during his news briefing. "There's no doubt that this situation has done a lot of damage on a lot of levels and has not advanced the cause of the protesters—which I agree with."