Cuomo Warns Trump That Delay in Aid Will Hamper Vaccine Distribution, "Will Lead to More Deaths"
New York Governor Andrew Cuomo urged President Donald Trump to provide COVID-19 relief to aid the states' vaccine distribution in a letter sent on Saturday.
"Without state and local funding, the vaccine distribution will be delayed," Cuomo wrote in his two-paged letter to the president. "You will be held accountable for that delay, which will lead to more deaths and make the federal vaccine program a debacle."
Cuomo noted that time is running short and Congress needed to act on a COVID-19 bill in the next 48 hours. He then called on Trump to sway Republican lawmakers to support the bill and said "Senator McConnell is irrelevant. You control the Republican Party."
"Remember, the federal vaccine program now amounts to delivery of a FedEx box to the front door of the state. The state must then distribute the vaccine," the governor wrote. "If the states are forced to lay off essential workers, who is going to provide the administration of the vaccination?"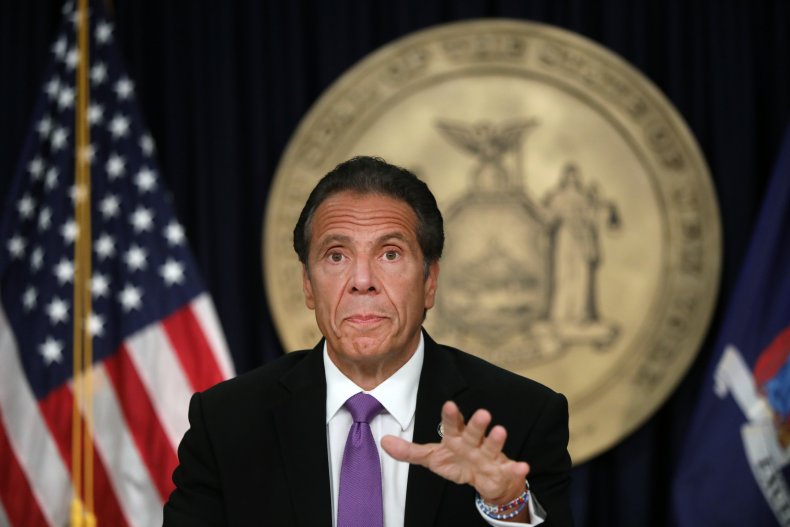 His letter came as the state reported the highest number of coronavirus hospitalizations since mid-May, according to data from The New York Times.
As of Saturday, the state recorded a total of 9,919 new COVID-19 cases and a 5.18 percent positivity rate, according to a tweet from Cuomo. New York also reported 6,208 total coronavirus hospitalizations and 127 deaths on Saturday.
Over the course of the pandemic, New York has seen over 841,900 COVID-19 cases and 35,800 deaths as of Sunday morning, according to the Times.
Nationwide, data from John Hopkins University noted, the U.S. reported over 17.6 million coronavirus cases and 316,000 deaths throughout the pandemic.
"More Americans will die from COVID than died during World War II. And a failed vaccine program will be the culmination of 10 months of federal failure in managing the COVID crisis," wrote Cuomo.
Following months of debate after the passing of the $3 trillion Health and Economic Recovery Omnibus Emergency Solutions (HEROES) Act, which has not made any further headway in the Senate, Congress could pass a second economic relief package on Sunday.
Democrat and Republican negotiators have been split over the terms of a proposed $900 billion economic relief package. However, speaking to reporters Saturday night, Senate Minority Leader Chuck Schumer said negotiators were "very close, very close" to agreeing on a bipartisan package.
Newsweek reached out to the governor's office and the White House for comment, but didn't hear back in time for publication.