N.Y. Knicks Ticket Prices Quadruple For Tuesday's Potentially Historic Game
Ticket prices for the New York Knicks home game on Tuesday night have soared, and it mostly has nothing to do with the Knicks. Prices have quadrupled ahead of the game against the Golden State Warriors in anticipation of Warriors guard Steph Curry breaking the NBA's career 3-point record.
He needs seven more to break the all-time record of 2,973 set by Ray Allen. The Warriors play Monday night at Indiana, though, and the sportsbook FanDuel has his odds at 6.5 against the Pacers. If Curry hits fewer than seven, then he'll likely break the record the following night at Madison Square Garden barring an injury, COVID, or cold shooting.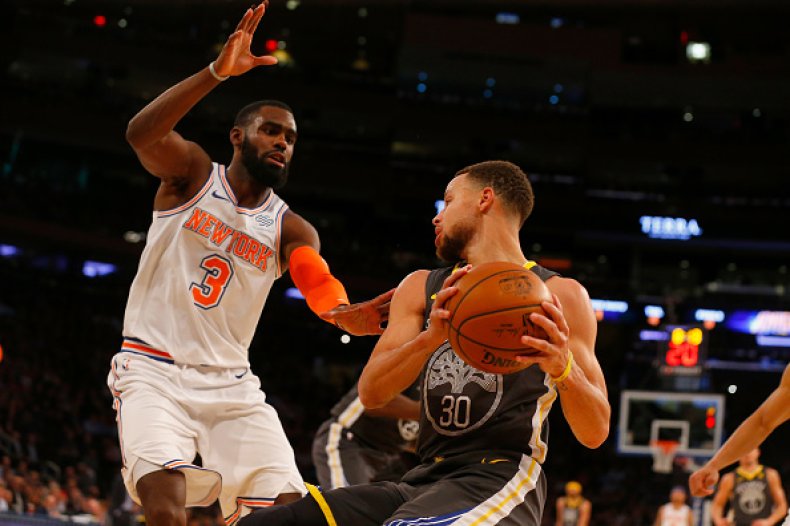 Even tickets for the Pacers have nearly tripled, according to secondary market operator TicketIQ. The average ticket price for a Pacers home game is $156, but they're selling for $417 for the Warriors game on Monday.
Meanwhile in New York, where the average ticket price is $352 at MSG, tickets are now averaging $1,334 for Curry and the Warriors. No other Knicks home game this season even has a starting price of at least $200.
Should Curry somehow fail to knock down seven 3-pointers between Monday and Tuesday night, then he has another chance on the road Friday night at the Boston Celtics. The average ticket price for Celtics home games are $260, but the price for Friday's game has already more than doubled, now averaging $568.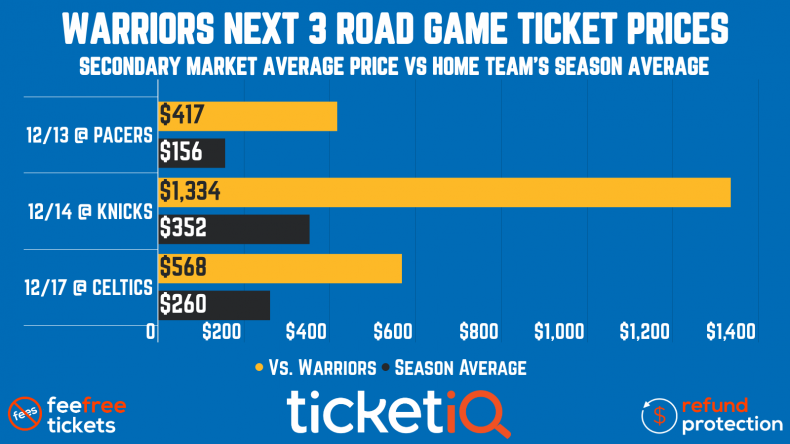 High-priced tickets for Knicks game are not unusual, but Tuesday's game has playoff-type prices. The cheap seats for the Warriors game are starting at $300 apiece, which is just under the overall average. The most expensive tickets for the game are selling for more than $14,700 for seats on the front row. Lower level tickets for the game are starting at $453, court side sections begin at $685 behind the baskets and more than $4,000 along the sidelines.
Curry led the Warriors to three NBA championships in four years (2015, 17-18) and runner-up finishes in 2016 and 2019.
Last week, Curry and Warriors coach Steve suggested that it could have been possible for the guard to drain 16 3-pointers in one game to break the record at home. It's something Curry and Kerr later regretted suggesting.
"There hasn't been stress for our team. I would say it's been a slight distraction," Kerr said. "And I told the media in Philadelphia the other night, I fed into it because somebody asked me if Steph could break it at home against Portland with 16 3s and I said, 'Sure,' because nothing Steph does surprises me. But that fed into the narrative—he came out and took 17 3s that night, our crowd was going crazy from the very beginning. And I'm shaking my head thinking, what the hell did I just do?
"I think the most important thing is we just have to settle in and it's going to happen obviously pretty soon. We just have to get into a rhythm."