N.Y. to Launch Abortion Public Rights Campaign to Combat Texas Legislation
New York Governor Kathy Hochul announced on Monday that her state would implement a public information campaign designed to provide clarity around abortion rights and to curb the spread of misinformation.
Joined by U.S. Senator Kirsten Gillibrand and U.S. Representative Carolyn Maloney, Hochul denounced Texas' ban on abortions after than six weeks of pregnancy, saying "that sense of security we once had in our nation has been ripped apart."
Hochul said New York would fight to ensure state residents and those who visit understand their reproductive rights. To ensure this, she directed "all state agencies," particularly the Department of Health, to support her office in creating a patient bill of rights.
The bill will be written in "plain, clear language" and will be distributed at doctor's offices and clinics. Complementing the bill will be a modernized memo dictating provider guidance, informing healthcare providers of their rights and obligations regarding to abortion care.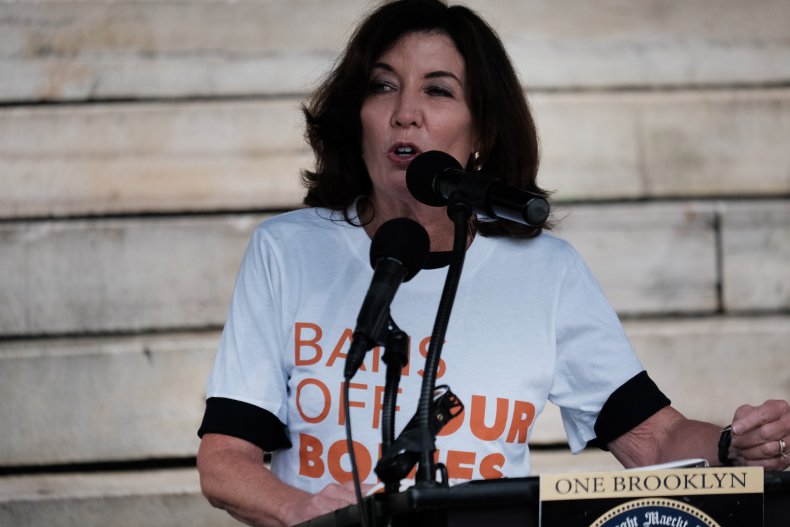 "Our harbor is open for people to come here and understand that we will be here to take care of them and protect them," Hochul said. "We want to make sure New York State patients, first of all, and anyone who comes here, knows their rights.
Hochul said the state would update regulations "as soon as possible" to ensure that abortion medication can be offered through telemedicine. Since the COVID-19 pandemic, telemedicine has grown in popularity. Planned Parenthood of Greater New York currently offers abortion-related telemedicine services.
With the pandemic pushing society further online, Hochul cited misinformation campaigns as a component in the political fight against abortion. She said that in 2019, when New York was working to pass its Reproductive Health Act, the state found that four out of the 10 most engaged Facebook stories were from anti-abortion news sources that she said misrepresented the bill.
To avoid future misinformation campaigns, Hochul said she would send a letter to Facebook asking it to "help clean up the act," assisting the state in sharing accurate information about abortion issues and the political situations in New York and Texas.
While Hochul's action is limited to the state of New York, Gillibrand and Maloney said they would follow her lead and work to pass legislation in the Senate and House.
They said they would each work to pass the Women's Health Protection Act in their respective chambers, an action that would codify Roe v. Wade, protecting access to abortion for all Americans.
Additionally, Gillibrand said they would work to repeal the Hyde Amendment that bars the use of federal funds for abortions outside of incidents in which pregnancy was incurred by rape or when delivering the child would endanger the life of the mother. Gillibrand said the amendment unfairly impacts low-income women.
While Maloney and Gillibrand voiced commitment to these actions, Gillibrand said the changes face an uphill battle. Each would likely face a Senate filibuster, requiring 60 votes to pass. To get them through, Gillibrand urged her colleagues to join in repealing the filibuster.
"I fully support full filibuster reform to pass reproductive freedom in the U.S. Senate," Gillibrand said. "Our job is to lift up your voices to make sure that every single person here who cares deeply about these rights can be heard. And we will, every single one of us here, not stop fighting until every person has the freedom to make the decisions she wants for her future."