NY Mets Pitcher Jacob deGrom Throws Something Never Done in MLB History
New York Mets starting pitcher Jacob deGrom hit a hurling mark Friday night that's never been done in the history of Major League Baseball. His 15 strikeouts against the Washington Nationals aren't what mattered.
The big deal about deGrom is that he has now struck out 50 batters through his fist four starts of the 2021 season, something that's never been done in recorded history of the game.
Jacob deGrom broke the record of 48 strikeouts, which was set, ironically, earlier this week by Cleveland Indians starter Shane Bieber.
His feat of striking out 14 or more batters in three-consecutive starts has only been accomplished by two other pitchers in MLB history, which are Pedro Martinez (1999) and Gerrit Cole (2019).
DeGrom struck out 15 Nationals hitters, allowing just two hits and no walks in the complete-game, 6-0 win over Washington. And despite his sterling outing that had fans at Citi Field chanting "M-V-P" during the middle innings, deGrom retired the last six batters in his complete-game shutout without a strikeout.
If that wasn't enough, deGrom drove in the Mets' first run of the game on an RBI double in the fifth. The game was rather lackluster after a flurry of Mets runs. DeGrom got on the board in the eighth when he singled and later scored. He had three hits in the game and retired the last 16 batters he faced.
In his previous outing last Saturday against the Colorado Rockies, deGrom struck out 14 batters while allowing just three hits in six innings during a win in seven innings. He struck out 14 batters on April 10 in a 3-0 loss to the Miami Marlins and struck out seven hitters in an April 5 loss to the Philadelphia Phillies.
DeGrom needed just 109 pitches for the complete-game win on Friday, which let him improve to 2-1 on the season while lowering his earned-run average (ERA) to a miniscule 0.31 this season.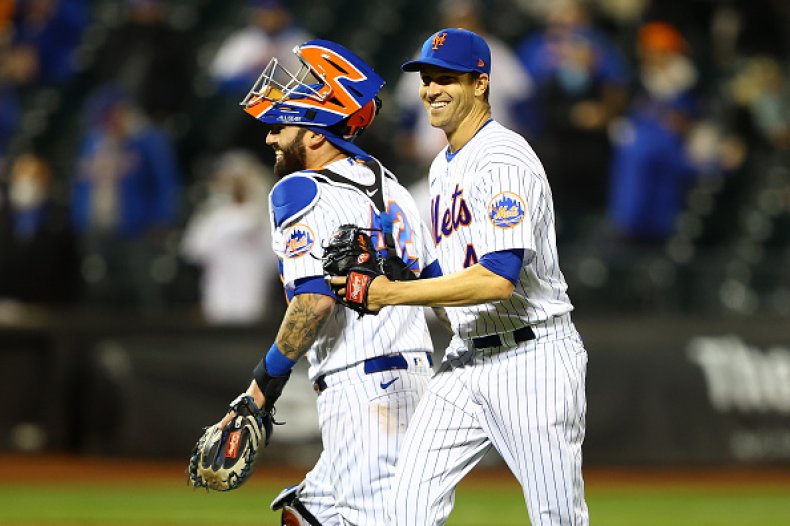 DeGrom has allowed just 13 hits, three walks and one earned runs in his 29 innings pitched so far in the 2021 season.
The Mets are just 8-7, but they lead the National League's East division by one and a half games over the surging Atlanta Braves and Philadelphia Phillies, who are both 9-10 on the season. The Miami Marlins are 8-11 and the Nationals are 7-10, both two and a half games back from the Mets.
DeGrom is in his eighth season in the majors. The righty from DeLand, Florida stands 6-foot-4 and won the National League's Cy Young Award as the league's best pitcher in both 2018 and 2019. He was the Rookie of the Year in 2014.