N.Y. Nurses Say Used N95 Masks are Being Re-Packed in Boxes to Look New
Nurses working at an intensive care unit in a New York hospital say they discovered used N95 respirator masks in a storage closet that are being made to look new and distributed for use by hospital officials.
The ICU nurses sent a video to News 12 Sunday showing dozens of the N95 masks, which provide the best protection against COVID-19, hanging on a clothesline in a storage closet at the Vassar Brothers Medical Center (VBMC) in Poughkeepsie.
The nurses said the hospital was recycling the masks and boxing them up to make them appear new, something hospital administrators denied.
"All those masks were there to be packed away and saved," VBMC President Peter Kelly told News 12 Thursday, adding that VBMC and other hospitals around the country have saved masks to be sanitized and reused only if there's another national shortage of personal protective equipment (PPE), like the one seen earlier this year when the pandemic first hit the U.S.
"One of the things that we were doing was drying them before we packaged them away and we have never had to use them," Kelly said.
VBMC officials maintain it has a three-month supply of PPE, as required by New York state officials.
But the nurses, speaking anonymously to News 12 for fear of retribution, disagreed. They remain worried about their health and safety while at work in the ICU, and one nurse told News 12 she received a mask that was marked as new but had makeup stains on it.
Mid Hudson News obtained photos of the allegedly used masks on Monday and forwarded it to VBMC administrators.
"We have never used recycled masks at Vassar Brothers Medical Center," VBMC spokesman John Nelson told Mid Hudson News, adding that "if the photo was taken here, it would have been at a time, early in the pandemic, when there was a national shortage of masks and other personal protective equipment. We were preparing for a possible worst-case scenario, which would have included properly sterilizing and reusing masks."
In an email to Newsweek, a VBMC spokesman reiterated that recycled masks have never been used at the hospital.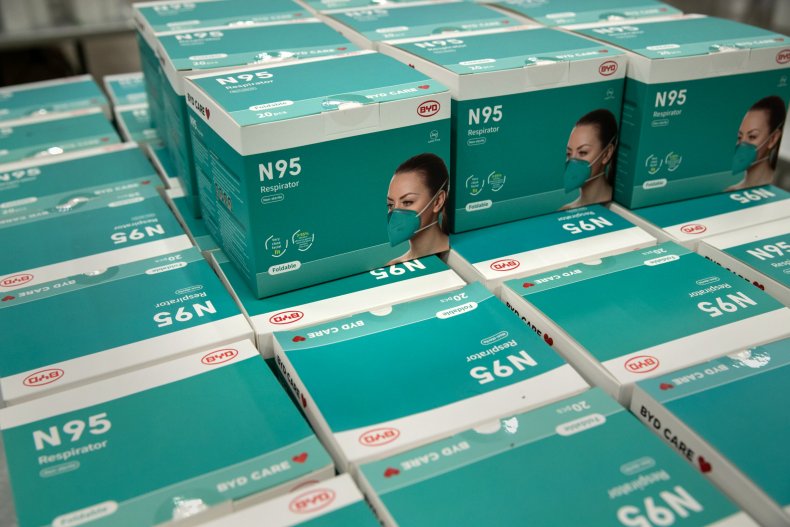 Experts have published studies detailing how medical-grade masks can be successfully decontaminated. Two University of Illinois at Urbana-Champaign professors recently discovered that electric cookers, like rice cookers or Instant Pots, could be an effective way of sterilizing used masks for repeated use, The Washington Post reported.
The extremely warm temperatures and dry heat produced by the electric cookers cleaned the masks without damaging fit or filtration efficiency, the professors' study found.
The Centers for Disease Control and Prevention (CDC) previously released its own set of recommendations for reusing the respirator masks, writing that there was no way of determining the maximum possible number of safe reuses for N95 masks.
"Hang used respirators in a designated storage area or keep them in a clean, breathable container such as a paper bag between uses," the recommendations state. "To minimize potential cross-contamination, store respirators so that they do not touch each other and the person using the respirator is clearly identified. Storage containers should be disposed of or cleaned regularly."
Update (08/21/20, 1:04 p.m. ET): This article has been updated to include a comment from VBMC.