NY Nurses Union Sues State Over Unsafe Coronavirus Working Conditions As National Union Plans White House Protest
The New York State Nurses Association (NYSNA) on Monday filed three lawsuits against the New York State Department of Health and two hospitals—Montefiore Medical Center and Westchester Medical Center—for allegedly failing to protect the health of nurses treating coronavirus patients.
Meanwhile, National Nurses United (NNU), the nation's largest nurses union, are set to protest the White House on Tuesday by reading the names of nurses who have died from coronavirus to demand increased production of personal protective equipment (PPE) and coronavirus testing materials for hospitals.
"With no federal health and safety standard, nurses and other health care workers in many hospitals across the country have not been provided with adequate PPE to protect them from exposure to the virus," NNU wrote in a statement.
NNU wants Congress to mandate the Defense Production Act and amend an upcoming coronavirus stimulus bill to help produce more PPE and testing supplies so health care workers can treat COVID-19 patients and conduct mass testing to slow the virus's spread.
NYSNA's lawsuits allege that New York State's Department of Health and the two aforementioned hospitals haven't provided adequate training, impermeable gowns, masks and other PPE. The union also alleges that the state failed in providing sufficiently safe working conditions for nurses and high-risk employees such as pregnant healthcare workers.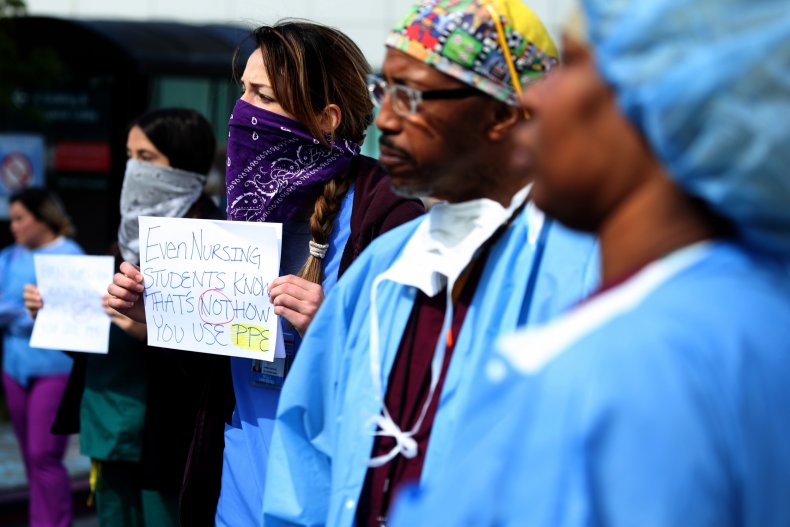 "By compromising the health and safety of the nurses, the [Department of Health] and the two hospitals jeopardize patients, their families and the communities in which they live," the NYSNA wrote in a statement.
NYSNA Executive Director Pat Kane, RN, said, "More than seven in ten of our nurses are reporting exposure to COVID-19 and most are still untested. These lawsuits were filed to protect our nurses, our patients and our communities from grossly inadequate and negligent protections. We cannot allow these dangerous practices to continue."
The group's suit against the New York State Department of Health, which was filed in the New York Supreme Court, alleges that the department failed to uphold Governor Cuomo's April 13 directive for care nurse be given at least an N95 respirator daily. Additionally, it accuses the department of failing to ensure that hospitals provide sick leave to nurses. They say some were forced work while displaying coronavirus symptoms.
The group's lawsuit against the Montefiore Medical Center, which represents 3,000 registered nurses working at the hospital, seeks injunctive relief under the Labor Management Relations Act for the hospital to honor its contractual obligations to provide safe working conditions for nurses and patients.
NYSNA's lawsuit against Westchester Medical Center represents 1,600 registered nurses and also seeks an injunction against the center's alleged intimidation of RNs who have publicly criticized the hospital's handling of the epidemic.
Newsweek has reached out to NYSNA for further comment.