NY Police Union President Says Media is 'Vilifying' Cops, 'Stop Treating Us Like Animals and Thugs'
New York Police Benevolent Association Mike O'Meara railed against the way the New York Police Department had been treated by the media and lawmakers in a Tuesday news conference.
Protests against the death of George Floyd while in the custody of Minneapolis police officers have occurred in New York City. Demonstrators looted businesses, set fires and blocked thoroughfares. NYPD officers were caught on video acting violently towards protesters. Incidents allegedly provoked by NYPD officers include shoving protesters, using pepper spray on peaceful protesters and driving a police vehicle into a crowd of Brooklyn protesters.
O'Meara said police officers had "been left out of the discussion" during his Tuesday remarks. "Stop treating us like animals and thugs and start treating us with some respect."
"Our legislators abandoned us," O'Meara continued. "The press is vilifying us."
"Nobody talks about all the police officers that were killed in the last week in the United States of America and there were a number of them," O'Meara added. O'Meara also cited 375 million interactions between officers and the public which were "overwhelmingly positive."
Newsweek reached out to the office of New York City Mayor Bill de Blasio for comment. This story will be updated with any response.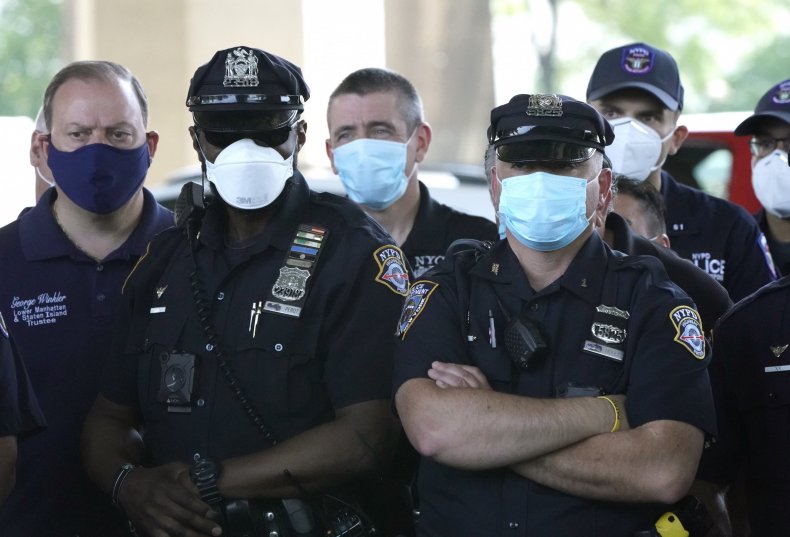 The New York Police Benevolent Association represents approximately 24,000 New York City police officers.
Police departments across the U.S. have come under criticism by both members of the public and lawmakers in the wake of the Floyd protests. House Democrats introduced the Justice in Policing Act of 2020 on Monday, a piece of police reform legislation designed to hold police officers more accountable for their behavior while on duty.
Included in the proposal would be a ban on both chokeholds and no-knock warrants. Body and dashboard camera usage would be made mandatory. Local police departments that choose not to make reforms could lose federal funding.
Democratic House Speaker Nancy Pelosi said at a Monday news conference that the "martyrdom of George Floyd gave the American experience a moment of national anguish as we grieve for the black Americans killed by police brutality today."
In Minneapolis, the site of George Floyd's death, city council members said on Sunday they would disband the city's police force and replace it with efforts within the community to keep the peace. Some cities have discussed shifting monies that would have gone to fund police activity directly to communities.
During a roundtable meeting with law enforcement leaders Monday at the White House, President Donald Trump said he would not allow police in the U.S. to go without funding.
"We won't be defunding our police," Trump said. "There won't be dismantling of our police. There's not going to be any disbanding of our police."