NY Rapper Le1f Has a Black Answer for Gay Questions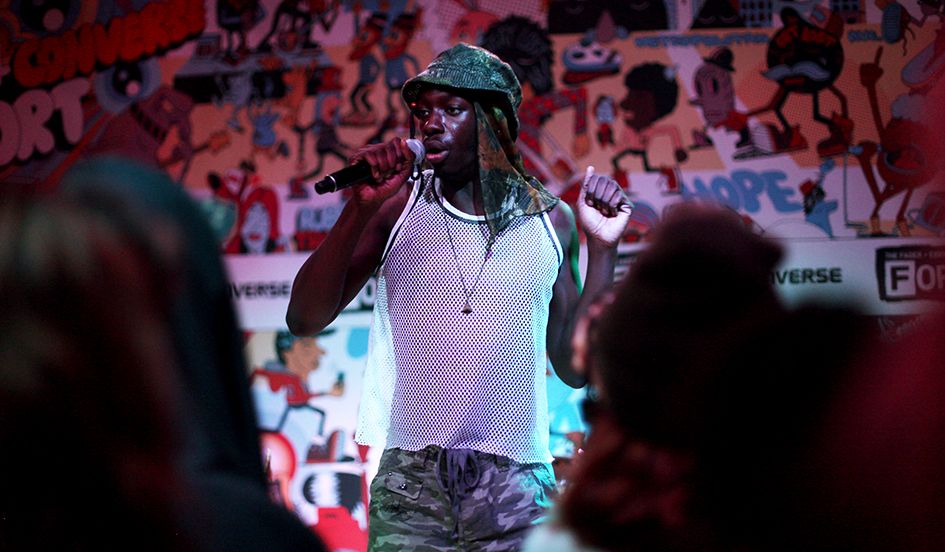 "I don't feel pressure to make anything because of how people talk about me," says the rapper Khalif Diouf — better known by his stage name, Le1f. People talk about him plenty. Since the video for the horn-skronking, space-rap anthem "Wut" broke through in 2012, the quick-rhyming New York rapper has enjoyed the fawning attention of fans, who splice his booty-popping music videos into suitably alluring GIFs, and Internet haters, who narrow in on his status as an openly queer rapper in a world where that's still a notable enough designation to attract attention. With a brand new EP and recently inked deal with Brooklyn-based Terrible Records, best known for indie bands like Grizzly Bear, as part of its joint deal with XL Recordings (Adele, Jack White, Radiohead et al), the rapper finally seems poised on the brink of mainstream stardom — but hasn't sacrificed the aesthetic that's taken him this far. He chatted with Newsweek about facing homophobia, working on his first commercially available LP, and coming up with one-word text-speak song titles.
NEWSWEEK: I was surprised to hear "Wut" pop up on your new EP. Did you rerecord it?
Diouf: It's not rerecorded, it's just remixed and remastered by a friend who's a producer and engineer and works with a lot of great people, including A$AP Rocky and Das Racist. The label wanted it as a single — at least they wanted to put it on iTunes, because none of my music's ever been for sale before. Instead of making a single out of it, I just took the b-side, which was "Hey," and made an EP out of it.
So you're not at the point where you wish everyone would just forget about that track?
I wish people would get into the other stuff, but, like, I'm not mad that new people like it all the time. I guess that's cool, to have a video that some people might always remember. I wish some of the other ones were as popular, but I guess they're too weird.
When you started rapping, did you ever expect to end up making records for a label like XL?
It was always my goal. XL was like the prototype, the dream-goal situation. I'm just really lucky, because it's exactly what I wanted the whole time. And the fact that it's actually with Terrible Records… I used to listen to Grizzly Bear albums in my bed all day and be moody. It feels really rewarding to be validated by those people.
Is there a lot of pressure attached to being Terrible Records' first hip hop artist?
No, I don't feel pressure, I feel release. I feel like all the opportunities that will come to me… If I were on a major label — this happens to people all the time, they get these major label record deals, then they're like the 200th person or artist on the label. If there's an opportunity to play a show at South by Southwest, if your label has four or five rappers who are doing their thing way better than you who want to play that show, you're not going to get that gig. So I feel like I probably have a good chance of doing some cool things with Terrible.
Will it be strange to see your work released on vinyl instead of just distributed online?
It actually wouldn't be the first time — the EP Liquid was released on the Boysnoize record label. It had a really pretty vinyl. But I'm really excited to see how the art gets printed. I'm excited about it. The job is exciting, the job of being a musician.
Was it stressful to have to make every track on the EP fit the same one-word title format as "Wut"?
I wanted to make pop rap tracks that all had very simple, one-word titles that were either greetings or — what is it called when you're parting with someone? I forgot. The other song titles on the album I was working with were "Nah," "Yup," "Hi," "Yeah." "Boom" was a song that happened at the last minute. It got made in three days.
There's a line in "Hey" where you're like, "Ask a gay question / Get a black answer." Do you feel like the media still pigeonholes you as a gay rapper?
I feel like some people do, some people don't. And I don't really care at this point. I can't be bothered [laughs]. At this point where I've gotten so much pressure, like ridiculous stuff, I don't care.
Pressures unrelated to your identity?
The headlines and things I've gotten for some real serious press. At this point I know that I'm making the music I want to make regardless of how people talk about my music on the Internet. I don't feel pressure to make anything because of how people talk about me. I don't feel much changed by the fact that I was called a gay rapper a lot… And there are lots of people who might just only know "Wut" and that's fine. Just the fact that I have art that's out there that people are paying attention to and enjoying is rewarding enough for me to not even be thinking about whatever else is going on.
Have you faced homophobic responses to your music?
I did a lot at first and I still always do. People will have negative responses to everything that a lot of people have positive responses to. A lot of it is just people being anonymous on the Internet, and I don't care [laughs].
Do you read what people write about you on the Internet?
I tune a lot of it out at this point.
Do you have any ridiculous music videos in the works?
I'm shooting a video tomorrow for the song "Boom" that was on the EP. I don't know how ridiculous it's going to be. I think it's going to be really cute. We're shooting at this diner in Jersey City, that's like a 1940s diner and is beautiful.
Have you alerted the diner to this plan?
Oh, yeah. They're very prepared [laughs].