NY Teachers Laid Off and Rehired as Substitutes at Lesser Per Diem Rate, Say Union Leaders
Public school workers in Albany, New York who lost their jobs because of staffing cuts were informed that they had been re-hired as substitutes at a lower rate of pay, according to the Albany Public School Teachers Association (APSTA).
More than 200 members of the Albany City School District were laid off in September, with their final day of work being last Friday. New York Governor Andrew Cuomo made the funding cuts because of economic shortfalls caused by the coronavirus pandemic. Cuomo has asked for $60 billion in emergency funding from the U.S. Congress, which has yet to materialize. On Monday, a teachers union in Albany said that some educators had been asked to work as substitutes after being laid off.
"We are currently reviewing the many instances that have been reported to us of members who were laid off only to be asked to then long-term sub for their 'cut' positions," Albany Public School Teachers Association (APSTA) tweeted Monday morning.
Newsweek reached out to APSTA for further comment.
In a Monday interview with the Times Union, APSTA president Laura Franz said the union is working to verify the claims.
"We are working with our members to try and address this in a more compassionate way," Franz said. "My hope was and still is to explore different solutions with district leadership by which we can find a more humane separation for these members of our district."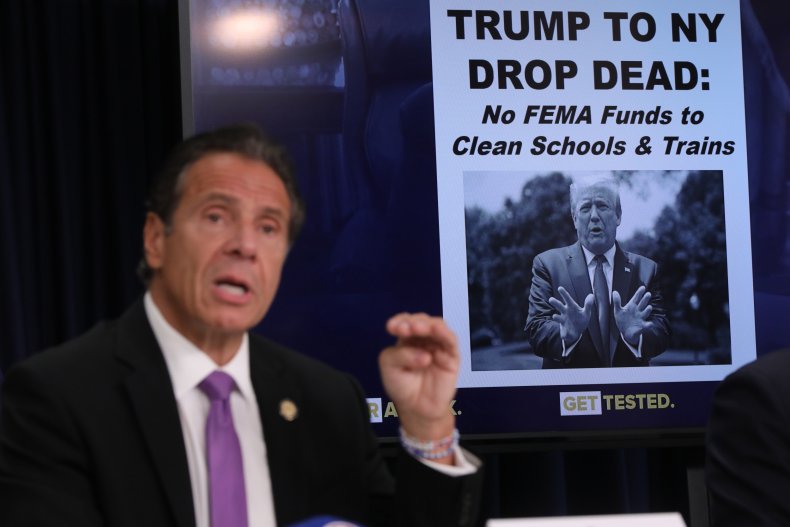 New York's financial woes caused Governor Cuomo to institute a 20 percent funding cut to school districts across the state. In September, Cuomo blamed President Donald Trump for the holdup in New York receiving federal aid.
"The Republican Senate doesn't want to fund state and local governments and that's the sticking point," Cuomo said during a news conference. "Not to fund state and local governments, but to provide all the money that they did to businesses. But you're not going to provide funding to state and local governments who basically support police, fire, hospitals, and schools. It's just totally ludicrous to me. And it starts with the president."
President Trump said in September that he was planning to pull federal funding for cities run by Democrat leaders because of the number of recent demonstrations against racism and police culture. Trump sent federal agents to some cities where protesters had threatened to damage government assets, such as federal courthouses. Citing an "unconscionable rise in violence," Trump wrote in a September memo, "I have offered to provide Federal law enforcement assistance but both [New York City] Mayor [Bill] de Blasio and Governor Andrew Cuomo have rejected my offer."
Federal agencies were instructed to send plans for defunding the cities to the White House Office of Management and Budget to withhold grant money from cities including Washington, D.C., Portland (Ore.) and New York City.
Governor Cuomo said that Trump's refusal to fund New York City was "personal."
"Not only did he tell New York City to drop dead, Trump is actively trying to kill New York City," Cuomo said in September.