NY Yankees Accomplish a Rare Baseball Feat Sunday in 2-1 Win Over the Oakland A's
It's a good thing that Yankee Stadium is open to the public, because 27,807 fans on Sunday got to see the home team tie a record for a rare feat. The New York Yankees turned a triple play to end the game in a 2-1 victory over the Oakland A's.
There's nothing unusual about turning a triple play. The fact that the Yankees have done it twice in one week is pretty rare. They turned one last Thursday against the Toronto Blue Jays at a game in Buffalo. But that's not it, either.
The Yankees turned their first triple play of the season on May 21 against the Chicago White Sox. Turning three triple plays in 31 days is a record for the shortest time span with three triples. But turning three triple plays in one season ties the Major League Baseball mark last accomplished by the White Sox in 2016.
The Yankees, in their long and illustrious history, had never turned more than one triple play in a season. One more and they'll become the first MLB franchise to turn four in a season.
In Sunday's game, the Yankees led, 2-1, in the top of the ninth. The A's got runners on first and second with no outs.
A's batter Sean Murphy shot a ball toward third base, which was fielded by Yankees third sacker Gio Urshela, who touched third and whipped the ball to second, where D.J. LeMahieu caught it while touching the bag, and then firing it to first base to edge Murphy by one step.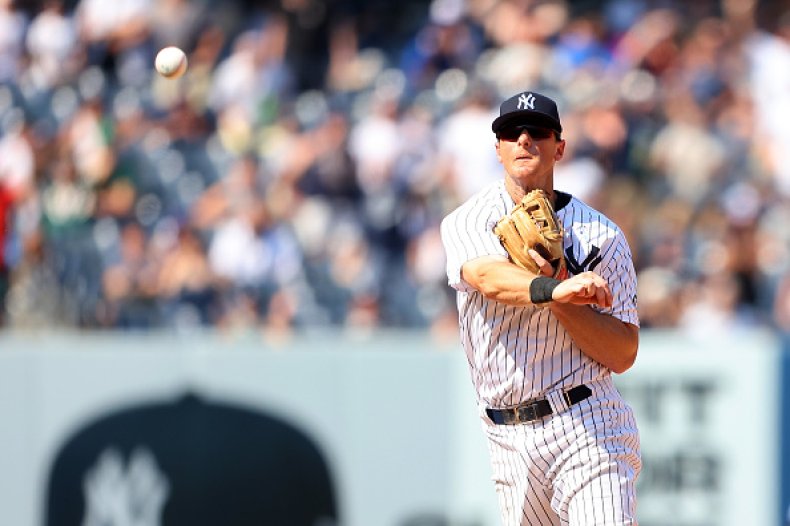 Yankees manager Aaron Boone said he could see the triple play coming as soon as the ball was rocketed into play.
"Usually, a triple play sneaks up on you," Boone said. "Right away, I'm thinking, 'That's a triple play.'"
A's manager Bob Melvin, a longtime player and manager in the big leagues, said he's never seen a game finish in this fashion.
"You're around long enough, you see everything," Melvin said. "I've never seen a game end like that before."
On Thursday against the Blue Jays in Buffalo—the de facto home of the Canadian team during its country's travel restrictions—the Yankees turned the first-ever 1-3-6-2-5-6 triple play in MLB history.
The triple play on Thursday was only the 26th triple turned in their long history, and now they have 27, which is the same amount of World Series championships they've won since becoming a professional franchise in 1901.