NY1 Anchor Praised For Throwing Silent Shade After Donald Trump Attends MAGA-Themed Wedding
Spectrum News NY1 Cheryl Wills received praise from social media users on Tuesday when the local news outlet covered a MAGA-themed wedding reception this weekend, which was held in New Jersey and Staten Island. President Donald Trump himself turned up to both locations surprise the guests.
Anchor Anthony Pascale discussed the story over footage of the president hugging wedding-goers, noting that, "The couple says that even those who are not Trump supporters found the moment extremely exciting."
The camera then returned to the studio and Pascale turned to Wills, and said, "And you have to say that was pretty cool that he stopped by..."
Wills gave a quick, unimpressed look and doesn't respond, quickly changing the discussion saying, "Now to the latest on the international tug of war over A$AP Rocky..."
Reactions on Twitter to this "shade" have been fast, prompted originally from a post by The Daily Show.
One of the most liked comments under The Daily Show post by @nilegirl said, "This is exactly what we mean when we say 'White privilege.' This dude has the luxury of being blissfully unaware and unbothered by the threat that his White nationalist president poses to those of us who can't afford to be this clueless."
But most people just commented GIFs praising Wills for this silent rebuff. Journalist Jemele Hill retweeted the video with the comment, "That awkward moment when you're looking for a co-sign and instead you get ..."
Despite this blowback on Twitter, attendees of the wedding, and the newlyweds did seem to think Trump's appearance was pretty "cool." Nicole Perosi and PJ Mongelli held their ceremony at Trump National Golf Club in Bedminster, New Jersey.
"We are huge Trump supporters, we always have been. We didn't have to think twice about having it anywhere else," Perosi told Fox and Friends on Tuesday.
The Fox and Friends coverage of the story showed footage of guests chanting "USA, USA" as the president waved. The couple also had flags and pro-Tromp banners at the reception.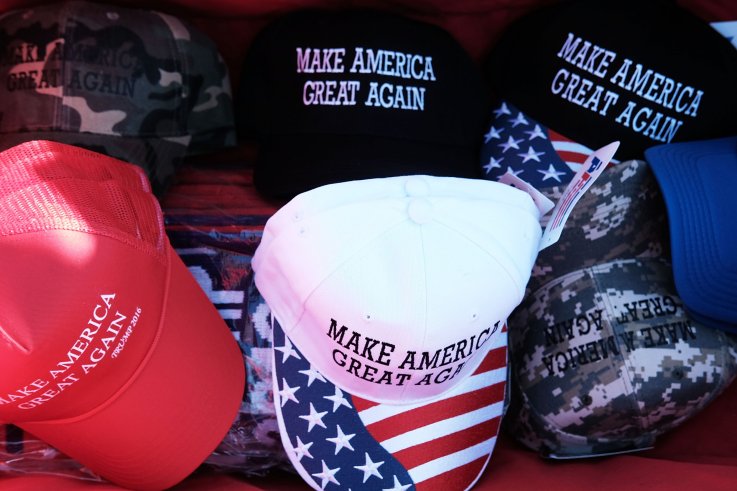 The couple pointed out with a laugh on the morning show that they did send the president an invitation, "not once but many times, he did not crash our wedding."
When asked if some guests weren't pleased with the president's appearance, the couple said no one obliged. "The leader of the free world is at our wedding, and even though we're very proud Trump supporters, most importantly we're all proud Americans."
NY1 Anchor Praised For Throwing Silent Shade After Donald Trump Attends MAGA-Themed Wedding | Culture