NYC Mayor Bill De Blasio Declares State of Emergency as Hurricane Ida Remnants Batter City
New York City is under a weather state of emergency as Wednesday night rolled into Thursday morning, thanks to the remnants of Hurricane Ida producing heavy rains and dangerous flooding.
NYC Mayor Bill de Blasio had already urged residents to remain indoors during the storm's high winds, heavy rains, flooding and tornado warning. Shortly before midnight, he issued the state of emergency.
"I'm declaring a state of emergency in New York City tonight," de Blasio tweeted nearly a half hour before midnight. "We're enduring an historic weather event tonight with record breaking rain across the city, brutal flooding and dangerous conditions on our roads."
Videos have already begun surfacing of cars submerged in floodwaters, and there have been reports of people stranded in flood waters.
The mayor encouraged New Yorkers to stay off the streets and to avoid subways.
"Please stay off the streets tonight and let our first responders and emergency services get their work done," de Blasio wrote in another tweet. "If you're thinking of going outside, don't. Stay off the subways. Stay off the roads. Don't drive into these heavy waters. ... Stay inside."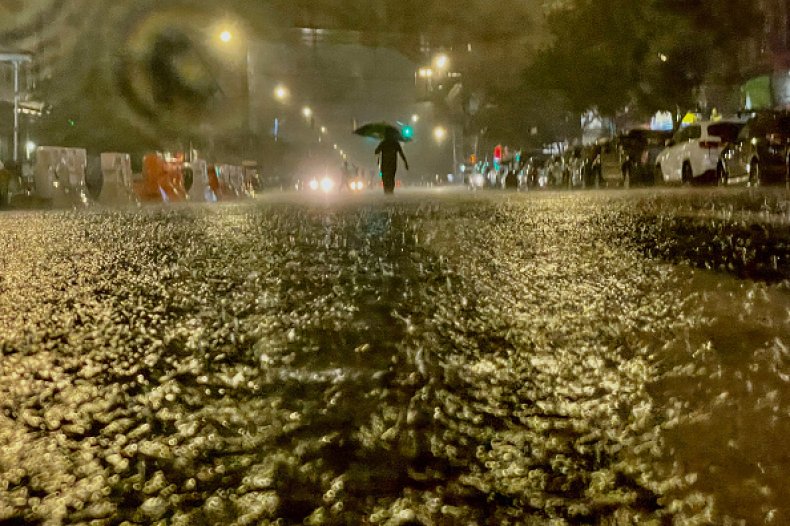 The mayor also said there have been reports of approximately 5,300 people without power by 11:30 p.m., but that number could continue climbing if it keeps battering the city at its current pace.
The city is also under a tornado watch until 1 a.m. local time. A tornado warning expired at 9:30 p.m. The city is also still under a flash flood warning, which means flood waters can become extremely dangerous in a short time frame if rainfall continues like it is.
The storm developed in the Caribbean Sea last week and turned into a Category 1 storm as it passed through Cuba. Even after it traveled into the Gulf of Mexico, it remained a Cat 1 storm until Saturday night, when it became a Cat 2 storm. Early Sunday morning, it rapidly developed into a Cat 4 storm with 130 mph winds and a well-defined eye wall. It made landfall in Port Fourchon, Louisiana around noon CT on Sunday with powerful 150 mph winds, and it slowly meandered over southeast Louisiana.
Ida drenched the southeast Louisiana coast from Morgan City to Slidell, and eastward into Biloxi, Mississippi. By early Monday morning, more than 1 million power customers in that area were without electricity.
The storm caused a bridge in Lucedale, Mississippi to collapse, resulting in the death of two people. Ida continued its path of wrath through Mississippi. In Tennessee, Ida caused more dangerous flooding even though it had been downgraded to a tropical depression by that point.
On Wednesday in Baltimore County, Maryland, it spawned a tornado. On Wednesday evening in the south Philadelphia-to-New Jersey area, it spawned another.
Now, it's dumping heavy rains in New York City with some relatively-high winds and dangerous floods.
The storm is expected to move through the city and into the New England states overnight. Areas in Connecticut, Rhode Island and Massachusetts are already under tornado watches until 7 a.m. and flash flood warnings beyond that.