NYC Black Lives Matter Threatens Bloodshed, Riots in City if Anti-Crime Units Reinstated
Black Lives Matter of Greater New York leader Hawk Newsome said Wednesday there would be "bloodshed" and "riots" if Mayor-elect Eric Adams keeps his campaign promise of reinstating a controversial undercover anti-crime unit.
Newsome made the comments following a meeting with Adams that was live-streamed on Instagram. Though the two agreed on several points, they clashed over bringing back plainclothes cops in order to combat the city's rising violent crime rates.
"If they think they are going back to the old ways of policing then we're going to take to the streets again," Newsome said to reporters outside of Brooklyn Borough Hall after the meeting. "There will be riots. There will be fire, and there will be bloodshed."
Adams, a former NYPD captain and current Brooklyn borough president, was elected mayor in November after he won a June primary against a crowded field of Democratic candidates, which included several progressives. The moderate Democrat has pledged that the undercover anti-crime unit will return to patrolling the city streets after it was disbanded in 2020 during the social justice protests that swept through New York City.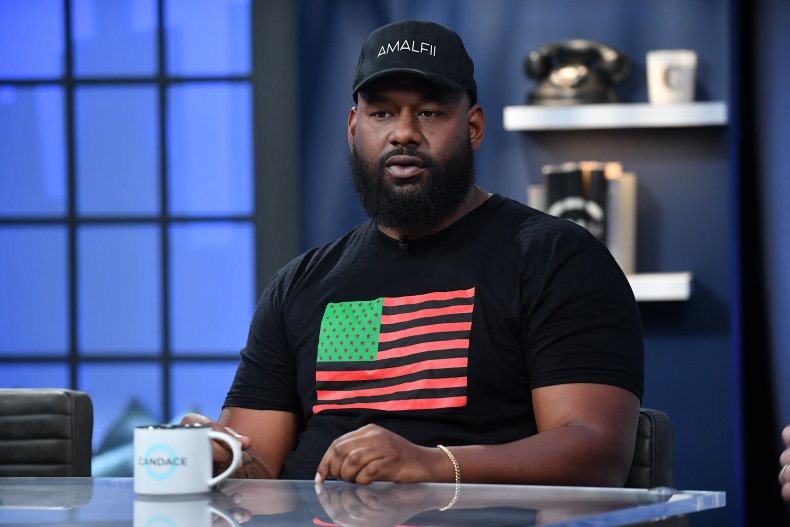 During the closed-door meeting with Black Lives Matter leaders, Adams said, "There's one thing that we do agree on, that we need to change conditions that people are living in, historical conditions. And the conditions have not changed."
"What I know for sure, is there is no one in this city that's going to deal with this issue as the mayor of this city better than I'm going to," Adams, who will become New York City's second Black mayor, said.
However, Adams also called on the BLM leaders to step up.
"You're on the ground. Stop the violence in my community. I'm holding you accountable," he told them. "Don't hold me accountable. Being the mayor, being the borough president, being the state senator—I put my body on the line for my community, so I'm not here for folks to come and say, 'Eric, we're gonna hold you accountable.'"
Chivona Newsome, Hawk's sister and co-founder of Black Lives Matter of Greater New York, disagreed with Adams' assertion. She stated, "You're the mayor of New York! There's only so much we can do."
"I disagree," Adams answered.
Newsome spoke with the New York Post after the meeting with the mayor-elect. He said he was bothered that Adams "didn't offer a comment on police reform" during the talk. The activist also promised his group would take action should they feel the NYPD is targeting their community.
"We will be at his front door, we will be at Gracie Mansion, we will be in the streets if he allows these police to abuse us," Newsome said.
"I am not threatening anyone. I am just saying that it's a natural response to aggressive oppression, people will react," he added.
On Thursday, Adams reiterated his vow to reinstate the plainclothes cop units. He also downplayed Newsome's comments regarding an uproar occurring if the undercover cops return.
"They didn't say any of that in the meeting. That was a lot of grandstanding," Adams said to the New York Daily News. "They know who I am. I ran on a very clear message: My city will not be unsafe and that is what we're going to do. Clear plan: Putting together a plainclothes anti-gun unit—that will happen—and the city is going to be safe."
Adams also took a shot at the power of the leaders in Wednesday's meeting. He told the outlet that the group is "not representative of the Black Lives Matter movement."
Newsome objected to Adams' characterization, telling the Daily News: "It's hypocritical that he would downplay the impact of our organization when we are looked at as global voices for the movement."
Newsweek contacted Mayor-elect Adams for comment.
Update 11/11/21, 12:10 p.m. ET:This story has been updated to include comments Adams and Newsome made Thursday to the New York Daily News.