NYC Bomb Threat Map: Where Have Suspicious Packages Been Reported in New York City?
Since Wednesday, suspicious packages have been reported across the country, many of which are similar in their design and contents. In New York, there have been at least six packages that required a police response, found in places scattered throughout the city.
Suspicious packages were largely confined to seemingly specific targets, including high profile Democratic people and media outlets. Some were sent to buildings where they were intercepted by employees in the mailroom, and others were discovered at U.S. Postal Service facilities. Fortunately, all of the packages were identified before they could be detonated, and no one has been injured.
October 24
On Wednesday, a suspicious package was located in the mailroom of the Time Warner Center building on Columbus Circle at 59th Street in New York. The package was addressed to former CIA Director John Brennan, care of CNN. The return label had the name of Representative Debbie Wasserman Schultz and contained a pipe bomb, as well as, a suspicious powder.
The New York Police Department (NYPD) bomb squad was called to the office and safely transported the package to Rodman's Neck Firing Range. It was later sent to an FBI Laboratory in Quantico, Virginia, for further testing.
During a press briefing after the package was identified, New York Governor Andrew Cuomo said that his office also received a similar package, but he added, "Terrorism only works if you let it work."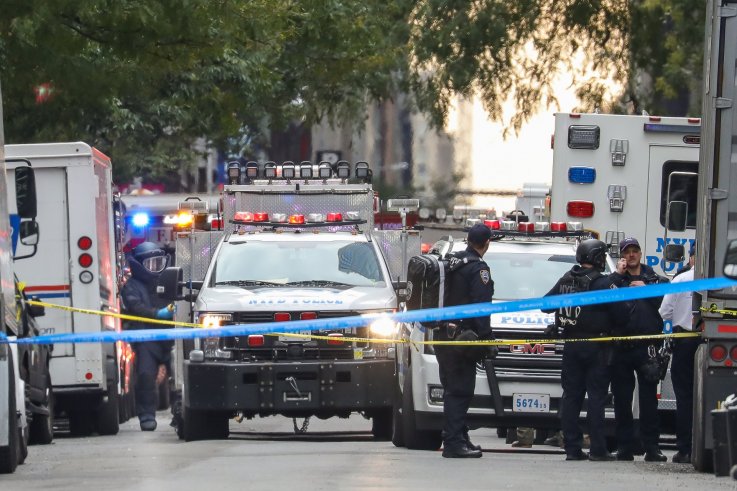 October 25
Police officers were called early Thursday morning to respond to a suspicious package that was mailed to actor Robert De Niro at his media company Tribeca Productions, at 375 Greenwich St. The package was addressed similarly to the ones sent to Cuomo and CNN. Officials were able to safely remove the package, and no one was injured.
The Time Warner Center was evacuated again on Thursday night while NYPD evaluated an unattended package at the Time Warner Center shopping mall. The package was deemed safe, and no hazardous items were found.
October 26
On Friday, the NYPD confirmed to Newsweek that officers were investigating an "unattended package" near Central Park West and West 72nd Street on the Upper West Side. The package was leaning against a tree, according to Pix11, but it was later determined safe.
Earlier in the morning, the NYPD responded to reports of a suspicious package at a post office on West 52nd Street near Eighth Avenue. About two hours later, the NYPD explained that the package was safely removed from the post office, but an investigation was still ongoing.
The package was addressed to former Director of National Intelligence James Clapper, who called it "definitely domestic terrorism." He added that he feared for his neighbors who were retrieving his mail at his home address.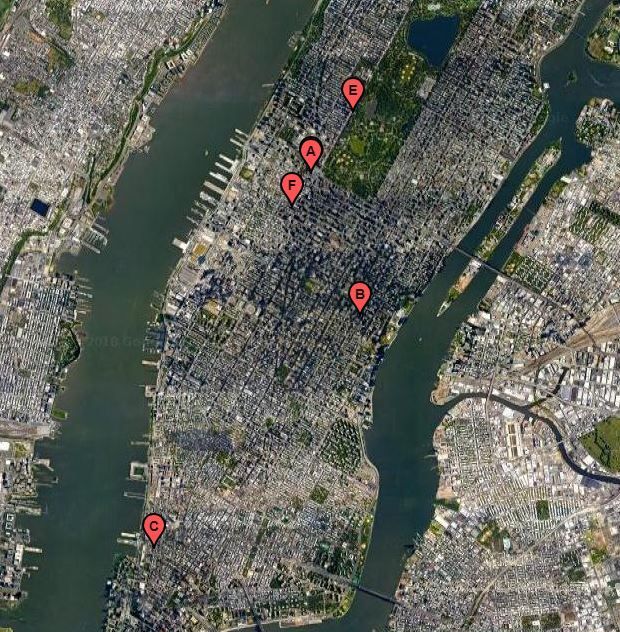 Packages addressed to prominent Democratic figures were also discovered outside of New York, including:
Senator Cory Booker: One found in Florida
Former Vice President Joe Biden: Two found in Delaware
Representative Maxine Waters: Two found, one in Maryland and one in California
Democratic Billionaire George Soros: One found in New York
Former Secretary of State Hillary Clinton: One found in New York
Former Attorney General Eric Holder: One found in Florida
FBI Director Christopher Wray said in a statement on Wednesday that the investigation into who is responsible for the packages is the "highest priority" for the FBI. Wray added that anyone who has information about the packages should contact the FBI.
NYC Bomb Threat Map: Where Have Suspicious Packages Been Reported in New York City? | U.S.