NYC Building Collapse Gives Meerkat and Periscope a First Test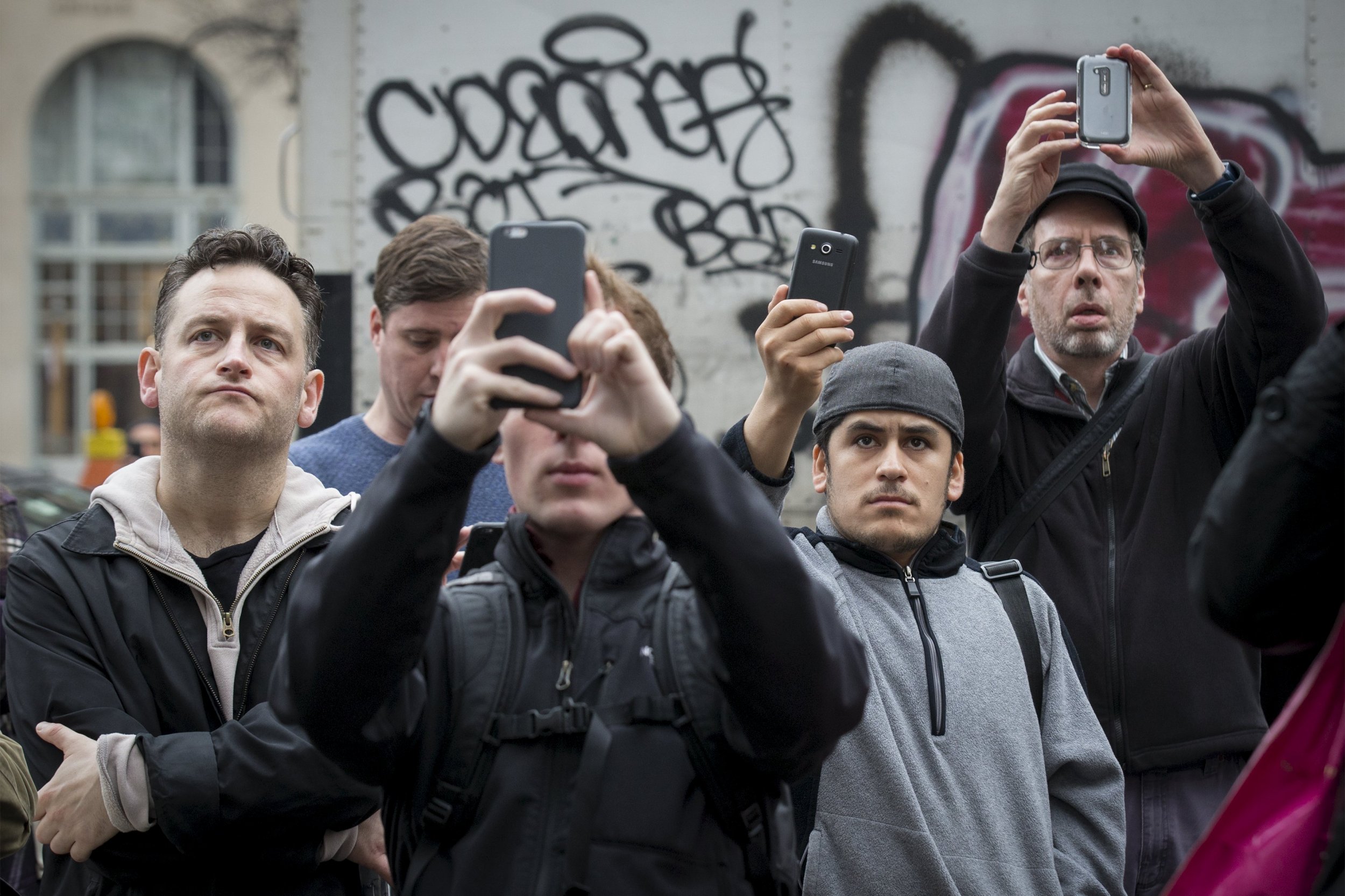 "For those that are watching, let me know what you want to hear," Fusion journalist Tim Pool said into his smartphone camera shortly after a powerful explosion engulfed a lower Manhattan building in flames Thursday. Three buildings ultimately collapsed as a result of the blast; 19 were injured, three critically so, and at least two people are missing.
Through all the smoke and confusion, Pool shot the event as it unfolded from multiple locations and to more than 600 viewers using Periscope, a livestreaming app launched by Twitter only hours earlier.
In the morning, Periscope's debut prompted conversation as to whether it, or its predecessor by a few weeks named Meerkat, would see success. Would people add real-time video to their steady diet of live-tweets and slightly delayed reports from journalists? If it were up to Pool, livestreamed news would have gone mainstream years ago.
Pool gained notoriety in 2011, when he used his phone to transmit 21 consecutive hours of live footage during the Occupy Wall Street protests. Since then, he's continued to, and made a career out of, challenging mainstream media's traditional methods of covering news primarily using Livestream, a livestreaming video platform founded in 2007 under the name Mongulus.
On this day, however, Pool decided to test out Periscope. But he isn't a convert, yet.
Pool praises Livestream and similar services like Ustream for their technical superiority to Periscope and Meerkat, but the best app isn't always the one that wins. "The app you want to use is where the people are," said Pool on the phone, shortly after stopping his live-feed.
"UStream has ads which people don't like, and Livestream requires you to sign up, which a lot of people don't want to do.… With Meerkat and Periscope you can stream right off the bat, no ads, no click and sign up...Just have a Twitter account and you are good to go," he said. Pool added that the amount of buzz surrounding both apps means there's potentially a large amount of users.
Meerkat became popular during SXSW festival earlier this month. Twitter responded by cutting Meerkat from its social graph and replacing it with its own product, Periscope, which it had purchased months earlier.
As Twitterati scrolled through their feeds on Thursday looking for 140-character updates, they saw links to livestreams from both apps. While the livestreaming phenomenon is nothing new, the high-volume incorporation on a popular platform was.
Of the two products, Periscope has some advantages, Pool says. "With Periscope being integrated with Twitter, it's just so much more accessible," he said, highlighting that the integration eases users' ability to comment, ask questions and drive the very broadcast that they are watching. He added that the app's unique "heart" function, which acts as a Facebook "like" by signaling affirmation, was a plus.
"What I'm hoping is that I'm giving people what they actually need and want...so when I see those hearts popping up it just drives me more to keep doing what I'm doing," he said.
But Pool isn't convinced the launch of new livestreaming apps means we have ushered in the era of real-time video as mainstream news. "These [apps] could be fads, it is hard to predict," he said.
A lingering question could greatly affect its future success: How is it going to make money? Someone has to pay for all the streaming. If Periscope goes the way of UStream and adopts ads, users may not stick around.
Either way, Pool is hopeful. "[Livestreaming] is the future of news," he says with confidence. "Just some person who lives in that building taking their phone out and taking a Periscope and saying I'm standing here, this is happening and I'm going to film it. And then everyone gets to watch and witness breaking news happen."
If citizen journalists adopt the technology en masse, "we're going to see historical moments happen from every angle," he adds. But before that happens, Pool argues, there must be a cultural shift as well.
"We're still at the point where people view news sources as the voice of authority," he said, adding that the raw, immediate and interactive nature of live video is worth having to add a healthy dose of skepticism when viewing streams.
"When I am giving people a window into the world around me there is this understanding that I may get something wrong," he said. "I hope future citizen journalist say 'I have no idea... but I am right here with you.'"