NYC Commission on Human Rights to Investigate Amy Cooper, White Woman Who Called Cops on Black Man in Central Park
The New York City Commission on Human Rights announced on Wednesday that it will be launching an investigation on behalf of the city into Amy Cooper, the white woman who called the cops on a black man at Central Park when he asked her to put her dog on a leash.
In a statement sent to Newsweek, Sapna V. Raj, the Deputy Commissioner of the Law Enforcement Bureau at the NYC Commission On Human Rights, said, "At a time when the devastating impacts of racism in Black communities have been made so painfully clear—from racial disparities in COVID-19 outcomes, to harassment of essential workers on the frontlines—it is appalling to see these types of ugly threats directed at one New Yorker by another."
"Efforts to intimidate Black people by threatening to call law enforcement draw on a long, violent and painful history, and they are unacceptable," Raj added.
The Commission said it learned of Monday's incident via the viral video recorded by the victim, Christian Cooper, after he asks Amy to leash her dog in accordance with Central Park regulations.
In the video, Amy can be heard saying, "I'm going to tell them there's an African American man threatening my life," to which Christian replies, "Please tell them whatever you like."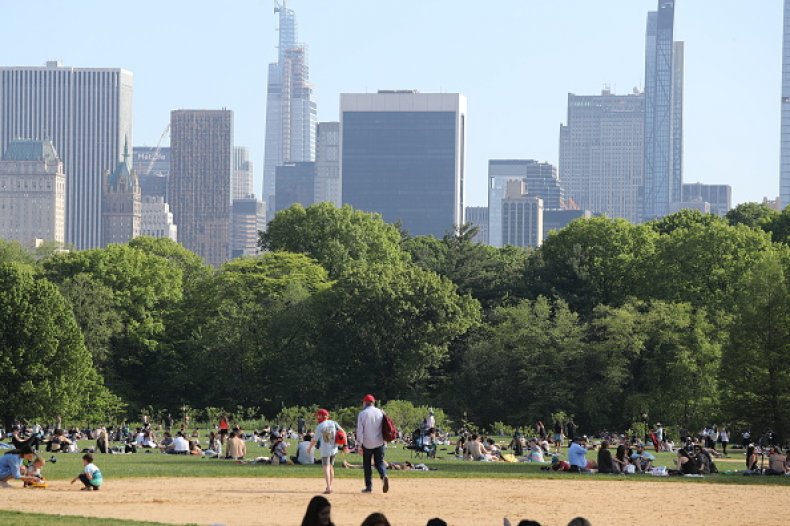 The video sparked outrage over social media. Mayor Bill de Blasio responded to the incident on Twitter calling it "racism, plain and simple." The Central Park Civic Association has also called for de Blasio to impose a lifetime ban on Amy from the park.
Amy has since been fired from her position as VP of Investment Solutions at Franklin Templeton and has voluntarily surrendered her dog to the Abandoned Angels Cocker Spaniel Rescue.
The Commission has issued a letter to Amy asked for her cooperation in its pre-complaint intervention.
"We encourage Ms. Cooper to cooperate with the Commission and meaningfully engage in a process to address the harm that she has caused," Raj said.
The New York City Human Rights Law "prohibits discrimination and harassment in housing, employment, and in all public places" on the basis of race, national origin, ethnicity or other protected category, the Commission outlined in a press release.
Last year, the Commission launched its "While Black Campaign," aimed at affirming "the rights of all Black New Yorkers to live their lives free of bias." The Commission has the authority to fine those that violate anti-discrimination laws in the city and can award compensatory damages to its victims.