Bodega owners in New York City are concerned over Governor Andrew Cuomo's statewide mask mandate after confrontations with customers have put store clerks at risk of assault.
"The mask law is going to get someone killed," Javier Franco told WPIX. "We are doing our best trying to obey the law so we don't lose our liquor license, but it seems we could lose our life instead."
Surveillance video shows Franco stacking the shelves of La Parada Latina, a convenience store in the Bronx, when he asked a customer to comply with the governor's current order and put on a mask. In response, the customer punched Franco in the face.
Aneuri Castillo, who was working with Franco, was attacked moments later by another customer. He called the incidents "shocking."
"I tried to do what the governor asked us. I told him it was the law. I'm scared! Maybe he'll come back and shoot me," Castillo told WPIX. "It's so hard coming to work not knowing how the day will go. I have a family and they need me, I don't want to die in the bodega."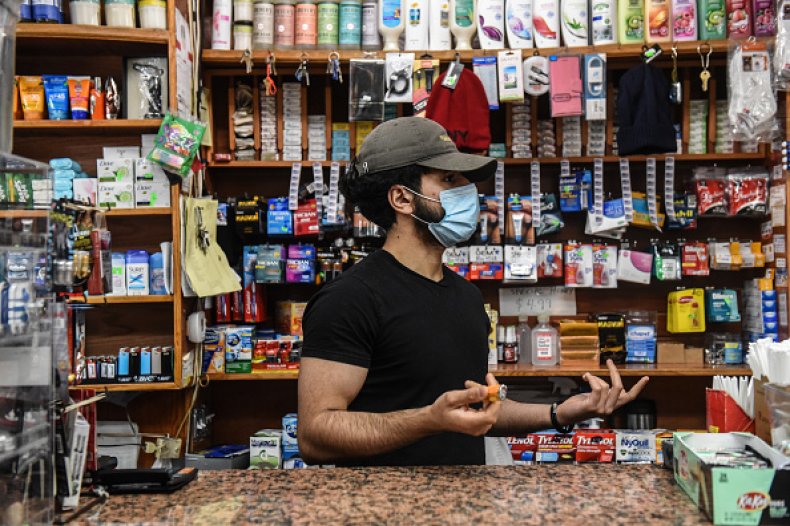 Fernando Matteo, spokesman for the United Bodegas of America, thinks store owners have been put in an unfair position and forced to choose between enforcing face masks and their businesses. He noted that stores risk losing their liquor licenses if police see customers inside bodegas without masks.
"We don't like telling people to put on a mask, but it's what the governor and the mayor have imposed on us," Fernando Matteo, spokesman for the United Bodegas of America, told reporters on Sunday.
"Assaulted, spit on, attacked, smacked, beat up.. Our businesses have been destroyed," he added. "There are certain things that we can control, like selling liquor to a minor, but we can't control someone walking in from the street without a mask and gets violent when he's asked to put on a mask."
Store clerks said implementing the governor's order should be left to the New York Police Department.
"It's a job for the cops, not for us. Not me. I'm just working here. If I got shot nobody gonna help my family," bodega owner Hamid Al Tarib told CBS2.
Matteo said the group is set to meet with the New York Police Commissioner Dermot Shea on September 16 to express their concerns over the safety of bodega workers.
Newsweek reached out to the NYPD for comment but did not hear back before publication.
Cuomo's mask order has been in effect since April 17 and requires anyone over the age of two to wear a face covering in a public place and unable to maintain social distance. On May 28, Cuomo announced a new executive order allowing store owners to refuse service to those not wearing a mask.
"We are giving store owners the right to say, 'If you're not wearing a mask, you can't come in,'" the governor said at a daily press briefing.
Newsweek reached out to Cuomo for comment but did not hear back before publication.