NYC Coronavirus Zip Code Map Reveals Death Rates Are More Than 10 Times Greater in Low-Income Communities of Color
A new map displaying coronavirus death rates in New York City by ZIP code has magnified disparities between communities, with race and income appearing to play a major role in determining who lives and dies after contracting the virus.
Published on Monday by the New York City Health Department, the data shows that neighborhoods with high concentrations of black and Latino people, as well as with low-income residents, have seen disproportionately high death rates compared to more affluent areas with majority white populations.
In an analysis of the data, The New York Times found that of the 10 zip codes with the highest death rates, eight have populations with predominantly black or Hispanic residents and include every borough barring Manhattan, which covered most of the neighborhoods with the lowest death rates.
The 11239 ZIP code in Brooklyn, which has high concentrations of both older residents and black residents, was found to have the city's highest coronavirus death rate, at nearly 40 percent higher than the area with the second-highest rate.
According to the city's data, the area, which is home to less than 13,000 people, has seen 76 deaths.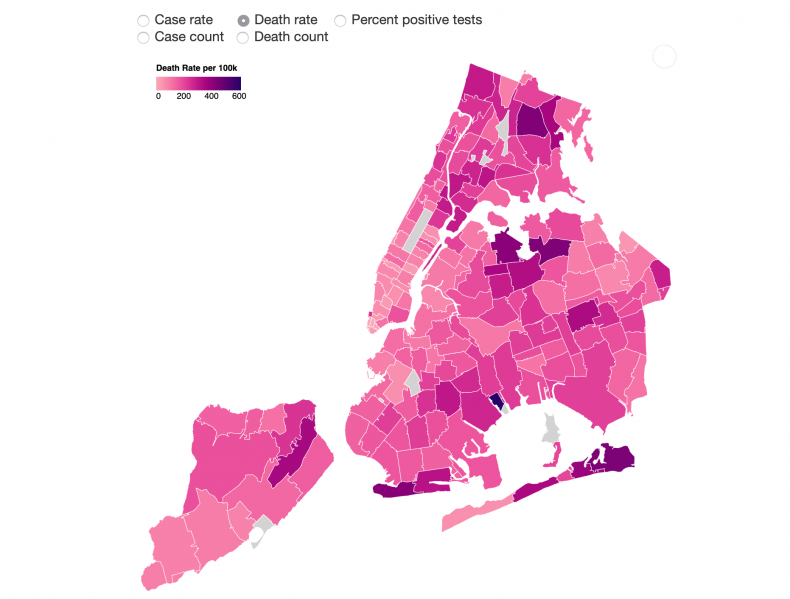 When it comes to death rates by borough, the Bronx was found to be the hardest hit by the coronavirus pandemic, with the highest rate of deaths related to coronavirus.
Meanwhile, Manhattan appeared to be the least affected, with neighborhoods with higher concentrations of black and Latino residents, such as Central Harlem and Morningside Heights, appearing to still have the highest death rates.
In a statement on Twitter, New York City Council member Mark Levine, who chairs the council's health committee, said the map confirms the "dramatic inequality" in coronavirus death rates.
Death rates "in low-income communities of color," the Democrat noted, are "more than ten times greater than wealthier [areas]" affected by outbreaks.
"This should shock the conscience of our city," wrote Levine.
Speaking with Newsweek on Tuesday, Levine said that while he was "not surprised" by the disparities laid bare by the new zip code map, he nonetheless felt overcome with "moral outrage."
"We have lots of anecdotal data about the inequalities from neighborhood to neighborhood and we know this disease has been hitting black and brown communities harder in general, but to see a disparity of more than tenfold between neighborhoods in the city is really an outrage," he said.
"It undermines our statement that the virus doesn't discriminate and that we're 'all in this together.' Really, there has just been a profound inequality in who has been harmed by this epidemic."
Levine said he hoped that more awareness of the disparities in death rates between communities would lead governments to "take more aggressive action in addressing these inequalities."
One of the first steps, he said, should be ensuring that households where a member has tested positive for coronavirus have access to sufficient space for the family member to be quarantined.
"Because people don't have large houses where they can have a sick member of the family isolate in the basement or a separate bedroom," he said, "we have to offer an alternative for people with a sick family member."
One step, he said, would be allowing sick family members to stay in hotels if they do not have adequate access to a space where they can safely quarantine.
Another step, he said, would be providing more access to testing and medical support for low-income groups, including community clinics.
"We have been suffering from a lack of basic medical care among low-income New Yorkers now for over two months," he said. "The truth is that more wealthy people have been able to access medical care."
NYC data has already shown Latino and black populations are the hardest hit by the coronavirus pandemic. The city's Latino population has seen the highest death rates in the city, while black and African-American people have seen the second highest.
Death rates among white people in New York City, meanwhile, are half as high as those seen among black and African-American residents.
By borough, black and African-American residents have seen the highest rates of death in the Bronx, Manhattan, and Staten Island, while Latino residents have seen the highest rates of death in Brooklyn and Queens, according to city data.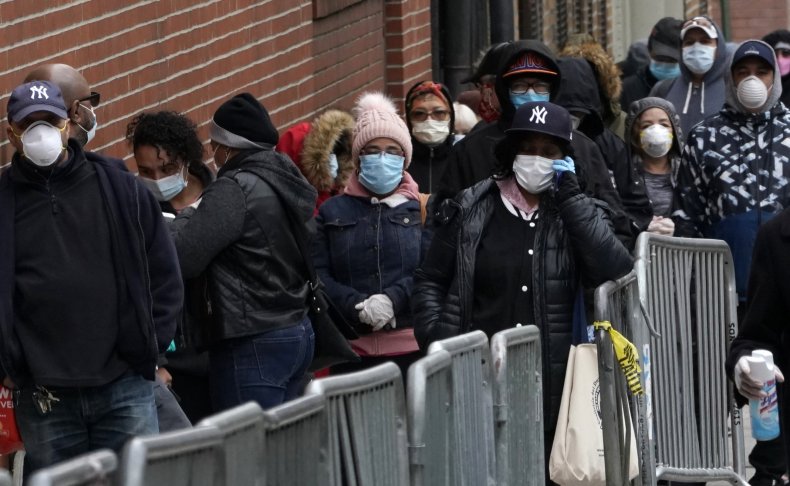 With the city increasingly gathering data on how disproportionately black and Latino communities are being affected by the coronavirus pandemic, Levine said officials must act.
"Frankly, I don't think it's acceptable for leaders to just say that this is a result of decades of inequality in our healthcare system and leave it at that," he said. "Of course, this is a result of decades of inequality in our healthcare system, but there's also inequality in the way that we've managed this pandemic and that has to be addressed immediately."
This article has been updated with statements from New York City Council member Mark Levine.