NYC Councilman Defies COVID Rules With 11-Person Thanksgiving as Cuomo Cutout Watches
A New York City councilman said he and his family enjoyed an 11-person Thanksgiving Day holiday, complete with turkey, kids playing outside and a massive cutout photo of Governor Andrew Cuomo leering in their front window.
Staten Island councilman Joe Borelli posted a picture of himself offering a cheers to friends and family in front of a large cutout of Cuomo's face lurking in his front yard. Cuomo's face had already become a social media meme after many New Yorkers complained he was trying to micromanage their holiday amid the coronavirus pandemic. The Democratic governor last week issued a new curfew for bars, restaurants and gyms to close by 10 p.m., and he limited all indoor gatherings, including Thanksgiving parties, to just 10 people.
Borelli, a Republican councilman representing New York City's District 51 in the largely conservative borough of Staten Island, told the New York Post "We all had a laugh" at the large Cuomo head watching over their dinner and festivities. Borelli said the "governor has become a cartoon with his absurd and arbitrary edicts, people are tuning him out."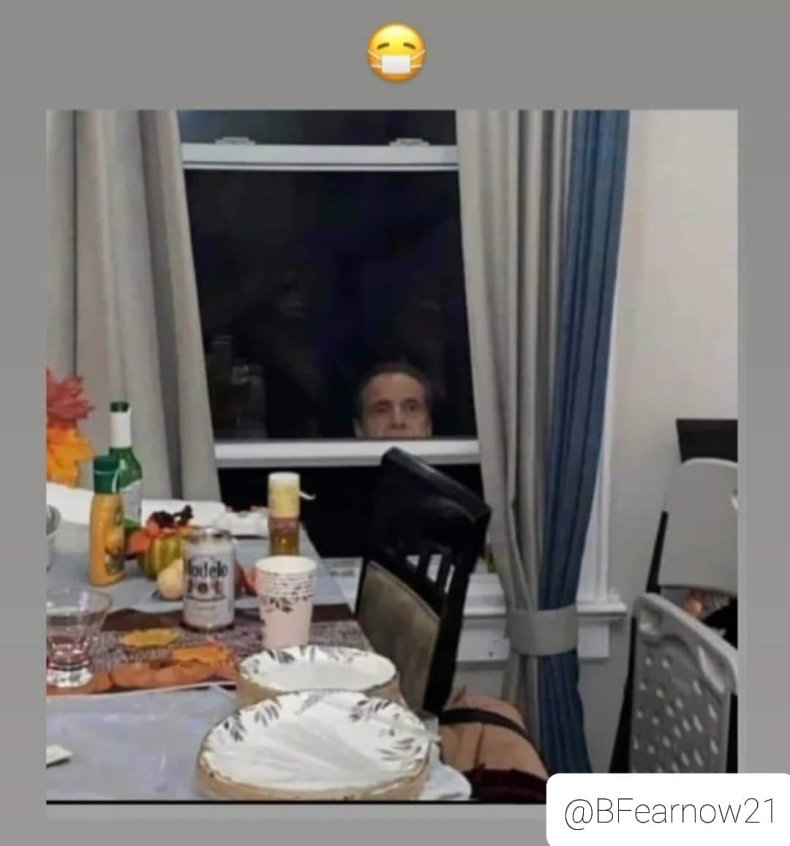 Borelli and other Cuomo critics noted that last week the Democratic governor said he would spend his Thanksgiving with his 89-year-old mother and his daughters, which sparked accusations of hypocrisy.
"Our neighbors got it for us as a joke—they stuck it to the window and rang the bell," said Borelli, who has led some of the harshest criticism of Cuomo's social distancing measures ahead of the holiday season. On November 11, Borelli vowed he would hold a large Thanksgiving regardless of the governor or Mayor Bill De Blasio's so-called executive orders.
"My address is public record," the GOP councilman wrote in a tweet posted earlier this month, upping the ante on Cuomo's threats to enforce the pandemic policies. "Sis-in-law will bring strawberry rhubarb pie, & a turkey will be overcooked."
Borelli's online criticism and seemingly defiant stance was not well-received by many New Yorkers who said it was a "stunt" that ultimately could hurt the well-being of others in his community. Earlier this month, Borelli penned an opinion piece in the New York Daily News tabloid which read, "Sorry, gov: I'm hosting a big Thanksgiving."
But the same New York paper's editorial board wrote a follow-up op-ed urging its readers, "Don't be like Borelli: Staten Island's Joe risks lives to make a debating point."
"Borelli's gripe represents a commonly heard frustration and there's nothing magical about the Cuomo-imposed number. Why'd the governor set it at 10 and not 12 irrespective of a home's capacity, or not simply urge families to think seriously about who they have over for the holidays, without purporting to impose an inarguably unenforceable mandate? Legitimate questions to ask but Borrelli arrives at the wrong answer," the editorial board wrote.
Newsweek reached out to Borelli and Cuomo's office Saturday morning for any additional remarks.