NYC Elections Board Says 'No Votes Lost, No Incorrect Results Certified' After Major Error
The New York City Board of Elections (BOE) confirmed on Tuesday that no votes were lost despite a major error early in vote tabulations.
The board met on Tuesday to provide an update on the error, which occurred last week, in counting ballots and to take questions from election officials on the security, accuracy and timeliness of the rank-choice voting tabulation for the city's mayoral primary.
"The reporting error was unacceptable, and we apologize to the voters of our great city for this error," said Dawn Sandow, deputy executive director of the BOE.
Mock ballots required by state law were used to test the programming of the voting machines, and the ballots were not cleared before round one counting began, according to the BOE. The error occurred in Queens, one of the city's five boroughs.
"We were trying to satisfy expectations of quick results with the new way of voting," Sandow said. "But we can say with certainty this issue caused no votes to be lost, no voters disenfranchised and no incorrect results to be certified."
The BOE apologized for the error on June 30 via Twitter after an early round of results showed a discrepancy. The board said 135,000 test ballot images were accidentally included in the results.
"Board staff have removed all test ballot images from the system and will upload election night results, cross-referencing against election night reporting software for verification," the BOE said in a statement on Twitter.
To rectify the problem, the board began manually checking ballots.
Round one unofficial rank-choice results had Brooklyn Borough President and retired police captain Eric Adams pulling ahead of Maya Wiley, a former counsel to Mayor Bill de Blasio, and former city Sanitation Department Commissioner Kathryn Garcia.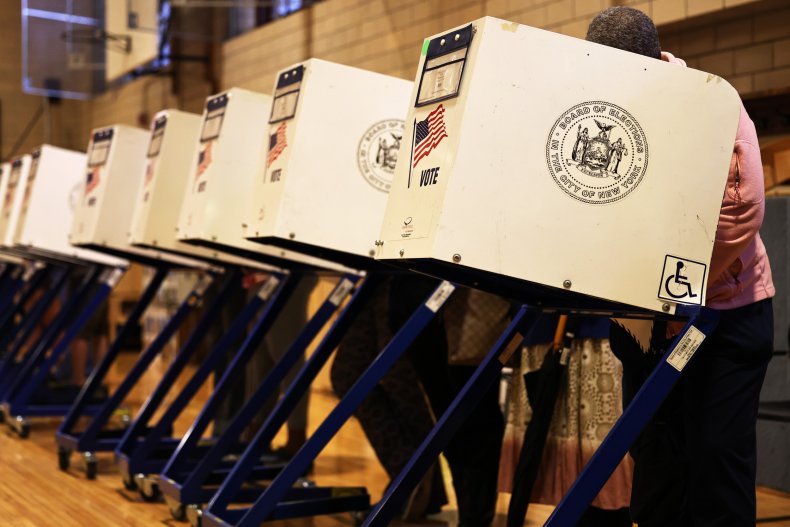 An election official confirmed at the meeting that the error would have been caught when images of write-in ballots were counted. Because the BOE released the second round of unofficial results—something new to the NYC board—the error was not caught.
"I am sure that the issue would have been addressed" further in the process, said John Naudus, director of the BOE's Electronic Voting Systems Department. "We do a thorough review and a thorough canvass of every ballot."
A typical election in NYC would have the election night results released, with certified results released two to three weeks later. Election officials said they will be reviewing the counting process after the election is certified to ensure it does not happen again.
The BOE expects to certify election results after the final round of the 3,699 ballots that need to be corrected by voters for such things as missing signatures is due on July 14.
Newsweek reached out to the BOE for comment but did not hear back before publication.