NYC Fleet Week 2018: Everything You Need To Know To Celebrate U.S. Sea Service Members
New York City's annual Fleet Week has returned—and brought with it more than a dozen ships and thousands of sailors, Marines and Coast Guard members.The event, which runs from May 23 to 29, kicked off with the Parade of Ships along the Hudson River from Battery Park to just south of the George Washington Bridge.
Thirteen U.S. military ships, including four U.S. Navy ships, three Coast Guard cutters, four U.S. Naval Academy Patrol boats and two Military Sealift Command ships, will be stations in Manhattan, Brooklyn, Staten Island, the Bronx and Long Island. A Royal Canadian Navy vessel will also participate in the festivities.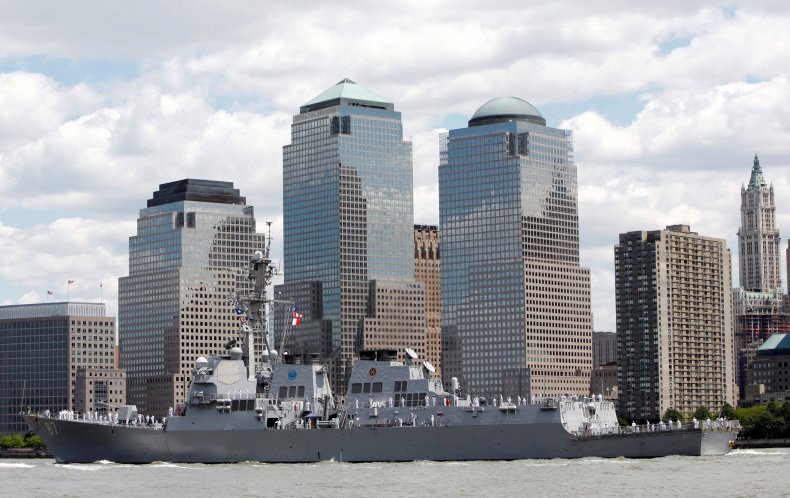 According to Military News, the ships will be open for general public tours beginning Thursday at 8 a.m.
Uniformed service members will also be able to enjoy discounts at several New York City eateries, according to Patch NYC. Service members will get 50 percent off all cocktails $16 and under at Irvington, Kingside and Mr. Purple, as well as 50 percent off all cocktails $18 and under at The Roof, Whiskey Blue and The Campbell. Sailors can also enjoy happy hour specials at Haven Rooftop at the Sanctuary Hotel.
Newsweek has rounded up all the events for this year's Fleet Week, including aviation events hosted by the U.S. sea services.
Wednesday, May 23
Thursday, May 24
8 a.m. - 5 p.m. General Public Ship Tours (Free; Valid Photo ID Required For Guests 18+) at Pier 90 in Manhattan, Brooklyn Cruise Terminal in Brooklyn, and Homeport Pier in Staten Island
10 a.m. - 3 p.m. General Public Ship Tours (Free; Valid Photo ID Required For Guests 18+) at The Intrepid Sea, Air & Space Museum
10 a.m. - 5 p.m. Navy Dive Tank (Free) at Military Island, Times Square in Manhattan
11 a.m. - 12 p.m. Read Aloud at Brooklyn Public Library (Free) at Red Hook Brooklyn Public Library
4 p.m. - 5 p.m. Navy Band Concert (Free) at Washington Park in Manhattan
Friday, May 25
8 a.m. - 5 p.m. General Public Ship Tours (Free; Valid Photo ID Required For Guests 18+) at Pier 90 in Manhattan, Brooklyn Cruise Terminal in Brooklyn, and Homeport Pier in Staten Island
10 a.m. - 5 p.m. General Public Ship Tours (Free; Valid Photo ID Required For Guests 18+) at The Intrepid Sea, Air & Space Museum
10 a.m. - 5 p.m. Navy Dive Tank (Free) at Military Island, Times Square in Manhattan
11 a.m. - 1 p.m. NYPD & U.S. Naval Association Remembrance Ceremony and Celebration (Free) at NYPD Headquarters Auditorium, One Police Plaza in Manhattan
1 p.m. - 1:30 p.m. U.S. Coast Guard Silent Drill Team Performance (Free) at 9/11 Memorial Plaza
2 p.m. - 2:30 p.m. Joint Reenlistment and Promotion Ceremony (Free) at 9/11 Memorial Plaza
3:30 p.m. - 4 p.m. U.S. Coast Guard Silent Drill Team Performance (Free) at Military Island, Times Square in Manhattan
7:15 p.m. - 7:45 p.m. U.S. Marine Corps Martial Arts Program Demonstration (Free) at Military Island, Times Square in Manhattan
8 p.m. - 9:15 p.m. Navy Band Concert (Free) at Military Island, Times Square in Manhattan
Saturday, May 26
8 a.m. - 5 p.m. General Public Ship Tours (Free; Valid Photo ID Required For Guests 18+) at Pier 90 in Manhattan, Brooklyn Cruise Terminal in Brooklyn, and Homeport Pier in Staten Island
9 a.m. - 4 p.m. Marine Day (Free) at Prospect Park in Brooklyn
10 a.m. - 5 p.m. General Public Ship Tours (Free; Valid Photo ID Required For Guests 18+) at The Intrepid Sea, Air & Space Museum
10 a.m. - 5 p.m. Navy Dive Tank (Free) at Military Island, Times Square in Manhattan
10 a.m. - 2:30 p.m. Navy Aviation (Free) at Eisenhower Park in East Meadow
11 a.m. - 11:30 a.m. U.S. Coast Guard Silent Drill Team Performance (Free) at USS Arlington (LPD 24) in Pier 90, Manhattan
2 p.m. - 8 p.m. All-Navy Rugby vs. NYPD All-Stars Rugby (Free) at Gaelic Park in the Bronx
3 p.m. - 3:30 p.m. U.S. Coast Guard Silent Drill Team Performance (Free) at Brooklyn Cruise Terminal in Brooklyn
5 p.m. - 6:30 p.m. Navy Band Concert (Free) at Military Island, Times Square in Manhattan
8 p.m. - 9 p.m. U.S. Marine Corps Battle Color Detachment Performance (Free) at Times Square
Sunday, May 27
8 a.m. - 10:30 a.m. Freedom Run (Free) from North Cove Marina to 9/11 Memorial Plaza
8 a.m. - 5 p.m. General Public Ship Tours (Free; Valid Photo ID Required For Guests 18+) at Pier 90 in Manhattan, Brooklyn Cruise Terminal in Brooklyn, and Homeport Pier in Staten Island
9 a.m. - 9:30 a.m. U.S. Coast Guard Silent Drill Team Performance (Free) at 9/11 Memorial Plaza
10 a.m. - 5 p.m. General Public Ship Tours (Free; Valid Photo ID Required For Guests 18+) at The Intrepid Sea, Air & Space Museum
11 a.m. - 4 p.m. 10th Annual Veterans Appreciation Day & Memorial Tribute (Free) at Rye Playland in Rye
12 p.m. - 5 p.m. 3rd Annual Fleet Week (Free) at Liberty State Park in Jersey City, New Jersey
12 p.m. - 7 p.m. Annual Fleet Week Music Festival (Free) at Flagship Brewery in Staten Island
5 p.m. - 6:30 p.m. Navy Band Concert (Free) at Military Island, Times Square in Manhattan
Monday, May 28
8 a.m. - 5 p.m. General Public Ship Tours (Free; Valid Photo ID Required For Guests 18+) at Pier 90 in Manhattan, Brooklyn Cruise Terminal in Brooklyn, and Homeport Pier in Staten Island
10 a.m. - 5 p.m. General Public Ship Tours (Free; Valid Photo ID Required For Guests 18+) at The Intrepid Sea, Air & Space Museum
10 a.m. - 12 p.m. Soldiers' and Sailors' Memorial Day Observance (Free) at Soldiers' and Sailors' Monument in Manhattan
11 a.m. - 1 p.m. Intrepid Memorial Day Commemoration (Free) at 12th Ave. & 46th St. Pier 86N in Manhattan
1 p.m. - 1:30 p.m. U.S. Coast Guard Silent Drill Team Performance (Free) at The Intrepid Sea, Air & Space Museum
2 p.m. - 2:30 p.m. U.S. Coast Guard Search and Rescue Demonstration (Free) at The Intrepid Sea, Air & Space Museum