NYC Halloween Truck Attack: Watch footage of Sayfullo Saipov Emerge From His Vehicle Holding Guns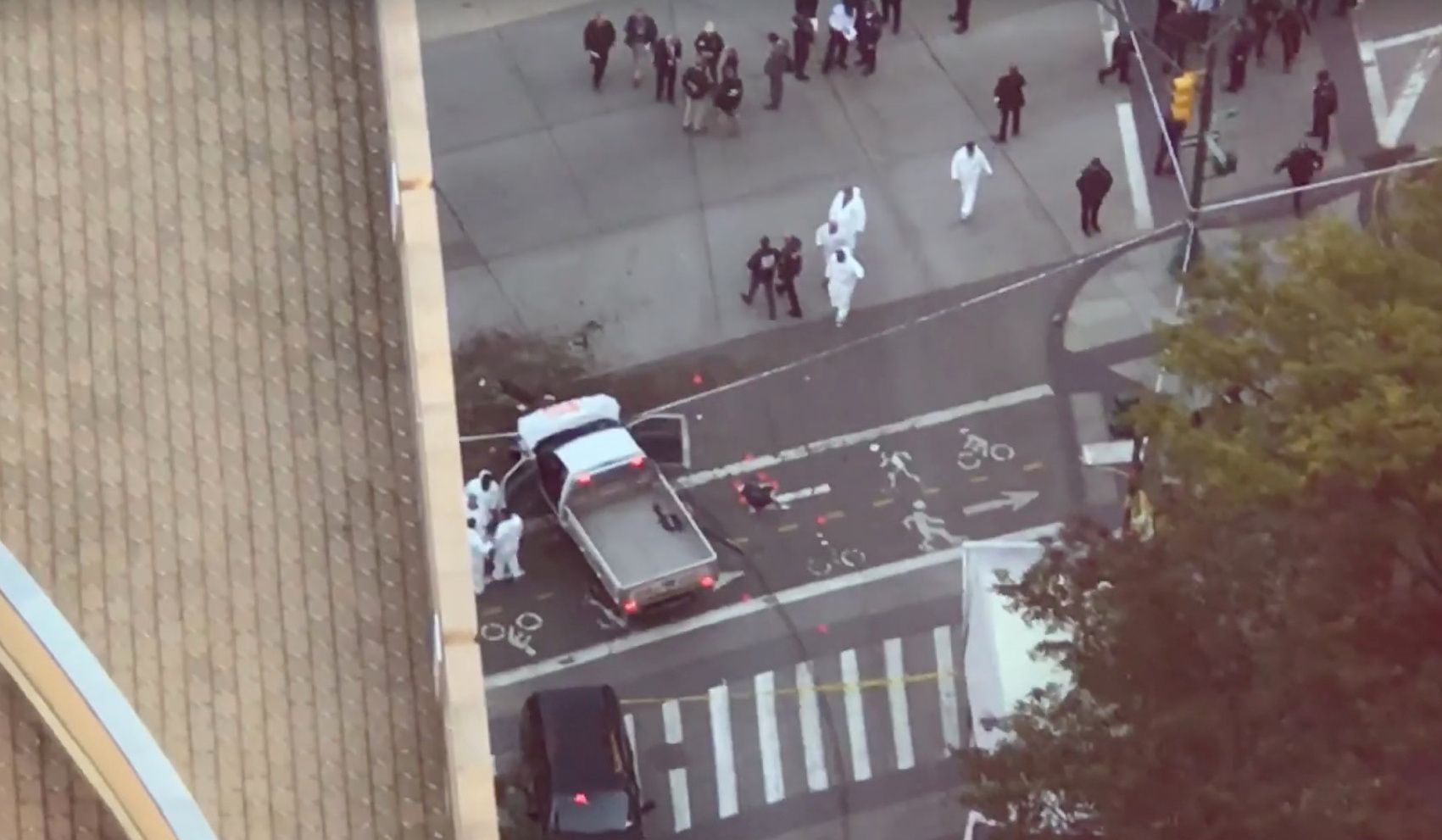 Video footage shows the moment the suspect in Tuesday's New York City terrorist attack was arrested after he emerged from a truck holding a pellet and paint gun.
Police said Sayfullo Saipov turned a truck onto a bike path along the Hudson River near the World Trade Center site and drove for nearly a mile, striking cyclists before slamming into a school bus. The attack killed eight people and injured 11 others.
The footage shows 29-year-old Saipov running through the streets, dodging New York City taxis after leaving the truck. Officials told the Associated Press that when he emerged from the vehicle he was waving a pellet gun and a paint gun.
Witnesses told police that Saipov yelled "Allahu akbar!" as he left the rented truck. Officials told NBC News that Saipov left a note inside claiming he carried out the attack on behalf of the Islamic State (ISIS) militant group.
Saipov, who legally immigrated from Uzbekistan to the U.S. in 2010, was soon shot by a police officer and arrested. He is in critical condition after surgery.
After immigrating to the U.S. Saipov is believed to have lived in Ohio and also stayed with family in Cincinnati. When he was arrested, authorities said he had a Florida driver's license.
One of his acquaintances, Dilnoza Abdusamatova, told The Cincinnati Enquirer Saipov "always used to work."
Read more: What is extreme vetting? Trump targets immigrants after NYC truck attack
"He wouldn't go to parties or anything. He only used to come home and rest and leave and go back to work," Abdusamatova said.
President Donald Trump wrote on Twitter early Wednesday that he has "ordered Homeland Security to step up our already Extreme Vetting Program," in response to the attack. "Being politically correct is fine, but not for this!"
Trump quickly called out ISIS after learning of the attack Tuesday. "We must not allow ISIS to return, or enter, our country after defeating them in the Middle East and elsewhere. Enough!"