NYC Health Officials Urge COVID Boosters for Everyone Amid Statewide Spike in Cases
New York City health officials on Monday urged providers to give a COVID-19 booster shot to anyone who is 18 or older as New York state has experienced a statewide spike in cases for the past two weeks, the Associated Press reported.
The number of people testing positive each day statewide has increased 40 percent since Halloween. As of Sunday, New York was averaging 5,282 new cases per day over the past seven days, according to the Associated Press.
Adults seeking a booster shot in New York City shouldn't be turned away, said Dr. Dave A. Chokshi, the city's health commissioner. People need to have been at least six months from their second shot of the Pfizer or Moderna vaccine, or at least two months since the single-dose Johnson & Johnson shot, The New York Times reported.
"For qualifying for a booster, if you're over 18, one of the specific criteria is being at higher risk and I view all New Yorkers, because of the density of our city, of being at higher risk," said Dr. Mitchell Katz, the head of the city's public hospitals.
U.S. health officials have yet to authorize booster shots for all adults and the boosters are currently only available for anyone 65 or older, who has an underlying health condition or lives and works in a "high-risk" setting. Some states have already expanded booster shots for all adults 18 and over. There has been no indication that the State of New York would do so, but the governor is encouraging people to get the booster.
During New York City Mayor Bill De Blasio's press briefing, Chokshi said he anticipated that there might be an increase of cases around this time of year from the cooler weather and people spending more time indoors.
"But compared to this time last year, we have many more tools to fight COVID-19 and work to keep a winter wave at bay," said Chokshi.
The mayor and health commissioner advised those eligible to get their booster shot and get vaccinated to do so, PIX11 reported.
"Don't hesitate. Go out there and get it done. it's part of protecting yourself and your family," the mayor said.
For more reporting from the Associated Press, see below.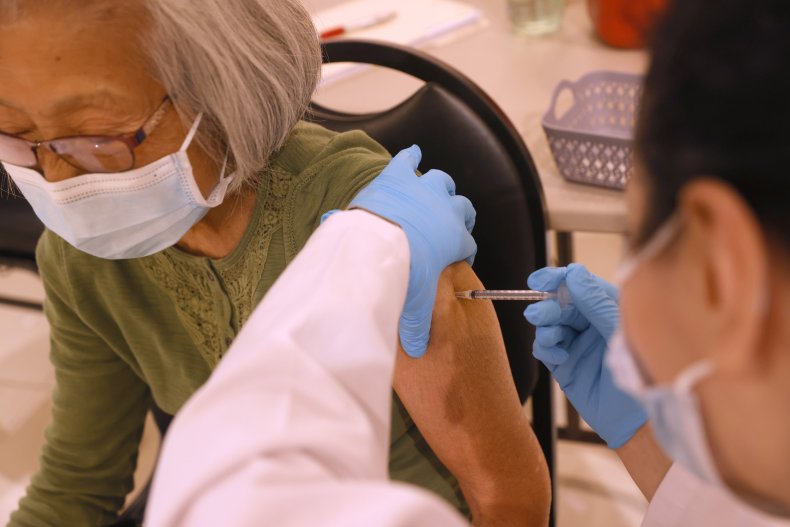 Gov. Kathy Hochul said in a statement that she believes "no one who feels they are at risk should be turned away from getting a COVID-19 booster shot."
Chokshi said patients are better positioned than doctors to decide what qualifies as a high-risk setting.
Officials in Erie and Monroe counties said in a joint online briefing that they were especially concerned about more stress on hospitals that are already near or over capacity.
"I understand systemic pandemic fatigue is real. I'm feeling it too, and it's intense," said Erie County Health Commissioner Dr. Gale Burstein. "We are living through another holiday season in the shadow of this pandemic, but with one significant change. Now we have a safe and effective vaccine to protect us all."