Helicopter Crash NYC Live Updates: Everything We Know After Aircraft Lands on Midtown Manhattan Building Roof
A helicopter crashed into the roof of a building in Midtown Manhattan on Monday afternoon, New York City officials confirmed.
The aircraft crash happened at 7th Avenue and 51st Street shortly before 2 p.m.
One person was aboard the helicopter and died.
The crash was not found to be an act of terror, according to New York City Mayor Bill de Blasio.
3:55 p.m.: New York City Police Department Commissioner James O'Neill said the helicopter was privately owned and that the victim has been preliminarily identified but his information would not be revealed right away as a courtesy to his family.
3:53 p.m.: New York City Fire Department Commissioner Daniel Nigro said responders "were able to put water on the fire quickly" and "right now, the building is safe." Fire and police department officials were asked to remain on the scene.
3:50 p.m.: New York City Mayor Bill de Blasio in a press conference calmed fears that the crash could have been a terrorist attack. "The most important thing first, there is no communication at this time that it was an act of terror," he said. "No ongoing threat, that is all the information we have right now." The mayor added, "This could have been a much worse incident. Thank god no other people were injured in this absolutely shocking, stunning incident."
Story: The City of New York Fire Department's official automated alert system tweeted at 2:02 p.m. of a "high rise helicopter crash into building" at 787 7th Avenue and called it a two-alarm fire.
At 2 p.m., the New York Police Department's Midtown North Precinct account tweeted that 7th Avenue south of West 57th Street was closed to vehicular traffic and to avoid the area. West 51st and West 52nd streets at 6th to 7th avenues were closed to vehicular and pedestrian traffic shortly after.
One person was aboard the helicopter when it crashed on top of the 51-story building at 7th Avenue and 51st Street. 1:43 p.m. The person died, city officials said.
Police initially reported that the crash could have been a small airplane. The crash occurred on a rainy day in New York City.
No information was available on the type of helicopter immediately after the crash or why it made a hard or crash landing on the high rise. Helicopters are chartered in Manhattan with tourists, photographers or filmmakers, but not many helipads operate on the island.
Reports later indicated that the helicopter was an Agusta A109E. Federal Aviation Administration air traffic controllers did not handle the flight. The National Transportation Safety Board is leading the investigation.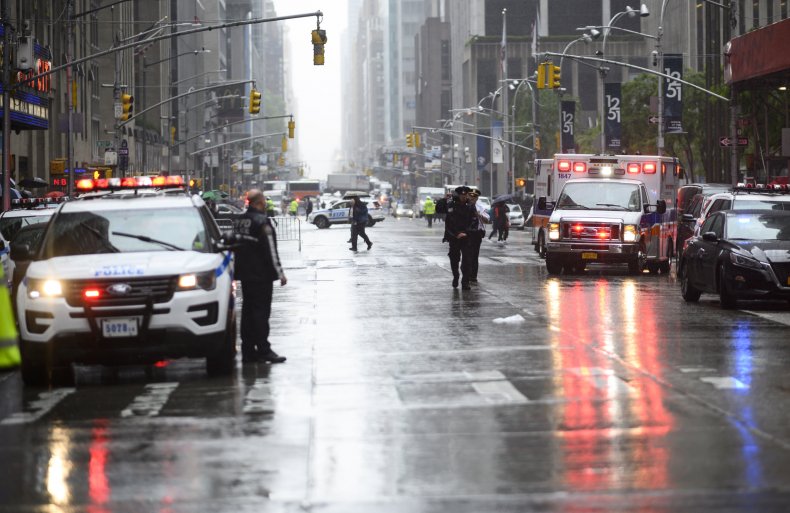 New York Governor Andrew Cuomo in a television interview near the scene shortly after the reports said, "The fire department believes the fire is under control" and, "people in the building itself, nobody has been hurt." Cuomo added, "If you're a New Yorker, you have a level of PTSD from 9/11 and I remember that morning all too well."
James Shaw, a financial analyst who works on the 48th floor of the building, told Newsweek: "A loud boom and the building shook. There wasn't any smoke. We were debating what to do when the word came to evacuate. 20 minutes down the stairwell. At the bar recovering."
A spectator tweeted he heard a loud sound and shared a video of smoke coming from a skyscraper in midtown.
"We're 1 block south. 20 mins ago there was a loud sound like a too-low #helicopter & I looked up and saw sheet of flame on roof and then smoke," Lance Koonce tweeted. "News reports saying helicopter/small plane crash onto roof which would be consistent with what I heard/saw."
President Donald Trump said on Twitter that he had been briefed on the helicopter crash and offered praise to first responders as well as support.
"Phenomenal job by our GREAT First Responders who are currently on the scene. THANK YOU for all you do 24/7/365!" the president tweeted. "The Trump Administration stands ready should you need anything at all."
Congresswoman Carolyn Maloney, who represents New York's 12th District, tweeted that she and her staff were actively monitoring the crash.
"My thoughts & prayers are w the pilot's family & everyone affected," she tweeted. "For yrs, I've been fighting for better & stronger safety regulations for Manhattan helicopter use b/c of my concern about an event like this."
This is a developing story. Check back for updates.