NYC Hospitals Will Test Any Child With Symptoms of Inflammatory Syndrome for Coronavirus Antibodies, Mayor Says
New York City hospitals will administer antibody tests to children exhibiting symptoms of an emerging inflammatory condition possibly related to the new coronavirus, Mayor Bill de Blasio announced on Sunday.
During his office's daily press conference to discuss updates regarding the city's outbreak, de Blasio said cases of the recently discovered pediatric illness had more than doubled since last week. The latest reports from New York City medical providers indicated that at least 38 children had contracted the disease by Sunday morning, one of whom had passed away as a result. On May 4, when the city's Health Commissioner first issued an alert message to inform residents of a multi-system inflammatory syndrome infecting young children, just 15 cases had been detected.
According to figures shared by Governor Andrew Cuomo at the state's Sunday news briefing, an additional 47 cases have now been identified in children outside of New York City. Two of those infections were fatal. Cuomo said another two deaths are currently under investigation to determine their relationship to the disease. Statewide, incidence of the largely unexplained syndrome totaled 73 on Saturday, meaning at least 12 new cases were recorded over the past 24 hours.
Though the exact nature of the syndrome remains under examination in New York, health officials have likened some of its features to those associated with Kawasaki disease, an uncommon illness that causes inflammation of blood vessels in different areas of the body and typically affects children younger than 5 years old. The results of diagnostic assessments and antibody tests for the new coronavirus have suggested the inflammatory syndrome could be connected to COVID-19.
"This disease is challenging. We keep learning about it every day," de Blasio wrote on Twitter Sunday afternoon, referencing the virus. Consistent with information included in the Health Commissioner's May 4 report, his tweets noted that symptoms of the inflammatory condition so far include fever, rash, vomiting and abdominal pain.
"To every parent out there: early detection is the key to fighting this," the mayor continued. "It can be treated. If you see these symptoms, take them seriously and act immediately."
Diagnostic tests for the new coronavirus were administered to children in New York City admitted to hospitals for symptoms of the inflammatory illness. De Blasio said 47 percent tested positive for the virus, while 81 percent of those who did not tested positive for antibodies during a subsequent screening. Antibody tests analyze blood samples to determine the presence of proteins produced in response the new coronavirus, indicating whether an individual has at some point contracted the virus or not.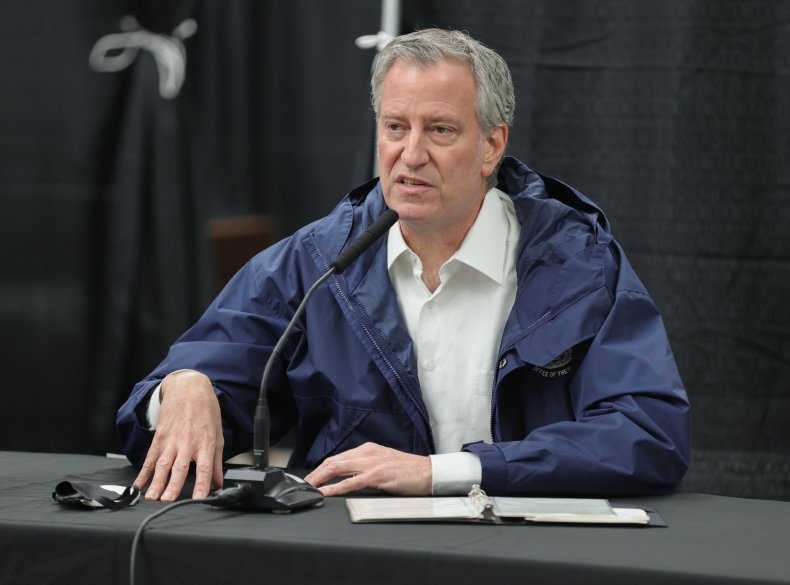 Cases of the pediatric inflammatory syndrome were initially identified by the U.K.'s National Health Service on April 27. According to a New York Times report updated on Sunday, about 50 cases have now been identified in countries across Europe, including France, Switzerland, Spain and Italy, in addition to the U.K. In the United States, several regions have been impacted, including Louisiana, Mississippi and California.
On May 7, NBC News reported that at least 85 cases had been identified in children across the U.S., citing additional cases in Boston and Washington, D.C. Adjusted to include the most recent figures from New York where the majority of cases have been confirmed, that number had increased to more than 100 by Sunday. When NBC's report was published, the state had identified 64 cases, more than 20 fewer than its latest total.
NYC Hospitals Will Test Any Child With Symptoms of Inflammatory Syndrome for Coronavirus Antibodies, Mayor Says | U.S.