NYC Indoor Dining Is Coming Back: Will It Help or Hurt Restaurants?
It's been over six months since COVID-19 made its way to the United States and changed people's lives here. Hundreds of small businesses were forced to close due to COVID-19 restrictions, and many were never able to recover. In New York City, which at one time was the epicenter of the virus, close to 1,000 restaurants and bars have closed, according to a report earlier this summer from Eater—that number has since increased.
In late June, restaurants were allowed to open up outdoor dining to patrons, which gave many places an opportunity to regain some kind of normalcy—and income. In summer, outdoor dining was a feasible and often pleasant alternative to indoor dining, which remained prohibited throughout the city. Restaurant owners were forced to get creative, utilizing what space they might have around their business. Some constructed parklets—which is an expensive endeavor—as makeshift patios in the streets where guests could sit.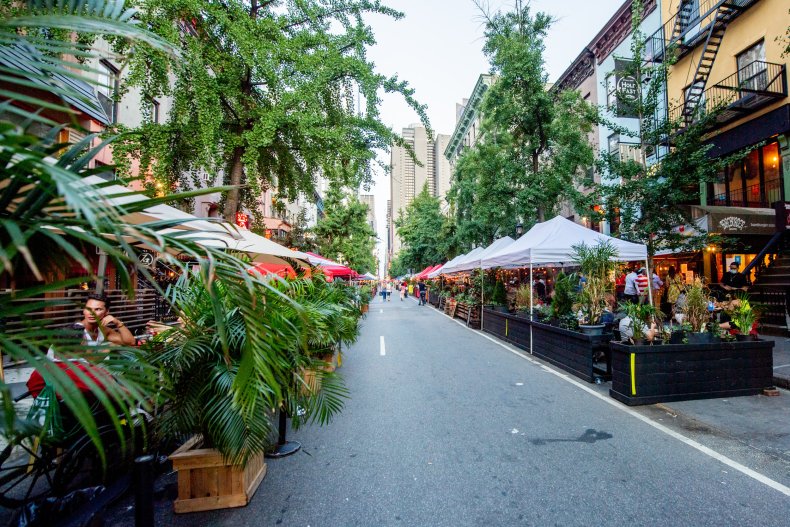 On September 30, though, things will change. Governor Andrew Cuomo gave the go-ahead earlier this month for restaurants around the city to have indoor dining for the first time since March—but with restrictions. To start off, restaurants will only be able to seat 25 percent of their normal capacity indoors. Temperature checks will be required as well as mandatory mask wearing unless seated at a table and contact tracing information to be collected.
As the temperatures drop and outdoor seating becomes less feasible and pleasant, indoor dining might be the only way for restaurants to survive—but is it enough?
"It's bittersweet, the 25 percent capacity," Paul Italia, co-owner of The Stand comedy club and restaurant tells Newsweek. "It's something—it's better than nothing—as you say but it's not going to solve any of our issues."
Italia and his brother Cris opened The Stand in 2012 and moved to its current location, just off of Union Square, in August 2019—just seven months before they were forced to close its doors.
"We are on the fortunate side, that we have a landlord that is working with us," Italia said. "Because he saw what a tremendous business we were in such a short time of opening, he is doing his best to help keep us alive."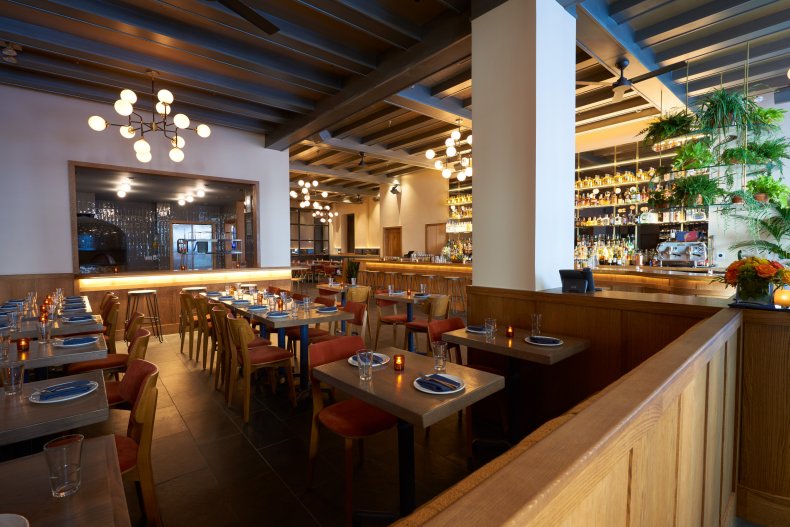 Italia is in a unique situation for New York restaurant owners who typically have much smaller dining rooms. The Stand is 9,000 square feet spread out over three floors, so at 25 percent, they are able to seat 75 guests at once. While this might seem like a lot, Italia notes that it is all relative. Though he can seat more people than some of his colleagues, his rent is significantly higher due to the square footage.
"We think we can make it a little further than most. But, I got to tell you, it's very bleak. The 25 percent doesn't do anything for business," he said.
Currently, The Stand can host about 50 people outside; with the new allowances, it will be able to seat all of those people indoors once the weather turns. Nevertheless, it is doing just barely 10 percent of its normal business. Since The Stand is primarily a comedy club, it is also being hit by the city's restrictions on live events and are unable to have any comedians perform at all.
Crown Shy, in downtown Manhattan, closed a few days before Mayor Bill de Blasio's mandate went into effect. Three people from the restaurant's staff made the decision to quarantine in the long-stay hotel above the restaurant and make meals for people who lived in the building. That later expanded to working with Rethink Foods to prepare food for front-line workers. Now, executive chef and partner, James Kent, says he and his team are excited to welcome guests back into the dining room.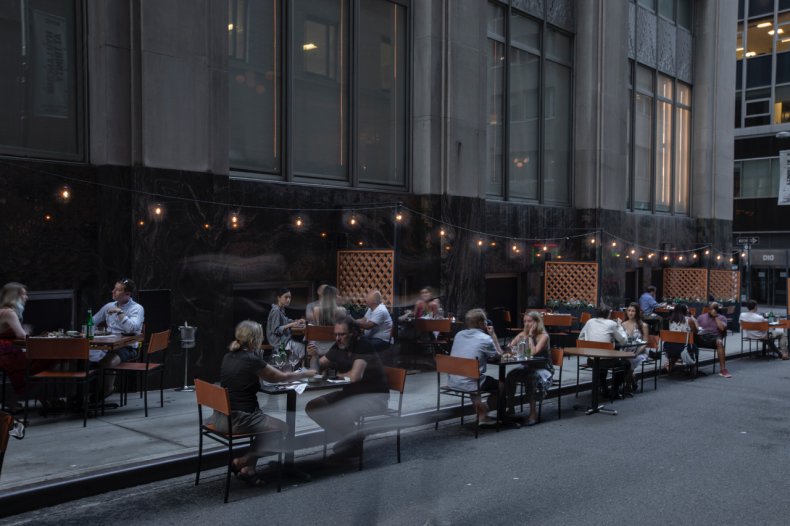 "In April, we couldn't have imagined serving people while wearing masks," Kent tells Newsweek. "But, our staff and diners have quickly adapted to the PPE, and outdoor dining has been a helpful runway. We're all happy to be doing what we love, even in this mediated compromised way."
At 25 percent capacity, Crown Shy will be able to accommodate about 50 patrons at once. Kent says that while he is grateful to be able at reopen, the restrictions forbid the restaurant from operating the bar as well as hosting event programs—which he says, "kills our margin."
"Restaurants like ours are still on the precipice of a cliff," Kent said.
Though initially the expansive outdoor dining was supposed to end after Labor Day, the city extended outdoor dining guidelines and has allowed for it to continue until Halloween of this year.
Niall Henry, who owns four restaurants in upper Manhattan including an Irish pub, Tubby Hook, in Inwood, thinks the 25 percent cap is a start. He and his team have started installing plastic shields around the bar and tables but will only be able to welcome in 30 or so guests in with the new restrictions.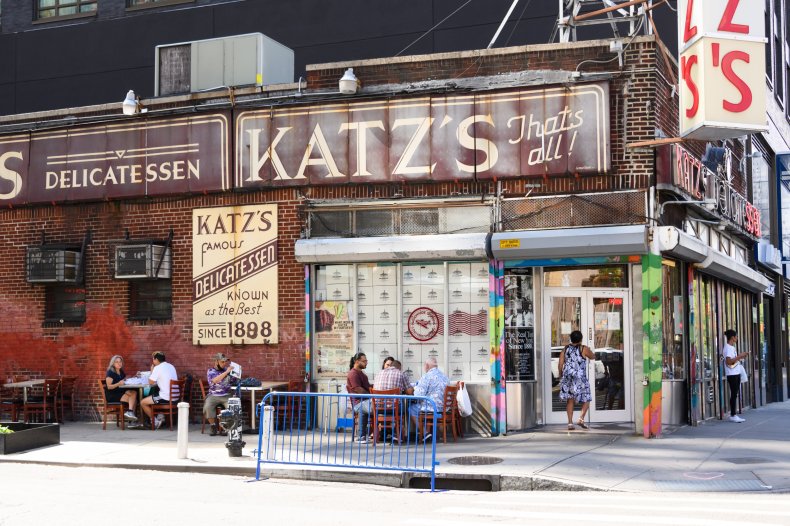 "I'd rather do 25 percent, and then on November 1 hopefully it's 50 percent," Henry tells Newsweek. "But if restaurants don't follow these guidelines, there is going to be trouble. I just hope everyone follows the rules."
Henry has family in Ireland, which is now entering a second wave of a lockdown. He does not want to see that happen in New York. He says some customers have pushed back at how strict he is in enforcing the guidelines, claiming that other restaurants are not doing the same. For Henry, it's a matter of their liquor license which if revoked would be a huge hit to his business.
He says that, on average, his restaurants have been visited by inspectors up to twice a week for the past six to eight weeks.
Along with the announcement of allowing restaurants to open indoor dining, Cuomo also announced an additional 400 enforcement personnel to work with the State Police Task Force to ensure businesses are following the guidelines.
"The first two weeks, I believe it's going to be a very political fallout," Italia tells Newsweek. "There are going to be a lot of places that are made examples of, and I'm not saying they don't deserve to be somehow reprimanded, but the way we are being reprimanded is monetary. With hefty fines in the thousands and thousands and worse, if they see those violations to be bad enough—they are suspending your license—in effect putting you completely out of business. So, it really is dangerous."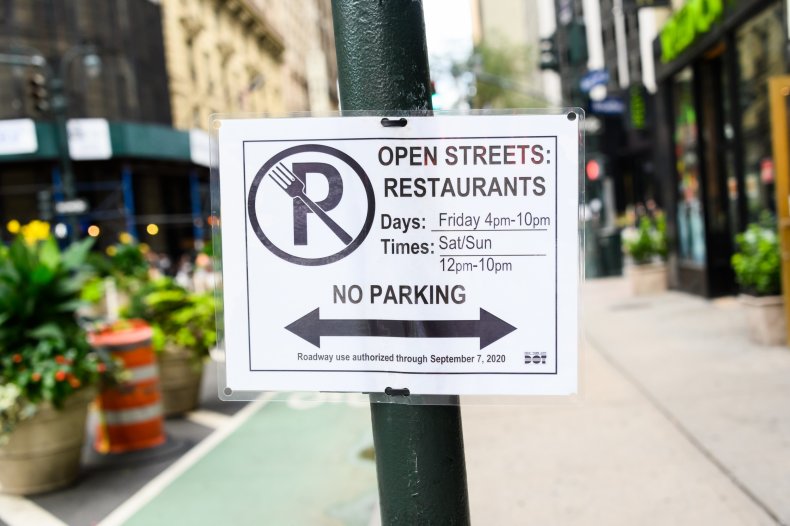 Businesses are in uncharted territory, Italia says, and in turn are going to make mistakes—sometimes deliberately—but often not.
"This is not something we have ever been through," he said. "It's not something we are prepared for."
The government has implemented some aid programs in hopes of helping small businesses that have been struggling to stay afloat. Italia says that without the Small Business Administration Paycheck Protection Program (PPP), they likely would have been unable to open.
The Restaurants Act, which is waiting to be considered by the House Committee on Financial Services on September 22, is designed to help restaurants get back on their feet in the form of a $120 billion fund. According to the bill's webpage, restaurants have lost more revenue and jobs than any other industry during the pandemic.
Recently, the City Council passed a bill that would allow restaurants to add a 10 percent "COVID-19 Recovery Charge," to patrons bills, CNN reports. It must be made clear that the new charge is not substitute for trip or gratuity.
While The Stand, Tubby Hook and Crown Shy had some time to establish themselves prior to the pandemic, another New York eatery was not quite as fortunate.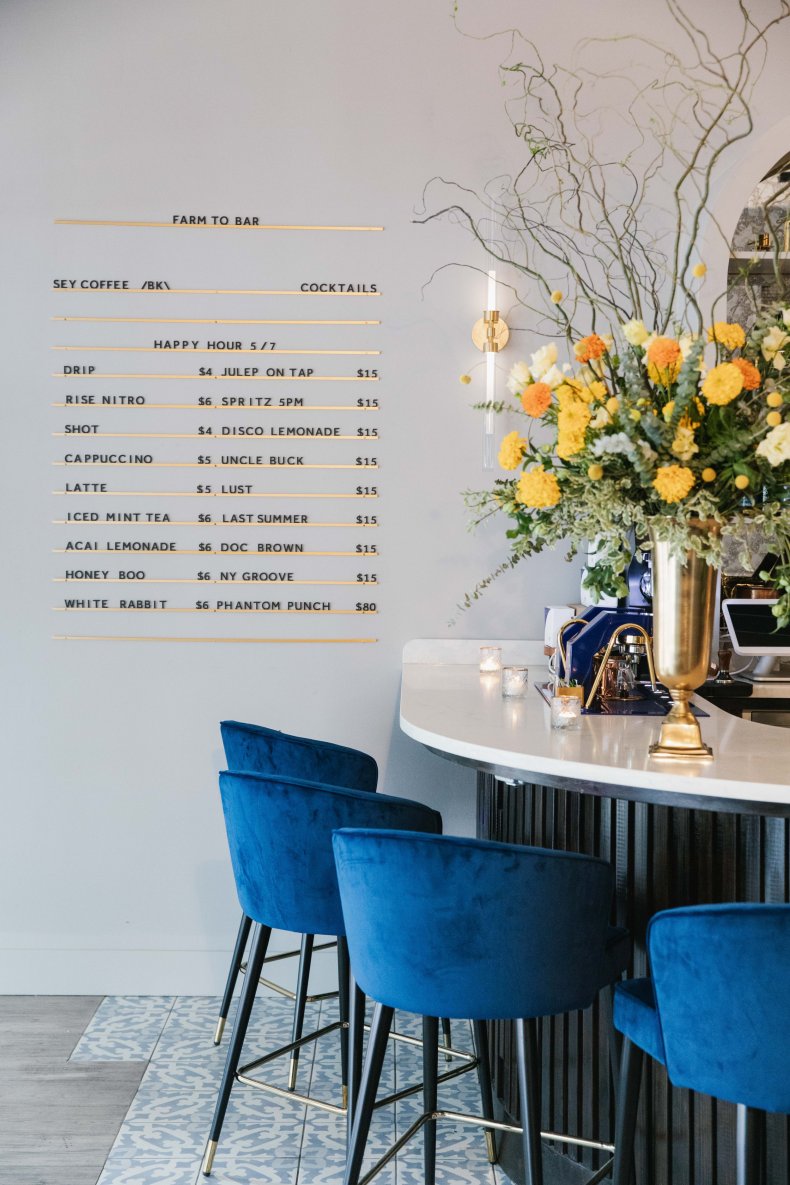 Festivál, on the upper east side of Manhattan, opened its doors—well, sidewalk—for the first time on September 1. As a "cocktail cafe," more than a restaurant, the owners had to refocus a bit given that restrictions in the city no longer allow for patrons to consume alcoholic beverages without also ordering food. Though, the owners of Festivál say their business plan has allowed for a relatively smooth transition into opening up in extenuating circumstances.
"Our restaurant comes with all the touchless transactions, the contactless hand dryers, the air-filtration systems we put inside," Tyler Hollinger, creative director and general manager at Festivál tells Newsweek. "The experience of to-go cocktails being [at the] forefront of our business plan."
Festivál has coined the term "Farm to bar" offering customers a chance to order large batch cocktails to their door. A menu comes out every Monday and again on Friday, so patrons can receive cocktails to their door either in 24-ounce or 34-ounce bottles.
"No one in the city is doing that," Hollinger said.
Hollinger says they want to use the 25 percent capacity rule as a way to create an elevated dining experience, at first only allowing for larger parties to book a table indoors. He explains that while dining in a smaller space, guests should be with people familiar to them rather than many small parties gathered together. Festivál will be able to host 25 guests at a time under the initial restrictions.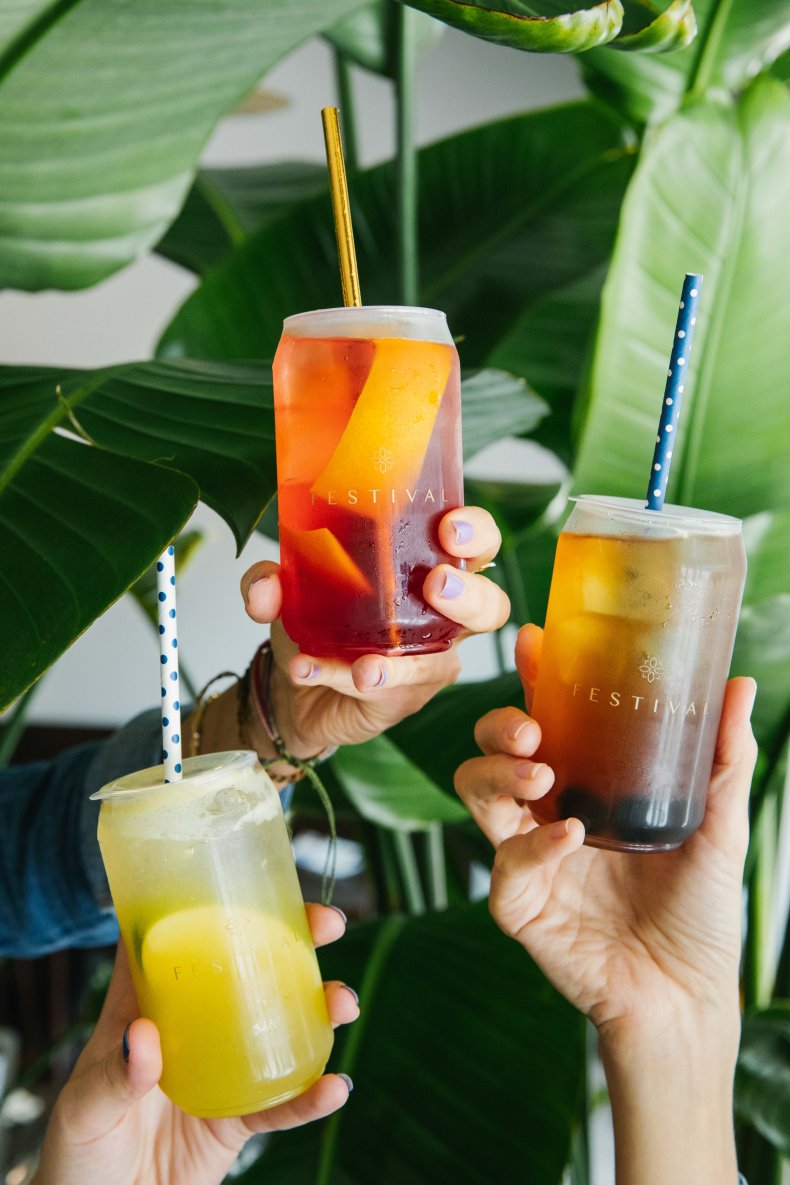 Like the Italia brothers, Hollinger and Festivál executive chef, Andrew Maturana, are frustrated with how the city has handled reopenings and feel as though the hospitality industry has been unfairly restricted.
"I'm looking forward to the city using reason, and statistics and logic and science to make their decisions and not politics," Hollinger said. "I think there is no reason the city should not be open right now at normal capacity. I mean, Home Depot does not have a 25 percent capacity. I went into the Home Depot the other day and it was packed."
Mitch Schwartz, director of rapid response and deputy press secretary for the Mayor's Office tells Newsweek that the mayor's office is committed to doing everything it can to help restaurants recover.
"That means extending the outdoor dining season to October 31st, expanding our popular Open Streets: Restaurants program, and gradually easing into indoor dining," Schwartz tells Newsweek. "We know indoor dining carries risks; you can't wear a mask while you eat. COVID-19 transmission rates are low enough for us to give this a shot but—as always—New Yorkers' health and safety come first."
Hollinger says he does not understand why a city with an infection rate of under one percent still has some of the tightest restrictions.
"New Yorkers are tough and resilient," Hollinger said. "They wear their masks and they are respectful of other people's spaces. I don't know anyone in New York City now who shakes hands, touches or even comes within six feet. So, New Yorkers are the reason why the numbers are low."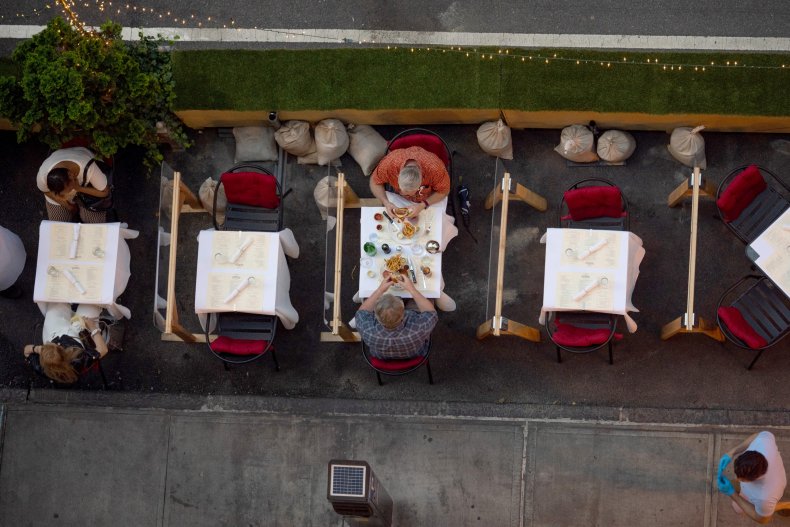 In the past few months, Hollinger says he has seen some of the red tape he believes the city put in place that make things harder for restaurant owners than they might have to be. Prior to March, for a restaurant to have outdoor seating, restaurant owners would have to complete a process that could take up to a year and tens of thousands of dollars to complete. Now, the city has implemented a self-certification process, where restaurant owners can more easily—and quickly—obtain a permit to allow for outdoor dining at little to no cost.
"It would be one thing if the city was targeting all businesses similarly, but they're not, it's very clear there is some sort of weird bias associated with the hospitality industry," Maturana tells Newsweek. "As if de Blasio somehow thinks that drinking alcohol causes COVID."