NYC Investigations Chief Resigns After Accusing Bill de Blasio of Misusing Security Detail
Margaret Garnett, the head of New York City's Department of Investigation (DOI), resigned a week after the agency released a report about Mayor Bill de Blasio's allegedly improper use of his security detail.
Garnett will be joining the Southern District of New York as a deputy U.S. attorney starting next month, according to a statement released Wednesday by the Justice Department. She is set to leave the DOI on November 10, according to The New York Times.
A DOI spokesperson told Newsweek that Garnett's resignation is not connected with the department's report about the mayor. First Deputy Commissioner Daniel Cort will become the DOI's acting commissioner Garnett leaves.
"Margaret was a legendary assistant U.S. attorney. During her time in the office, she led some of the office's most important investigations and prosecutions, and mentored countless AUSAs [assistant U.S. attorneys]," Damian Williams, the U.S. attorney for the Southern District of New York, said. "Her storied career in public service leaves no doubt that she will be an exceptional deputy U.S. attorney."
In a statement to Newsweek, Garnett expressed her excitement about joining the Southern District of New York and "to continue in public service for New Yorkers."
"While this means I will be leaving the city Department of Investigation, I want to say that it has been an extraordinary privilege to serve New York City as DOI's commissioner alongside the dedicated people at DOI who have inspired me every day with their commitment to truth-telling, holding people accountable regardless of power or position, and giving New Yorkers the honest government they deserve," she said.
On October 7, the DOI released a report about the way de Blasio allegedly "misused" his security detail for personal and political purposes. The report comes after a months-long investigation that the DOI launched in August 2019.
According to the detailed 49-page-report, New York Police Department (NYPD) Inspector Howard Redmond, who is in charge of the mayor's family's security detail, "actively obstructed and sought to thwart this investigation, frustrating DOI's efforts to learn the full facts regarding these allegations."
The DOI found that de Blasio allegedly misused personnel from the NYPD Intelligence Bureau's Executive Protection Unit (EPU) to transport his 2020 presidential campaign staffers and family members.
In one instance, at least one EPU member helped de Blasio's daughter, Chiara, move her belongings from her Brooklyn apartment to Gracie Mansion.
Garnett said in her resignation letter, which was shared with Newsweek, that she joined the DOI "at a time of upheaval and crisis."
"When I accepted the Mayor's nomination, I did so on the condition that I would be permitted to exercise DOI's lawful authority guided only by my independent professional judgment and the public interest," Garnett wrote. "Likewise, at my confirmation hearing, I pledged to the Council that I would preserve DOI's independence, free from political influence or personal agendas."
During a press conference last week, Garnett noted the way de Blasio improperly used his security detail in serving his family, including his son, Dante.
"In practice, what is happening is that, you know, it's not security; it's essentially a concierge service, primarily for Dante," she said, according to the New York Post.
In an interview with NY1 last week, Garnett said, "When you see a pattern of conduct and a culture that public resources are available for your personal benefit, that's incredibly destabilizing to good government. It's not a good use of the public's money, and things can often snowball."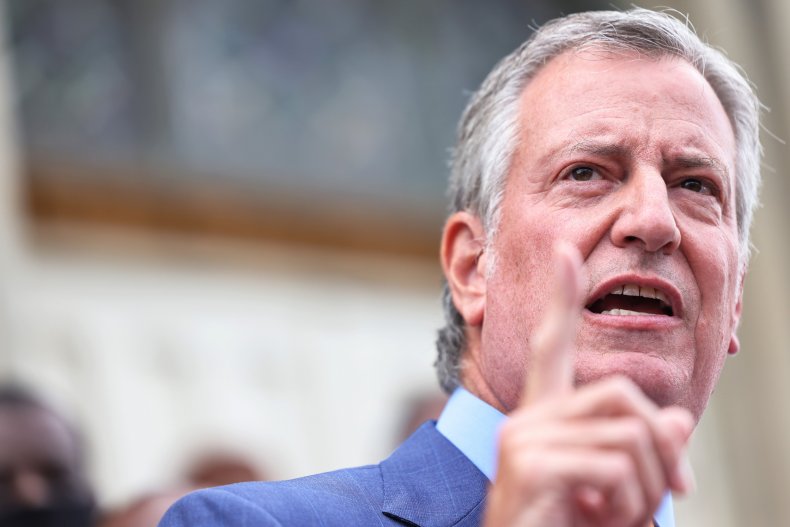 Meanwhile, de Blasio pushed back against the DOI's investigation. He told WNYC host Brian Lehrer last week that the report was "unbelievably inaccurate and unfair."
"There's nothing that was violated here. There's no written guidance that was violated. There's, in fact, potentially a much clearer need for written guidance," the mayor said. "It was nothing done wrong. In fact, I very consistently put the public interest first and did what was appropriate. And every effort to explain that and document that and to encourage DOI to talk to the people in charge of security they ignored."
Garnett pushed back against the mayor's response, telling NY1: "Frankly, for the mayor, who is head of every city agency, to question DOI's professionalism and integrity, it really undermines every other investigation we have going right now, or in the future. I think it's really inappropriate, and I've yet to hear any identification of the claimed factual inaccuracies."
Newsweek contacted the mayor's office for comment.
Update 10/15/21, 9:45 a.m. ET: This story has been updated to include comments from Margaret Garnett.