New York City businesses and residents will see a change this spring when a new law forcing companies to post salary ranges on job postings officially goes into effect.
The bill was approved by a 41-7 city council vote on December 15 and went into law January 15 when Mayor Eric Adams declined to veto it. It prohibits employers from posting job listings without minimum and maximum salary information.
The law applies to any employer with four or more employees and will begin being enforced May 15. That includes contract workers, interns and freelancers.
According to the new law, it will be considered "an unlawful discriminatory practice" for an employer to advertise a job without the new provisions.
"In stating the minimum and maximum salary for a position, the range may extend from the lowest to the highest salary the employer in good faith believes at the time of the posting it would pay for the advertised job, promotion or transfer opportunity," the bill stated.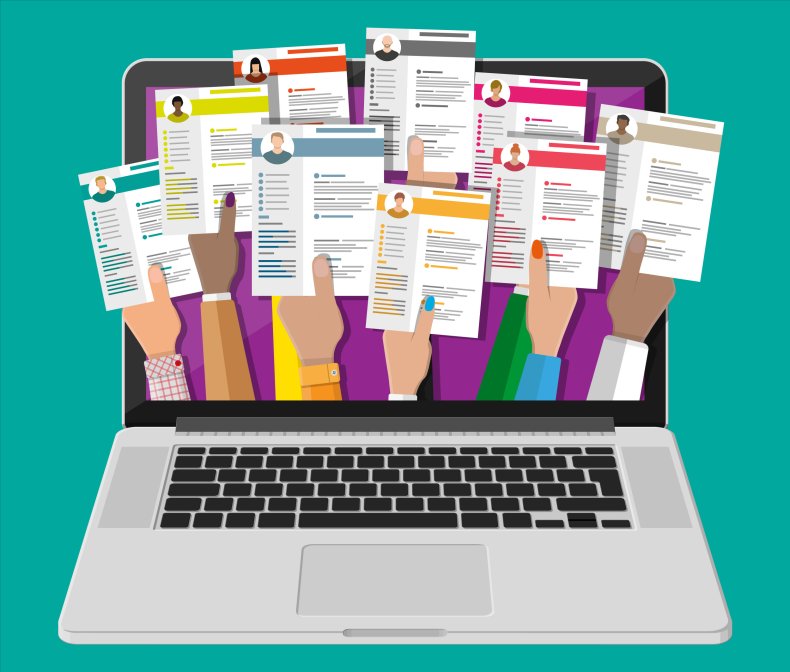 The New York City Commission on Human Rights will enforce the law.
Alicia McCauley, spokesperson for the commission, told Newsweek this new law "is kind of along the same thread" as a city law that went into effect October 31, 2017, making it illegal for public and private employers of any size in New York City to ask about an applicant's salary history during the hiring process.
She said the commission will conduct plenty of outreach, likely starting around April, on the intricacies of the law. That includes providing an FAQ document, a one-page explanation of specifics, and outreach for employers.
The law is not meant to be "a gotcha" or "onerous," McCauley said. Job seekers that come across companies that are not following the law can reach out to the commission in multiple ways, including filing a complaint which is followed by a commission-initiated investigation.
It remains unclear whether job boards like Indeed or other avenues will be investigated to see who is and is not complying with the law, she added.
"There's a lot of different remedies we can pursue if the law is violated," she told Newsweek.
New York City now joins numerous other states in enacting similar transparency laws relating to job salary range postings—some of which have been legally challenged by businesses, although unsuccessfully.
Connecticut, Nevada and Rhode Island all approved pay transparency laws in 2021, with Rhode Island's law becoming effective in January 2023.
States including California, Maryland and Washington state also require salary disclosure but only when applicants request them. Each state differs in when such information is shared.
California, as an example, requires that job applicants must have completed an initial interview to be privy to potential compensation. Washington state law states that only applicants that received an offer can request disclosure.
Maryland, on the other hand, requires disclosure upon any applicant request no matter if they have interviewed for a position or have been offered employment.
Some states legally go even further for the benefit of potential applicants and employees.
Colorado enacted a law in 2021 that requires employers to list salaries or a compensation range. However, rather than requiring an employer to have a minimum of four workers such as in New York City, Colorado law states that even employers with one worker must list salary information—including those who work remotely.
Beverly Neufeld, the CEO and founder of PowHer New York, believes the law will be "transformative" and has said it "will minimize bias, maximize transparency, shift cultural norms and level the 'paying' field."
PowHer is a network of individuals and organizations that collaborate to improve economic equity for the city's 10 million women and their families.
A Pew Research study of the gender wage gap investigated both full- and part-time jobs and found that women earned 84 percent of what men earned—the equivalent of about 42 extra days of work for a woman to earn the same as her male counterpart.
That gap was smaller for workers ages 25 to 34, of which women made 7 cents less than men in 2020. That compared to a 33-cent difference between men and women in 1980.
"There's been an equal pay campaign in New York City for almost 15 years," Neufeld told Newsweek. "They're calling for pay equity but really the dial hasn't moved very much. I think we all can agree there is racial and gender pay equity, but they have to find new ways to address it."
The law "puts all workers on equal footing and really diminishes the importance of negotiations, which we know disadvantages women," Neufeld added, saying that women of color can make between 35-45 cents less than their white male counterparts.
Breeana Mulligan, a spokesperson for the bill and co-sponsor, and New York City Council Speaker Adrienne Adams, told Newsweek the law aims to address systematic racism and sexism in setting salary amounts.
"It's been shown that upfront transparency regarding what a position is worth, what an employer is willing to pay, prevents the employer from low balling an applicant further into the interviewing process—which might be colored by employer biases," Mulligan told Newsweek.
Joseph Borelli, minority leader of the city council who represents Staten Island, voted against the bill.
"If you have never run a business, if you have never had to juggle managing a budget with finding the most talented and qualified job candidates possible, then maybe this legislation sounds like it could be helpful," he told Newsweek. "But in the real world, this is an unnecessary constraint on the hiring process that will help neither employers nor potential employees, especially when there are already laws that require businesses to report on salaries, and that protect people from job discrimination."
Kathryn Wylde is the CEO of the nonprofit Partnership for New York City, which includes 330 members from the business community—including Goldman Sachs and the National Basketball Association.
In a statement provided to Newsweek, Wylde expressed opposition to the law.
"This law would be fine for hourly and lower wage jobs, but a large share of jobs in New York City have compensation that includes performance bonuses, equity opportunities and salaries that reflect the experience of individual candidates and the relationships they might bring to the company," Wylde said. "New York City is a place where employers are competing for talent and where there is less pay disparity than most of the country. Does this law mean that employers cannot offer more than the advertised maximum salary? You can bet that litigation would follow."
A recent survey conducted by Salary.com showed that just 23 percent of employees said their employer shows transparency about pay scales and is willing to discuss salaries. That included 46 percent of employees believing they were not paid fairly when compared to others in similar roles at other companies.
The top considerations surveyed employees wanted, from most to least important, included: external equity; pay commensurate with skills; internal equity; a demonstrated ability to collaborate, meet goals and solve problems; the same treatment as a candidate and employee; and education levels.
McCauley told Newsweek the hope is that employers comply with the law, saying the goal is to help people understand the compensation possibility before the hiring process—for both hourly and salary jobs.
"Change is always difficult," Neufeld told Newsweek. "We're calling for a shift in practice and culture, really. There are growing pains, but this is the future. Salary transparency is considered a best practice. New York City taking this on is a very positive step for us. Changes like these are not always easy but they can be done if there is a willingness for this to exist."