NYC Largest Police Union Sues City to Block Vaccine Mandate: 'Draconian Imposition'
New York City's largest police union sued the city Monday to block a "draconian imposition" requiring officers to receive the COVID vaccine.
The Police Benevolent Association (PBA) filed the lawsuit in the Richmond County Supreme Court on Staten Island seeking to overturn the vaccine mandate announced last week. The organization represents over 50,000 active and retired officers in the New York Police Department.
"The city has provided no explanation, much less a rational one, for the need to violate the autonomy and privacy of NYPD police officers in such a severe manner, on the threat of termination," the lawsuit states.
The union also filed a temporary restraining order asking the court to prevent NYC and the NYPD from enforcing the vaccine mandate while the suit is pending.
Mayor Bill de Blasio announced last week that the city's entire municipal workforce including police and firefighters must receive their first shot of the vaccine by November 1 or face unpaid leave.
PBA said in a statement that they are the first union to sue over the latest mandate.
While teachers and health care workers in the city and state have been asked to receive the shot, they can avoid vaccination through weekly COVID testing, unlike the police.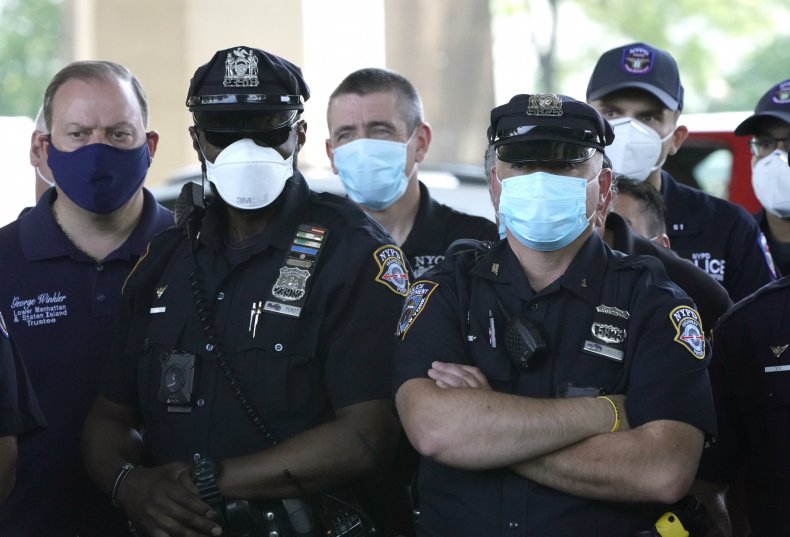 "As our suit moves through the court today, there are obviously many questions about how the Friday deadline will impact unvaccinated members of the service," the statement said. "The NYPD's leadership is failing to answer any of those questions. As of this writing, less than five days before the mandate is supposed to take effect, there is still no written, NYPD-specific policy guidance on how the mandate will be implemented."
The union criticized New York City Police Commissioner Dermot Shea for publicly supporting a vaccine mandate but "there was apparently zero planning in [1 Police Plaza] for the mandate to become a reality."
Demonstrators marched from downtown Brooklyn to City Hall, over the Brooklyn Bridge, to protest the mandate, and vehicle traffic was blocked for a time, the Associated Press reported.
"Every effort to stop the city's vaccine mandates has failed in court, and we believe this suit by the PBA will meet the same fate. The city's vaccine mandates are lawful and keep New Yorkers safe. We'll review the case," the city's Law Department said in a statement.
Around 46,000 city employees remain unvaccinated as of Monday. Workers who receive the vaccine at a city-run vaccination site by October 29 will receive an extra $500 in their paycheck.
"My job as your mayor is to keep this city safe, keep this city healthy. And vaccination is the way," he said.
About 71 percent of NYPD's workforce has received at least one COVID-19 shot, according to AP. More than 60 employees have died of the virus.
Newsweek reached out to de Blasio's office and the NYPD for comment.