New York City Marathon Tracker: How to Follow Runners Along the Marathon Route
On Sunday, thousands of professional and amateur runners will take to the streets of the Big Apple for the annual New York City Marathon, bringing together people of all different backgrounds. Even more people will line the streets to cheer the runners on.
But for those among us who find it daunting to run 26.2 blocks--let alone 26.2 miles--there's a way to follow runners without doing any physical exercise themselves.The TCS NYC Marathon mobile application makes it easier to know when friends and family should be coming into view.
To track a specific runner or runners, all a person has to do is download the TCS NYC Marathon application to their phone. Then, from the home screen, select the option that says "spectator" and click the option to "track runners."
From that screen, just search the runner by name or bib number and you'll become privy to their progress. You can also track runners from a computer or laptop through the marathon's website.
But how does the app know where runners are located? Glad you asked. Each runner is given a bib with an identification number that corresponds to their name. The bib contains a data chip, and once the runner crosses a mile marker, the information is sent to the app. That allows people to see a runner's location.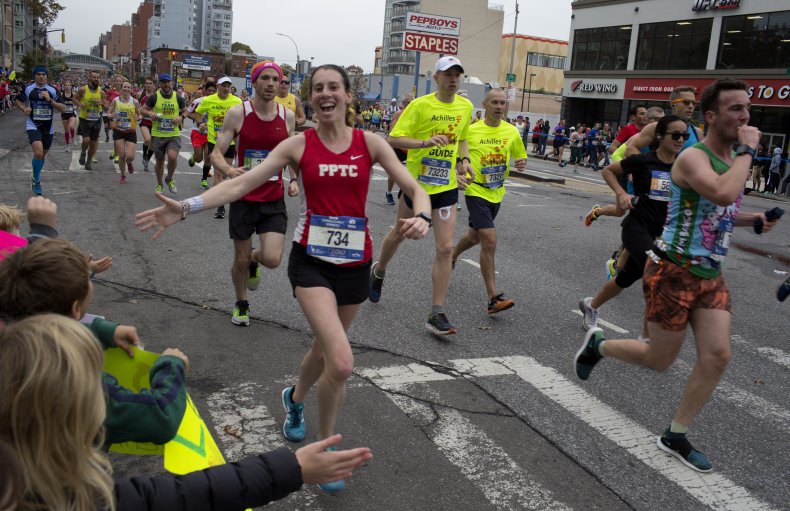 With tens of thousands of people running in the marathon, it would be nearly impossible for everyone to start at the same time. Thus, race officials implemented staggered starts, which are decided based on the projected finish time or pace-per-mile that was provided on the application form. It's helpful to know when your favorite runner is set to start if you're trying to look out for them.
Start times are listed as:
8:30 a.m.: Men's professional wheelchair division
8:32 a.m.: Women's professional wheelchair division
8:52 a.m.: Fast handcycle category
8:52 a.m.: Slow handcycle & select ambulatory athletes with disabilities
9:10 a.m.: Professional women
9:40 a.m.: Wave 1, including professional men
10:10 a.m.: Wave 2
10:35 a.m.: Wave 3
11:00 a.m.: Wave 4
Occurring annually, the New York City Marathon takes runners through all five boroughs of the city. The course begins in Staten Island, then runners work their way through Brooklyn and into Queens before crossing the bridge into Manhattan.
From there, runners head north until they reach the Bronx around 125th Street. Finally, they cross back into Manhattan, run south through Central Park and finish around West 72nd Street. While some people run to beat a certain time, others just run with a goal to finish.